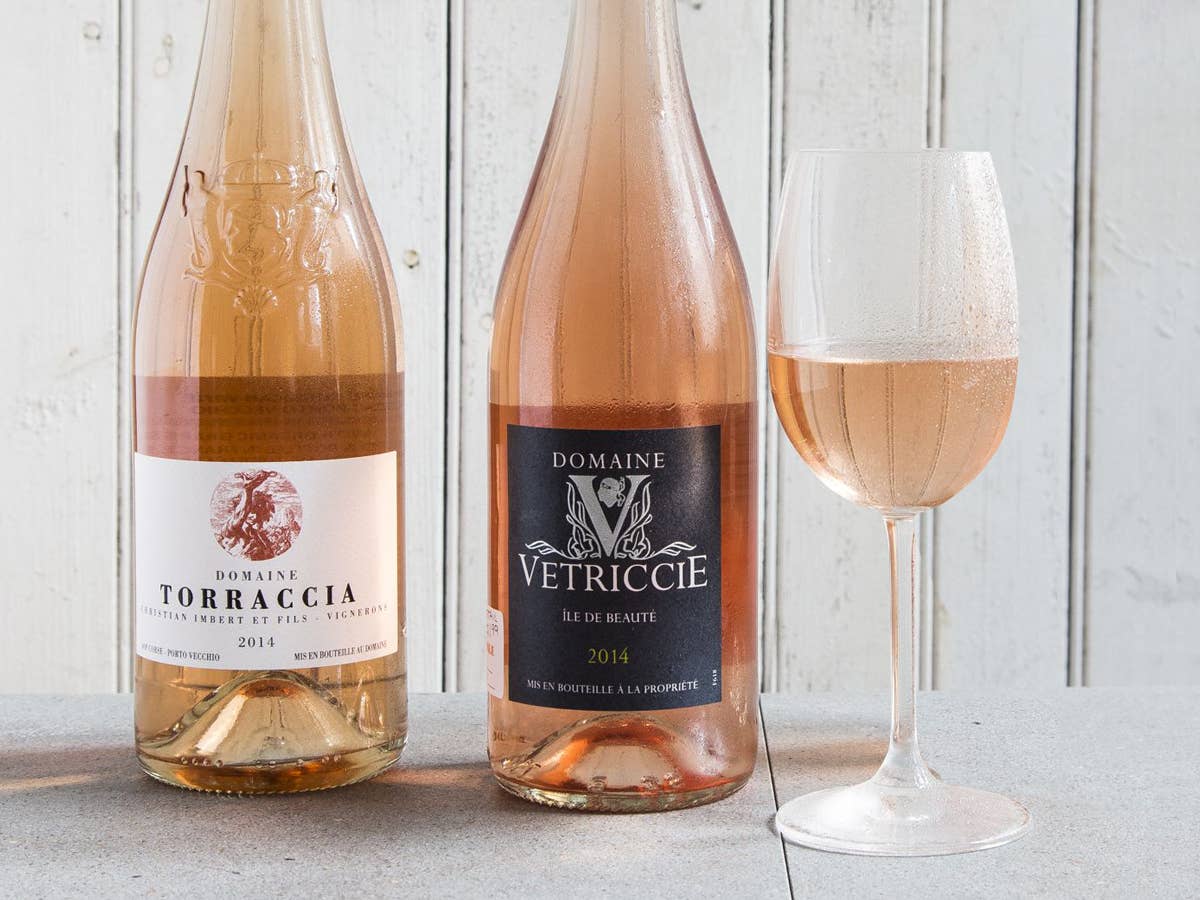 Drinks
A New French Rosé to Drink
Set your Provençal expectations aside—the island of Corsica is making natural, bright, exciting rosés
We're all well aware of the merits of Provencal rosé: perfect for seaside dinners, with rich friends who collect art, that linger into twilight. Or, perhaps more likely: a beachy picnic on the summeriest of summer days. It's dry and whisper-pink and refreshing, and will sustain you until fall's first chill brings you back to a bottle of red.
But off the coast of France in Corsica, a number of small winemakers are making a more exciting batch of pink wines—natural and full of character and unencumbered by the expectations we have for traditional French rosé.
"When you think of French wine, you think of Bordeaux, Provence, Loire, Burgundy, but nobody thinks of Corsica; nobody knows the region," explains Sebastien Auvet, owner of Vin sur Vingt, a French wine bar with three locations in Manhattan. Rosé, he says, "is a great introduction to the island."
Here, on the picturesque 3.35-square-mile island, there are only a small number of producers, producing a relatively small volume of wine, often with an emphasis on natural and biodynamic practices.
This respect for the land is part tradition, part pragmatism. One of the pioneers of the Corsican wine industry, Antoine Arena, began making wine in the 1970s, organically and without any added sulfites. "He really put Corsican wine on the map," says Arnaud Tronche, sommelier at New York City's Racines. Those that followed his lead kept up the natural tradition.
But it's also about preservation: "Corsicans are a very proud people," explains Tronche. "They want to take care of their land, so they don't want to use too many pesticides."
The rosé you'll find coming out of Corsica ranges from light and aperitif-appropriate, to savory and food-friendly. "Even when they are on the fuller side," says Tronche, "they are very refreshing." There's also a good bit of peppery, spicy character that often pops up, making us question all of our assumptions about rosé and rethink what we look for in a pink wine.
Most of the grapes are native to the island, and many of these are Italian in origin (Niellucciu, Sciaccarellu, Aleatico, to name a few), which lend a complexity and variety not found in mainland French rosés. All that sea breeze gives many of these wines a beautiful salinity. You can see the ocean from Arena's vineyard, says Tronche, and "when it's windy, you can see the salt on the skin of the grapes."
Here are 8 bottles recommended by Tronche and Auvet:
Vin de L'Ile de Beauté Rosé Domaine Vertriccie, $15
Vin de Corse "Clos Venturi" 2013, $14
Ajaccio "Domaine U Stiliccionu"
Porto Vecchio "Domaine Torraccia" 2011, $25
Clos Canarelli 2013, Corse Figari Rosé, $30
Domaine Abbatucci 2012, Ajaccio Gris Impérial Rosé, $24
Antoine Arena 2012, Patrimonio Rosé, $45
Yves Leccia 2014 Patrimonio Rosé, $28