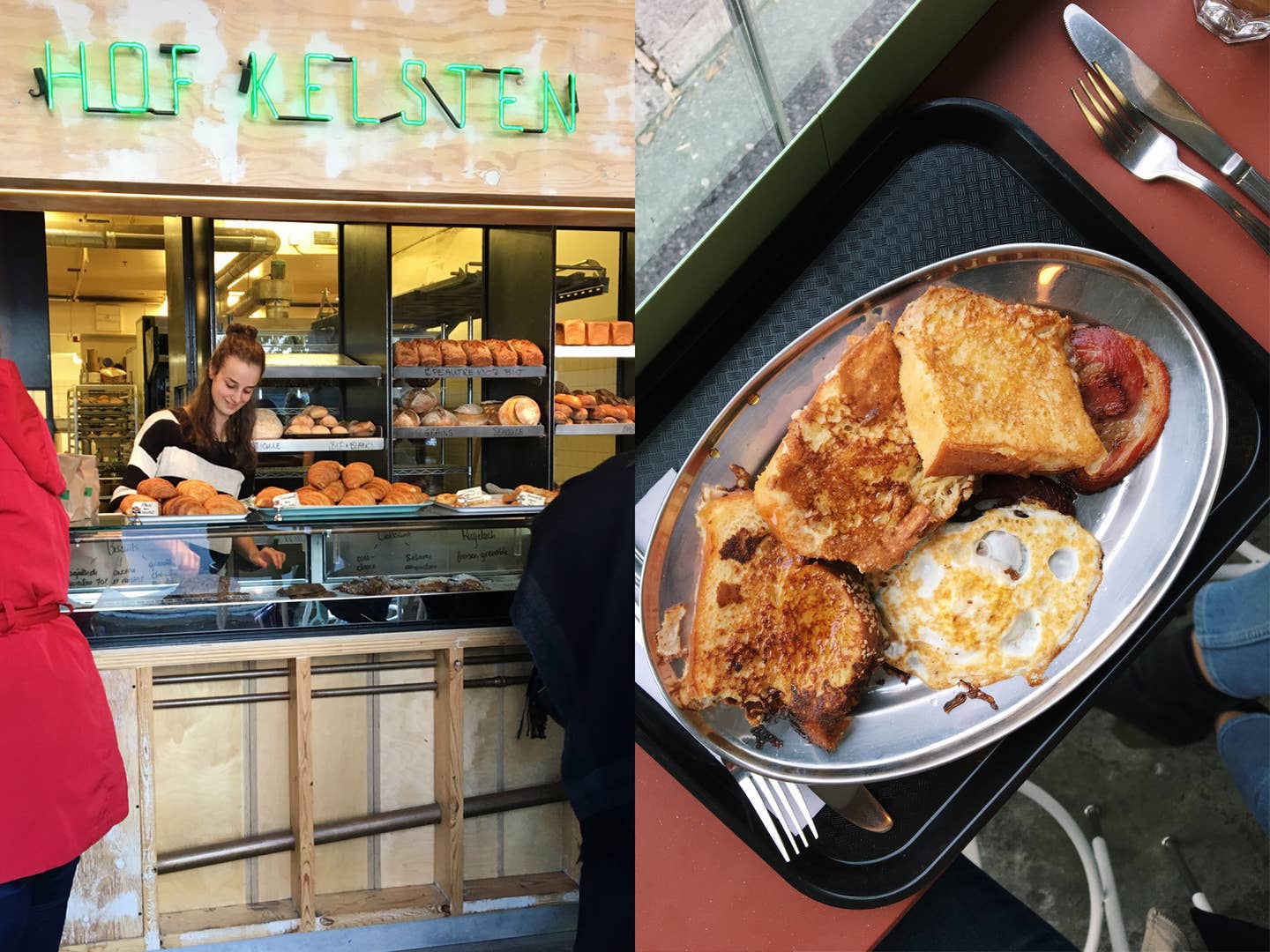 Travel
Where SAVEUR's Editors Traveled in November
Field notes of doughnuts in Boston, oysters in San Francisco, and perfect pasta in Rome
At SAVEUR, our obsessive quest to unearth the origins of food and discover hidden culinary traditions sends us from our test kitchen in New York City to all the corners of the globe. From doughnuts in Boston to pasta in Rome, here are all the ways SAVEUR editors ate the world in November.
Sometimes the simplest things really are the nicest. Big and bold, new and nowish—that's all fine but sometimes what you really want is just a familiar dish done exceptionally well. I was in that fine food-happy city of Portland, OR, to help host a James Beard Taste America dinner and didn't have any plans for lunch. I texted Chris Cosentino, also in town for the Beard event, to make him eat with me and pick the place. He directed me to Måurice, a twee tiny sliver of a luncheonette in pale shades of Scandinavian white.
Cosentino showed up a few minutes later with a fresh haircut, signature Elvis Costello glasses and a T-shirt that said OFFAL! There was nothing resembling organs on the Måurice menu so we ordered quiche and it was the best quiche. We ordered a savory eggy clafoutis with a poached egg and it was the best (and maybe only) savory clafoutis. And, almost as an afterthought, we ordered some mussels. But these were not afterthought mussels. They were holy-shit mussels. Or, more specifically, salt springs mussels from British Columbia, in a shallow winey pool of crème fraiche and fresh bay leaf. They were so sweet and light and good we stopped talking in words and just went ooooorrrmmmm and gaaaaahhhh. A server walked by and I asked her to take our picture. She did and pronounced us "smitten." Which we were—with the mussels and the unfussy perfection of un-fucked-around-with food and a nice easy unplanned lunch. — Adam Sachs, Editor-in-Chief
As a New Yorker travelling in London, it's easy to draw comparisons between various neighborhoods in the two cities: Midtown and the City of London, Union Square and Covent Garden, Williamsburg and Shoreditch. So in my search for the across-the-pond equivalent of Bushwick, I started to explore Peckham Rye, located south of river and generally considered to be off the beaten path. Filled with ethnic grocers, new-school eateries, and multi-concept warehouses—I kid you not, there was a building that housed a nightclub, café, African gospel church, pottery studio, and crossfit gym all in one—it seemed like the perfect fit.
But of all the delicious, and sometimes questionable, things I encountered in Peckham, I was most pleasantly surprised to find a fantastic bowl of pho. Owned and operated by five first-generation British-Vietnamese siblings (with help from mom and aunties, of course), Banh Banh serves a traditional take on the noodle soup, with fresh flat rice noodles soaking in a steamy, perfectly-seasoned broth alongside rounds of tender, thinly-sliced beef. The menu also offered tough-to-find regional specialties like bun bo Hue, a spicy noodle soup, and banh khot, savory turmeric-coconut "mini-pancakes" cradling tiger prawns. Served in casual but polished digs, dinner at Banh Banh was a welcome reprieve from slurping noodles under fluorescent lights on Shoreditch's old-school "pho mile." — Dan Q. Dao, deputy digital editor
San Francisco, California
I took a very brief trip to San Francisco last month. I treated myself to a leisurely lunch at Zuni Cafe (I was in the mood for a lot of their classic dishes). I had a sunny table to myself, felt extra indulgent and ordered oysters, and hung out with a book until it was time to meet a friend for afternoon sweets around the corner at 20th Century Cafe. I didn't have the self-control to wait long enough to take a photo of our treats, but we had the honey cake, which I'm still dreaming about. Don't miss it. — Kristy Mucci, test kitchen associate
A location shoot in Montreal had just wrapped up, my flight wasn't departing for a few hours, and I came to the conclusion my time would be best spent eating as much as I possibly could around the Brooklyn-esque neighborhood known as Mile End. Starting off at St. Viateur bagels, I snagged one of their hot sesame bagels fresh from the wood-fired oven to go, and hopped a few blocks down to wait in line with the Saturday morning crowd at Cafe Olimpico for one of their signature lattes. Next up was Willensky's, the old school lunch counter that's barely changed since opening in 1932 and serves old-fashioned soda fountain drinks with hotdogs wrapped in an onion bun, a slice of swiss and some mustard. With a few extra minutes to spare, the last stop was Hof Kelsten to try out one of the newer bakeries in the neighborhood, opening a few years back. Known for their bread, they serve brunch on weekends with specialties like the challah fresh toast with veal pancetta.
The entire distance was just under a mile and took less than two hours total, so the challenge here is more about how far you can stretch your stomach rather than how far you'll have to walk. — Michelle Heimerman, photo editor
I was very, very hungover. But it was for a good reason at least; the night before was Boston's James Beard Taste America event at the Langham Hotel and a friend and I spent the evening chatting with local chefs and drinking way too much bourbon. I may have attempted to start a dance circle at the afterparty, fortunately, to no avail.
But in morning, at least, there was a doughnut. Not just any doughnut, mind you, but a glazed chocolate cake doughnut from Blackbird Doughnuts on Tremont Street. It weighed as much as five doughnuts probably and was the darkest, densest ring of cake I'd ever seen. I sat on a bench out front and a small, fat bird watched me eat the entire thing. It was exactly what I needed. — Alex Testere, associate editor
There's schlepping, and then there's ladies-schlepping-in-heels-who-really-need-wine. I was in NOLA with my sister this past weekend, and after a long day of hunting for biscuits and raging through the streets with the city's Second Line parade, we had sore feet, and a massive craving for bubbly wine. Enter: Grilled sardines on toast at Bacchanal. A gorgeous garden full of alcohol and cheese and jazz music and that beautiful, glinty late-afternoon sunshine. We immediately cozied into an outdoor table with a bottle of Spanish cava. Their grilled sardines on toast were phenomenal, as was cow's milk blue cheese. A rather indulgent respite. — Allie Wist, associate art director
Coopersburg, Pennsylvania
I've hit the road to go home twice in two weekends for two Thanksgiving extravaganzas. One was the typical turkey-stuffing-mashed-potato business, and the other was the taco (and tequila) Thanksgiving, which sounds more lackadaisical but actually involves just as much work and prep as regular Thanksgiving. This year, taco Thanksgiving included everything handmade, from slow-cooked with dried chile peppers for an excruciating but awesome burn, to a similarly spicy selection of hot sauces. There were bright purple pickled onions and globs of guacamole, bowls of chunky queso and fresh salsa. We went through several pitchers of mango margarita with jalapeno-infused tequila, which may be the only way I take my tequila from now on. — Katherine Whittaker, assistant digital editor
The Berkshires, Massachusetts
Finding the platonic ideal of something simple—a martini, a chocolate chip cookie, seltzer water, really reliable take-out Chinese—is a great comfort when living in a bombastic, unpredictable city like New York. Knowing that you can return it over and over again and—if it maintains—it will be just as good as the first time is so damn satisfying. This weekend, I found the platonic ideal of an old New England inn that—when the city gets a little too loud and crowded—I'll be returning to forever.
On the border of eastern New York and western Massachusetts is The Red Lion Inn, a rambling guesthouse that has been offering shelter to travelers passing through the Berkshires since the late 1700s. Its walls are crooked, its hallway floors wavy as a backyard bocce court, and it creaks and groans like one might imagine a 200-year-old building would. There's a fireplace, a giant chessboard, a subterranean bar, a gift shop full of useless knick-knacks, rooms full of colonial antiques, a little tavern with wide pinewood floorboards, and a formal dining room that serves prime rib and lamb shepherd's pie. And it's quiet. Quiet like one might imagine a weird, old, rambling inn in the Berkshires would be. With the exception of the occasional creak and groan, of course. — Leslie Pariseau, special projects editor
My husband had a big birthday coming up this fall, so we used it as an excuse to get ourselves back to Italy. It was one of those trips where you hardly plan anything, but every excursion (and almost every restaurant you try) turns out to be magic. When we arrived in Rome on a weekend with no reservations, however, we spent a frantic first night being turned away from a few iconic restaurants we had hoped to try.
So on the second night, I mustered up the best of my mediocre Italian and called Checchino dal 1887, a nearly 130-year-old mecca of old-world Roman cuisine in the city's Testaccio neighborhood. We were the first table to arrive (whoops—Americans) but we stayed for hours, watching from our corner seats as Italian families in the double digits rolled in under the arched ceilings and filled the old farmhouse chairs. For my secondi, I ordered the spaghetti alla griccia. Undeservingly stuck in the shadow of Rome's slightly more famous pasta dishes—carbonara, amatriciana, and cacio e pepe—this often overlooked pasta is made with guanciale or cured pork jowl, nutty and salty Pecorino Romano, and spicy black pepper. Fat rendered from the guanciale makes the noodles just saucy enough to cling to these flavors—something I also did for the remainder of our trip. — Stacy Adimando, test kitchen director
Few tastes are more made-in-New-York than chocolate-covered dried apricots, a staple of appetizing stores' candy aisles and old school bagel shop cashier counters and, thus, my childhood. It's candy that pretends to be health food, which means my worrywort parents and grandparents let me eat as many as I wanted as a kid. But any chocolate-apricot connoisseur knows that real and proper chocolate apricots are more glacé fruit than dried snack—they should be candied and rich with a deep caramel verve that jives with the dark-but-not-too-dark chocolate.
I wasn't expecting to find chocolate apricots at Sweet Mimi's in Andover, let alone especially good ones, but this darling neighborhood chocolate shop—which imports confections from across the U.S. and as far away as Paris—has some excellent ones. Plump, deliriously apricoty, with a thick chocolate shell that's properly cocoa, not sugary shellack. As good as any you'll find in the best of New York sweets shops, and hey, it turns out proprietor Mimi does indeed get these lovelies from a New York distributor. — Max Falkowitz, executive digital editor