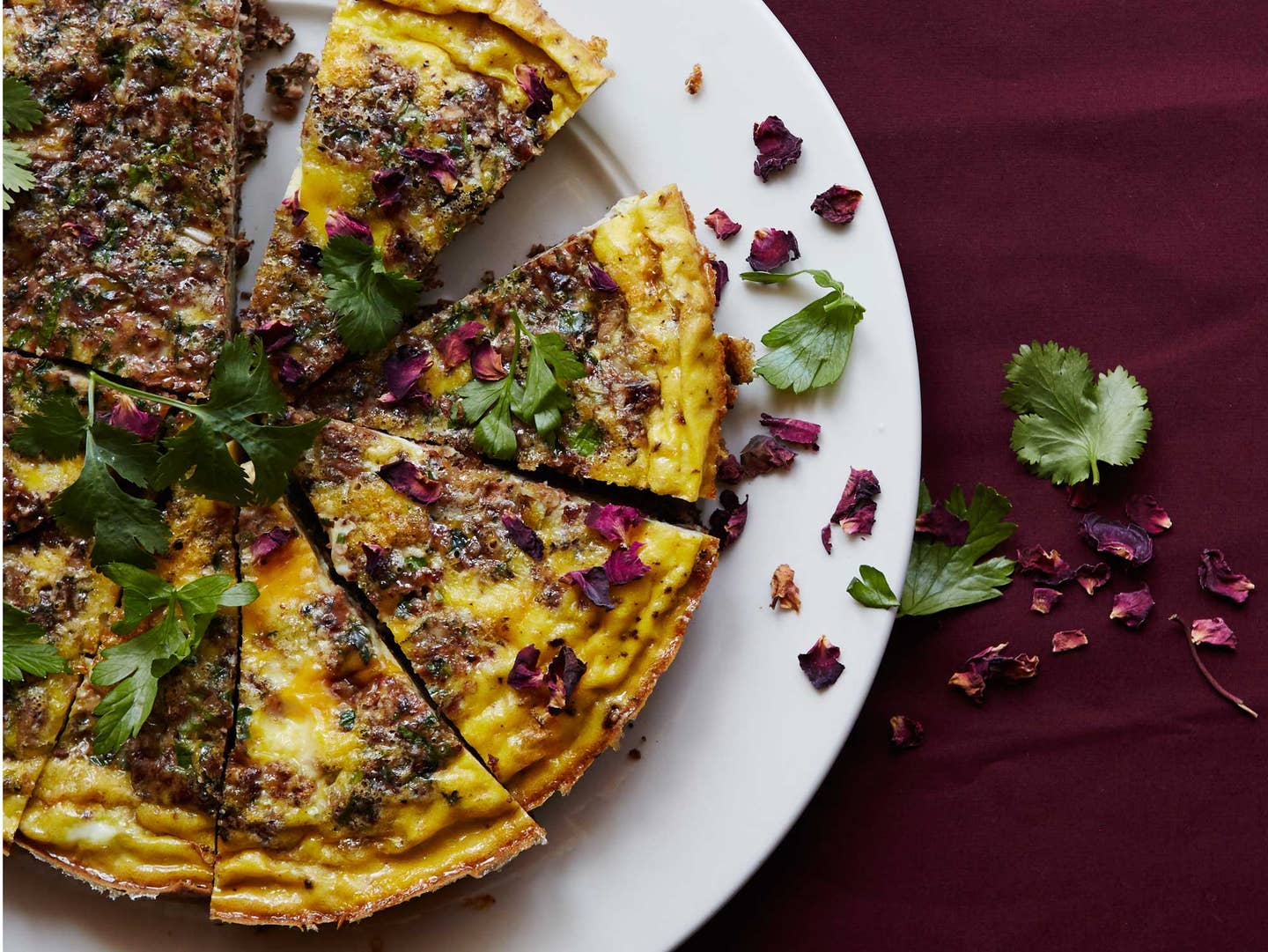 Recipes
What to Make for Nowruz, the Persian New Year
Eggs loaded with herbs, whole fish, and a chance to celebrate renewal in spring
There I am, seven years old, adrift in a crowded, noisy room filled with a language I recognize but barely understand. A familiar smell of saffron, cardamom, grilled meat, and expensive perfume spikes the air. Someone leads me to a long table, known as a sofreh, that suggests a banquet hall in a fairy tale, intricately laid out with things that excite my little girl self: brightly colored fruit, flowers, gold coins, delicate sweets, and an ornate mirror. Curiously, near the center, a live goldfish swims inside a glass bowl. I want to know what it all means.
Welcome to Nowruz, the Persian New Year celebration, as I experienced it in the Philadelphia suburbs in the 1970s. Though I'm the daughter of an Iranian émigré, I had precious little connection to my Persian heritage or to the local Persian community as a child outside of this magical holiday. My father Hass, one of a brood of eight children, had come to the United States from Tehran in 1961 to complete his medical internship, and he did his best to assimilate into American life as a cardiologist and husband of a local girl. Perhaps it was because of the looming Iranian Revolution, or the frightening images of the Iran hostage crisis that soon followed, but my dad kept his background to himself, evading questions about his family, childhood, and culture of origin.
But at Nowruz, my dad's façade of indifference fell away. Falling on the spring equinox (March 21st), this, the biggest of Persian holidays, elicited a more enthusiastic response: My sister and I would change into our nicest clothes, fold into my dad's K-Car, and we'd all drive out to the suburbs to a catering hall for a proper Persian feast, an impossibly glitzy gathering with hundreds of fellow Iranians.
Around long tables laden with heaping platters of fluffy basmati rice, sweet and sour stews, and exquisite miniature cookies and pastries, stood handsome men given to impassioned speeches in Farsi, and elegant dark-haired women with perfect hair and make-up. These lush gatherings, and the fragrantly spiced, herb-laden, buttery foods that I tasted there, would eventually become a crucial link back to my Persian heritage, and a guiding inspiration in my emergence as a chef.
At Nowruz, green herbs like mint, tarragon, and basil, which are highly prized in Persian cooking, become the focus of dishes like the savory soup ash-e-reshteh, made with long noodles, beans, and herbs, and the appetizer plate known as sabzi khordan, a fresh herb platter with flatbread and feta cheese. Herbs abound: rice cooked with herbs, fish cooked with herbs, and even an herb frittata, with the delightful name of kuku sabzi. Woven through these delicacies are subtle touches of tamarind, rose petals, saffron, and walnuts.
Fish, whether baked, fried or smoked, is also central to the celebration. /It turns out the live goldfish on the sofreh that so intrigued me is an ancient Zoroastrian symbol of freshness and new life. My recipe for tamarind-stuffed fish, given to me by my cousin Parvin, is a dish that could be found in either the north or the south: It has the fruity tartness, nuts, herbs, and copious amounts of garlic that are themes in most Iranian cooking, though a cook in the Gulf region would almost certainly spice it up with the chiles that are the signature of Southern Iranian cooking.
Ultimately, the herbs and fish speak to the deeper significance of Nowruz, its celebration of new life and the arrival of spring. The holiday begins with a literal spring cleaning, a practice known in Iran as khane tekani—literally "shaking the house"—while disagreements and bad blood from the previous year get resolved. It's also customary to sprout vibrant green shoots of wheatgrass, lentils, and barley in the preceding weeks, to symbolize the budding of trees and flowers in the spring.
These days, I have my own way of observing Nowruz. Sprouted green lentils adorn my windowsill, and my altar is spread with candies, gold coins, fresh flowers, and a book of poetry by Hafez, the great Persian poet. My goldfish isn't a live one, but a surprisingly lifelike version made from marzipan, handmade at the corner bakery of my Italian neighborhood in Brooklyn. For the last several years, I've held Nowruz pop-up dinners at various restaurants in New York and elsewhere, finding new ways of interpreting the traditional menu, and laying the ceremonial table with the most beautiful items I can find.
The themes of Nowruz continue to have significance for me, particularly since the birth of my son last December. His middle name, Bijan, is drawn from the Persian epic poem The Shahnameh. As he enjoys his first spring season, and takes part in his first Nowruz, I'll be celebrating not only my own late-discovered cultural identity, but the bright future of this young green shoot.
More Persian Recipes for Nowruz