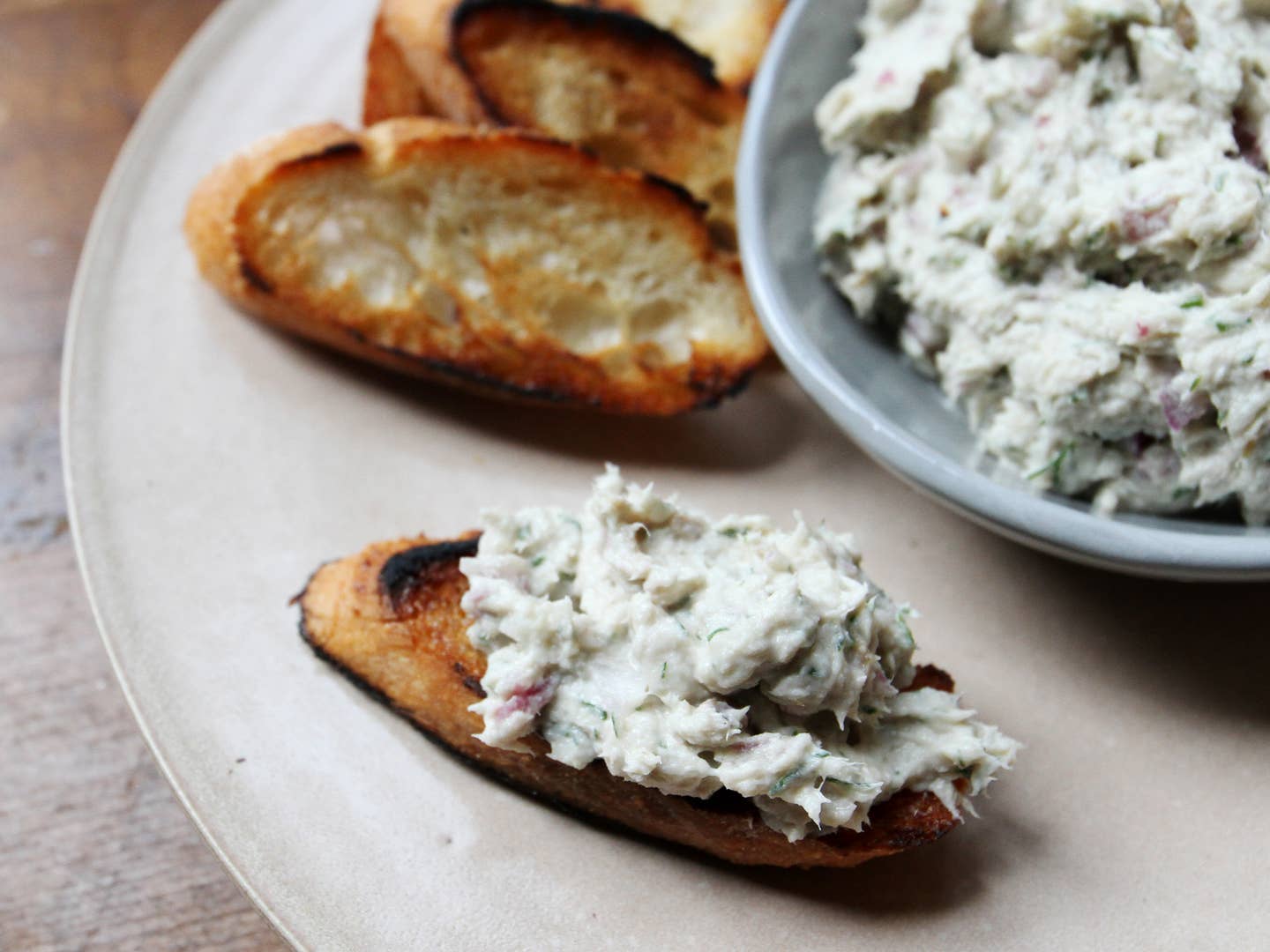 Recipes
NYC to CSA: A Bluefish Paté for Every Palate
For an ailing in-law, Jessica turns a fridge full of bluefish into a rich, flavorful spread
My husband's Grandma Jean is ninety-seven. Until very recently, she swam in the ocean until October, drove an MG with the top down and her Maine Coon in her lap, wrote one hundred and fifty birthday cards a year, and played jazz to her plants. She is graceful and kind and smart as a whip and the sort of grandmother dreams are made of. In many ways, she raised my husband. She taught him all about humility and saltwater and levity and to warm plates in the oven: all the things that have made him him.
Jean grew up in Essex, Connecticut to Polish immigrants, surrounded by fruit trees and scallops. She lived through the Depression. Give her a lobster, she'll beeline for the roe. Give her rhubarb, she'll whip up freezer jam. The first time I met her ten years ago, she served me both blueberry and peach pie. Suffice it to say, it took about four seconds for her to have my heart. My whole heart.
But ninety-seven is ninety-seven and there are not-so-good days, too. Five years ago, her heart started acting up and she had to cut back on salt. (She drew the line at bacon.) She started taking diuretics and had to cut down on liquids. (So she drank red wine from a shot glass.) She had to avoid anything that could get caught in her throat. She had to make concessions but she didn't have to concede everything. Then last year, the doctors said that all of her food must be first puréed and then thickened. Grandma Jean didn't complain, but for someone who has been sucking the meat out of everyone's lobster legs at the dinner table for nearly a century, this was a big shift—and not exactly one of the good days.
During this transition period, my husband and I had just moved from Manhattan to Amagansett, where we were eating off the land in the way Grandma Jean always had. I was cooking like crazy. I constantly found myself wanting to cook for Grandma Jean, and make versions of the zucchini bread, crab dip, and frozen yogurt pie that she'd once made for me. I finally had the tools to show her what an impact she'd had, to return her generosity, but I couldn't.
When the bluefish showed up late last May, I wanted nothing more than to ferry across the Long Island Sound and make her day with a little delivery. She loves bluefish; I decidedly do not. Our fridge was overflowing with them: My husband had started fishing again and we'd joined Dock to Dish, the first Restaurant Supported Fishery in the country and the first Community Supported Fishery in New York State. I had a fleeting desire to casually unplug the refrigerator and blame the dog. But what would Grandma Jean have said? She eats bluefish every which way: with eggs for breakfast, potato chips for lunch, and on the grill for dinner. The bluefish looked at me and I looked at them.
The good news is that my husband is very much his grandmother's grandson. He saw the fear in my eyes and, all sensitivity and resourcefulness, took out the smoker. We'll figure this out, he said.
Sometimes you are aware of traditions being made. Sometimes they come out of nowhere. This one was like that.
That afternoon, we smoked the bluefish, then we added to it all the things that Grandma Jean added to her crab or sweet pepper or hot shrimp dips: cream cheese, butter, lemon, garden-fresh herbs. And then I threw in some wasabi paste because cream cheese and butter might be Grandma Jean's staples, but they aren't mine and I'm always trying to cut them down at the knees with citrus or vinegar or brine. We puréed the mixture until it was creamy as mousse—not because it needed it, but because Grandma Jean did. And just like that, our bluefish dip went from nothing to famous. My husband caught more bluefish; I asked him to. We stored batches in the freezer and friends started requesting it. We brought it to Grandma Jean, who was a kind of happy I hadn't seen in a long time. She even asked for a little red wine and we gave it to her because, well, the bluefish season doesn't go on forever and you're only ninety-seven once.
Jessica Soffer is a novelist whose work has appeared in Granta, The New York Times, Martha Stewart Living, Real Simple, The Wall Street Journal, Vogue and on NPR's Selected Shorts. She teaches fiction and food writing, and doesn't eat red meat or French onion soup.