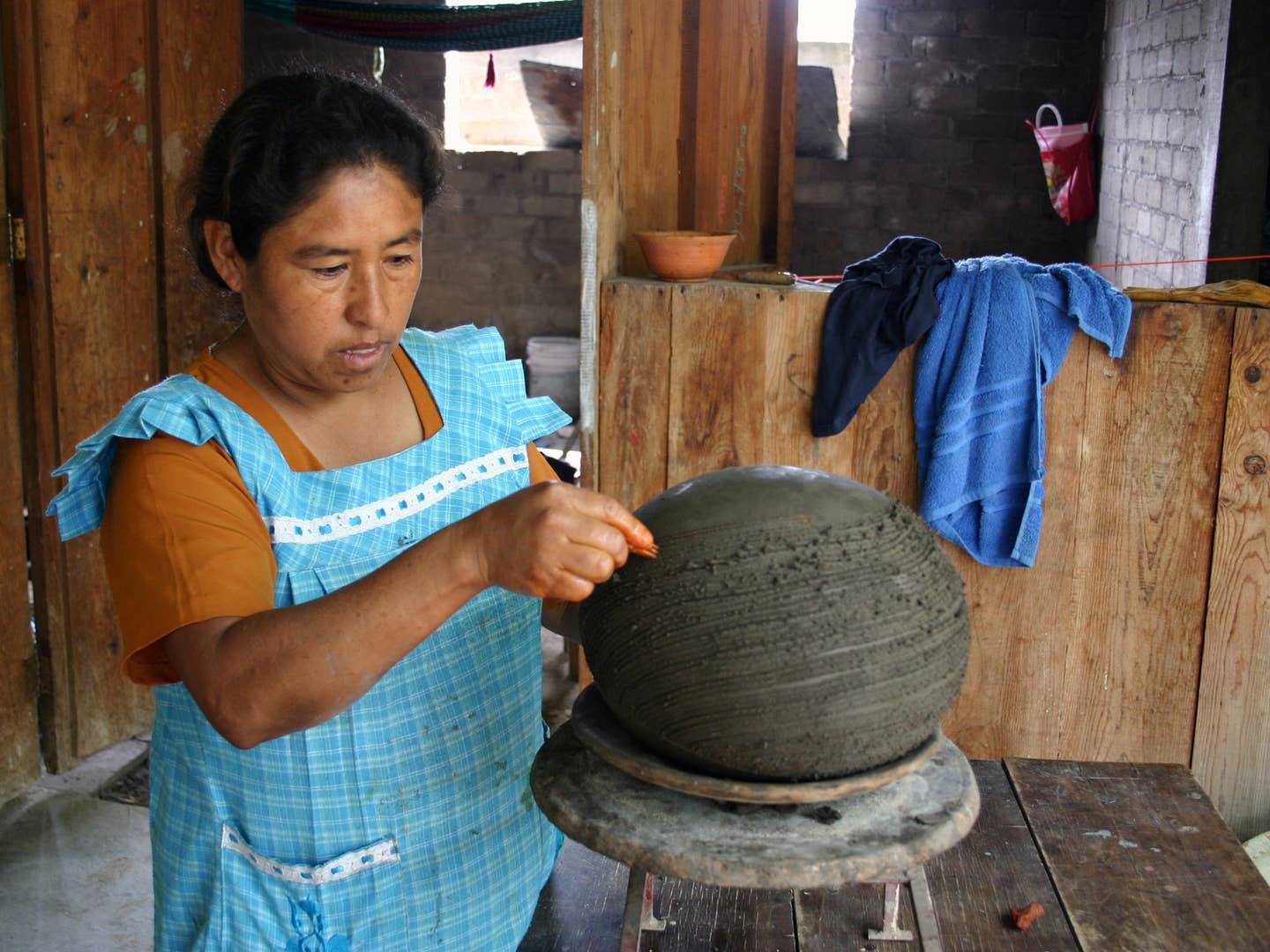 Culture
Innovando la Tradición Is Preserving Oaxaca's 35 Styles of Pottery, One Mezcalero at a Time
In Mexico's most culturally diverse state, ceramics have been on the table for over 3,000 years—but are at risk of being lost
It all started with a bowl—that's what Kythzia Barrera will tell you if you ask her how she came to be the founder of Innovando la Tradición, a project that aims to support Oaxaca's ceramic traditions. Or, she may be more specific and tell you that it was a chocolate caliente bowl, out of which Oaxacans have been serving their thick hot chocolates for thousands of years. Fascinated with the storied past of that one little bowl, she started researching the current state of Oaxaca's ceramics.
The state of Oaxaca is known by tourists for its a barro negro style of pottery, but among the area's 70+ different villages there are 35 different ways of working with clays, glazes, and firing processes—some of which have been been traditions for 3,000 years. And when Barrera realized that these countless pottery styles and their history weren't being preserved in a sustainable way, and that disposable plates were becoming more popular than ceramic ones, she figured she should do something about it.
"[Ceramics] are very important for identity in Oaxaca," Barrera says. "But it's very damaged. I noticed the quality [of the ceramics] was low and the workshops were in very bad condition."
Born in Mexico City, Barrera got her bachelor's in industrial design from Universidad Iberoamericana and master's in social and sustainable design from The Design Academy Eindhoven in the Netherlands before turning her attention toward the state in southwestern Mexico that's more biologically and culturally diverse than any other in the country. Roughly the size of Indiana, Oaxaca is shaped by its 16 official indigenous groups, notably the Zapotecs and Mixtecs, who have resided there since the early Mesoamerican era.
Starting in 2002, she and her business partner Diego Mier y Terán began taking annual trips to Oaxaca to meet with the artisans behind the various pottery styles, researching their work and figuring out how to better document and preserve them. Among the 45 artists they work with, there are the five Zapotec women of the Mateo family who have been creating polished pieces with their land's red clay. There's Ana María Alzarón, who learned how to work with clay from her father and has since taught her nine sons and daughters how to help shape mezcaleros; and there's Rufina Ruíz, who makes glazed chilmoleras (mortars) in the green-colored, endangered Atzompa-style.
And in 2008, she and Mier y Terán co-founded Innovando la Tradición, through which they—along with six other team members—work with the artists, supporting and spreading the word about their practices. The group hosts workshops where these potters can share generations-old techniques with those unfamiliar, help them create lead-free glazes that are better for the environment, and even take the artists abroad to learn how ceramics function elsewhere. And in the book Fire and Clay, written by Innovando member Eric Mindling, the group's research helps illustrate the past, present and future of Oaxacan pottery to a broader audience.
"The idea is that we can show all the wisdom and knowledge that's behind this pottery to different audiences," Barrera says of the book, which is published in English, French, and Spanish. Because so many of the threatened pottery styles are made by indigenous groups in rural villages, there's very little documentation of all the ways that Oaxacans have been transforming clay for thousands of years. Just as a cookbooks can preserve a family or culture's recipes, this book preserves their art.
Most recently, Barrera has turned her attention toward not only spreading the tradition, but spreading the physical cups, bowls, and plates. In 2009, she launched Colectivo 1050º, through which she sells the artisans' functional pieces to art buyers around the state, as well as international online shoppers. It's a goal of hers to strengthen the functionality of the pieces through marketing and selling everything from barro negro contenedores for dried goods to barro rojo mezcaleros made by women in Tlapazola.
"[Making solely decorative pieces] was an easy way out for artists to preserve the craft: to make art for tourists," she says. So if you visit Colectivo's site, you'll not only find multifunctional bowls and cups, but also traditional fruteras and tequileros.
To Barrera, the shop's curated collection just makes sense—culinary arts and ceramic arts have been intrinsically linked in Oaxaca for more than 3,000 years. It's no coincidence that the first comales, the griddles on which you prepare tortillas, one of the most essential Mexican foods, were ceramic.
"Where there's food, there's clay," she says. "It's a material that's always been on the table."