8 Dishes You'll Only Find in New Jersey
Taffy and tomatoes are nationwide, but these Jersey exclusives have stayed put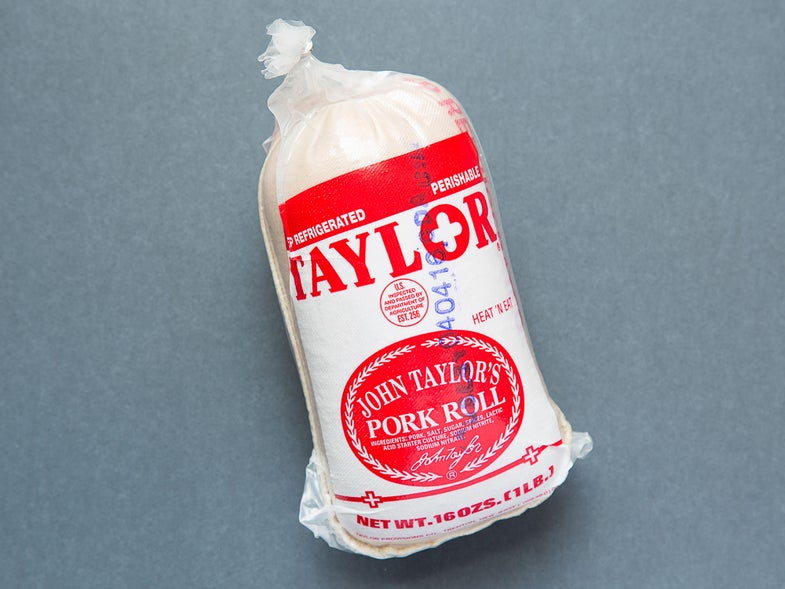 For the month of April, SAVEUR is all about New Jersey, the unsung hero state of American eating. Here's why. Read all our Jersey Month stories here.
New Jersey has no shortage of food icons—salt water taffy, applejack, great deli sandwiches—but those of us not lucky enough to live within state lines are able to get them elsewhere. These foods and dishes, on the other hand, are much harder to find.
Here's how to eat Jersey like a local.
Widely known in parts of Jersey as Taylor Ham (named after its creator, John Taylor), pork roll originated in Trenton and dates back to 1856. It's a salty, fatty processed meat like bologna or spam and is most classically eaten as part of a balanced Jersey breakfast: fried pork roll, eggs, and cheese on a "hard" (kaiser) roll bread, another Jersey specialty. (We also like it for extra juicy meatballs). The meat has amassed a legion of fans, to the point that there is now an annual pork roll festival every summer.
Most people may know sloppy joes as buns filled with scoops of ground beef cooked in a sweet, ketchup-like sauce, but the north Jersey sloppy joe has more in common with a Dagwood sandwich than a burger. It's actually a cold-cut sandwich that, so the story goes, Maplewood politician Thomas Sweeney brought over 1,200 miles from Cuba in the '30s. Thin slices of pastrami or corned beef (or other cold cuts, or a mix of them) are wedged, double-decker-style, between slices of rye bread and dressed with coleslaw, Russian dressing and Swiss cheese. Fun fact: The sandwich is affectionately named after the bar Sweeney had visited in Cuba.
Call it a sandwich on steroids, because this this behemoth of a sandwich is pretty much an entire fast food menu rolled into a single loaf of bread. An impressive (both size- and calorie-wise) mix of french fries, mozzarella, roast beef, chicken tenders, and then some, the fat sandwich was first introduced by RU Hungry?, a food truck at Rutgers University, and has since become the school's unofficial food mascot. Today RU Hungry is one of several "grease trucks" around campus that all cater to a steady supply of drunk students late at night.
Its name may suggest otherwise, but the Trenton tomato pie (named for the city of Trenton, the pizza's origin) is actually a pizza, and a worthy contender against the more New York styles you get elsewhere in the state. While most pizza is made with crust, then sauce, then cheese and toppings, tomato pie flips the script. Cheese and toppings go on the crust first, then liberal amounts of tomato (ideally crushed plum tomatoes just seasoned with a little salt) go on top. Doing so keeps the sweet-tangy-savory of tomatoes front and center.
Invented at the Belmont Tavern by the mysterious chef Stretch, chicken savoy has been designated by some as New Jersey's unofficial state dish. Nearby restaurants have all tried to make the dish—roast chicken rubbed with garlic, cheese, herbs, and finished off with vinegar—but none have quite matched the original. (Here's our attempt at recreating it.) But no matter where you get it, it's an Italian-American Jersey classic, juicy and aromatic with a nice twinge of acid.
Forget New York's one-man hot dog carts, and Chicago's loaded Vienna beef dogs, because the real hot dog haven of America is in New Jersey. There's not just one unique kind of Jersey dog—there are seven—from "rippers," deep fried until they split down the middle, to chili-topped "Texas" weiners, to "Italian" hot dogs, deep fried, stuffed in bread made from pizza dough, and topped with fried onions, peppers, and potatoes. See our full hot dog style guide here.
A diner favorite, these cheese- and gravy-topped fries are rare finds outside the Garden state. (No, cheese fries don't count, and Montreal poutine, made with cheese curds, isn't the same either.) Beyond the gravy, which adds far more savoriness than ketchup or mayo can.
Those who crave a night of primeval dining are bound to enjoy this unique Jersey banquet: slices of beef tenderloin soaked with gravy that you eat with your hands, with free-flowing beer and brass bands as the only sides. This celebratory communal dining experience, popularized by 19th century working-class revelers, may have emerged in New York City, but these days it's an only-in-Jersey extravaganza.