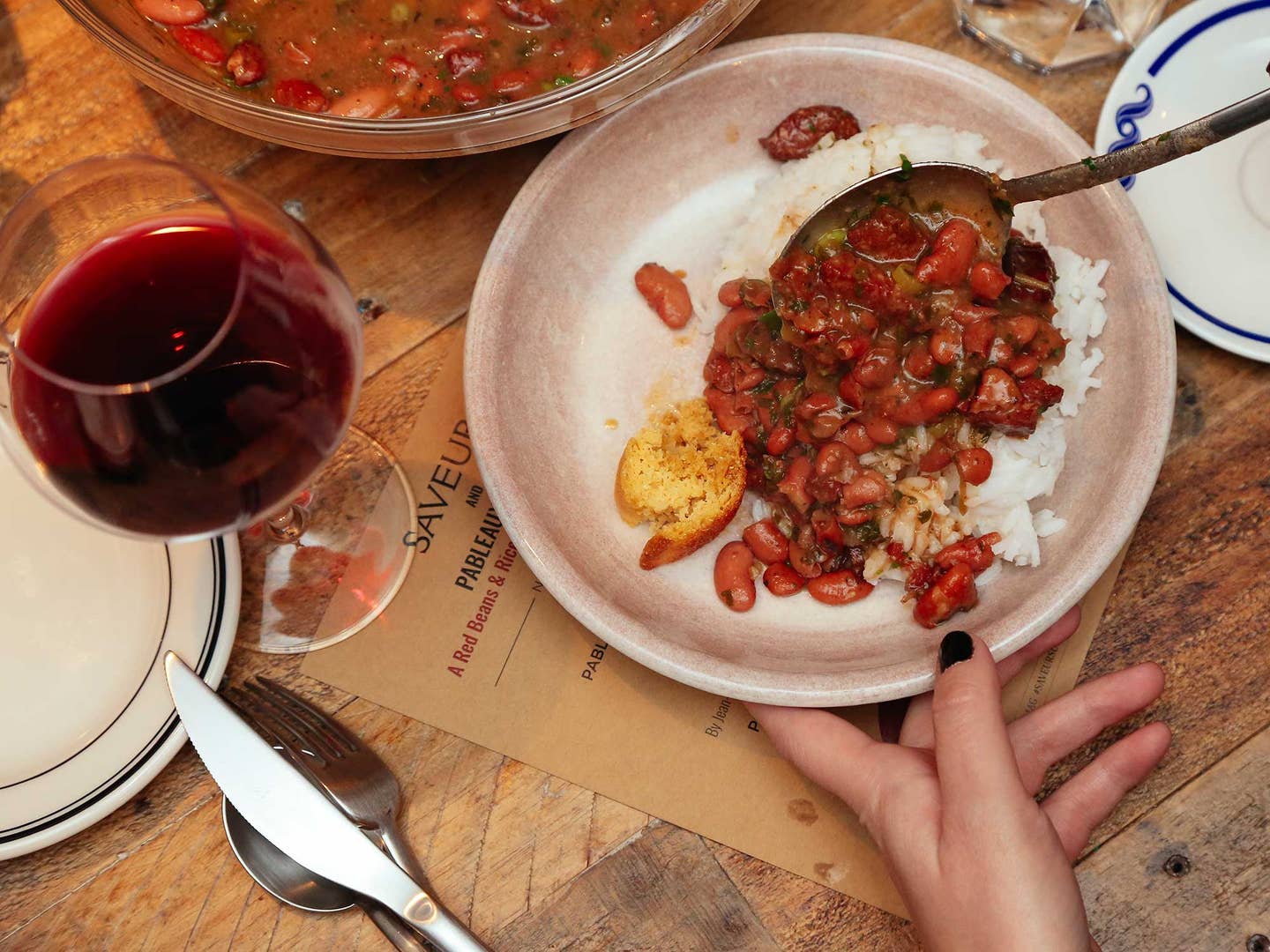 Techniques
How to Cook Your Way Through Trauma With Red Beans and Rice
Cajun cook Pableaux Johnson on a weekly New Orleans tradition that's part meal, part social mixer, and part group therapy
15 years ago, Cajun son Pableaux Johnson, reared in New Iberia, Louisiana, settled in New Orleans. So he started making red beans and rice on Mondays.
"It's one of the cornerstones of New Orleans foodways in a town that's got a lot of them," he tells me, sitting in the SAVEUR office across a rough-hewn wood table that reminds him a lot of the one he inherited from his grandmother.
"It can seat 10 comfortably," he goes on, "13 or 14 if you get friendly. When you have a table that size, there's always room for friends and friends of friends who are passing through town. In 15 years of cooking red beans and rice every Monday I've never had the exact same group of people for dinner twice."
The Monday part dates to the servants of upscale pre-Industrial families needing a dish they could keep simmering all day on the back burner while they washed a week's worth of laundry; it was also a convenient way to sap the last iota of life from the ham bone that was a staple component of Sunday evening meals. These days, laundry day is less codified, but red bean Mondays remain an essential part of New Orleans' DNA.
Johnson, a photographer, writer, and general New Orleans man about town, is also familiar with cooking for much larger crowds. He's long been making gumbo by the bucket-load, and for the past year he's been traveling around the country with his cast iron and andouille for a pop-up operation called the Red Beans Roadshow. In restaurants from Chapel Hill, North Carolina to Seattle, Washington he's partnered with local chefs, taking over their restaurants with his house rules (no tables too large for group conversation; no cell phones), dishing gently smoky red beans and butter-basted cornbread into communal bowls while the hosts handle starters and desserts. Last night he wrapped up the final stop for 2016 at the SAVEUR office (yes, on a Thursday; forgive the Yankees). He'll pick up again with all new stops in 2017.
Back home, red beans and cornbread are less a ritual for Johnson than a fact of life. "It's not a dinner party; it's supper. It's what Monday smells like in New Orleans," he says. He keeps the suppers spare. "If you want a salad, you're out of luck. There's red beans and cornbread and whiskey for dessert. And there's always someone new to talk to."
In New Orleans, and Louisiana in general, these kinds of facts-of-life food traditions are legion, rooted deeply in seasonal changes, public calendars, and the private rhythms of local life. "So much of the food in Louisiana is tied to what's fresh and what's good," Johnson says. That means a pot of gumbo, which he likes to call an everyday sacred dish, will change with the seasons, calling on shrimp when they're at their most plump and sweet or okra when it's bursting with summer vitality.
Red beans, though, are more elemental, more regular. No matter the year or the season, the dish is evergreen. You can always rely on dried beans and pork products.
That's why the moment Hurricane Katrina's flood waters receded from the devastated Crescent City, Johnson was back in the kitchen. "We went back the red-hot second we could," he explains, "and once a week—or sometimes more—we did red beans and drank a lot and tried to make plans. We were dealing with so much uncertainty, and that red beans table was a place to gather and make our way through the shock and mourning process. Having it be clockwork was remarkably important."
Over the past two weeks, Johnson's noticed a similar anxiety and shock from his friends in New Orleans and beyond. "I'm hearing a lot of parallels between the results of the election and the body blow we felt during Katrina," he says. I tell him about the number of people I've talked to who, rocked to their cores by the daily concatenations of the news, are cancelling their Thanksgiving plans. That they don't feel they can process a holiday of gratitude and abundance when their hearts are punctured with fear for the future.
"Thanksgiving is a different kind of thing from red beans," Johnson admits. But he also makes clear that his response to trauma is to cook. "People are always going to need to eat, and getting a big group of people around the table can, for me, humanize pretty much everything."
If red beans are a different kind of tradition from Thanksgiving, what are they? Maybe not a tradition at all, but something more visceral; a communal muscle memory that becomes an even weightier anchor. "It's not a special occasion," Johnson says. "It's just what you do."