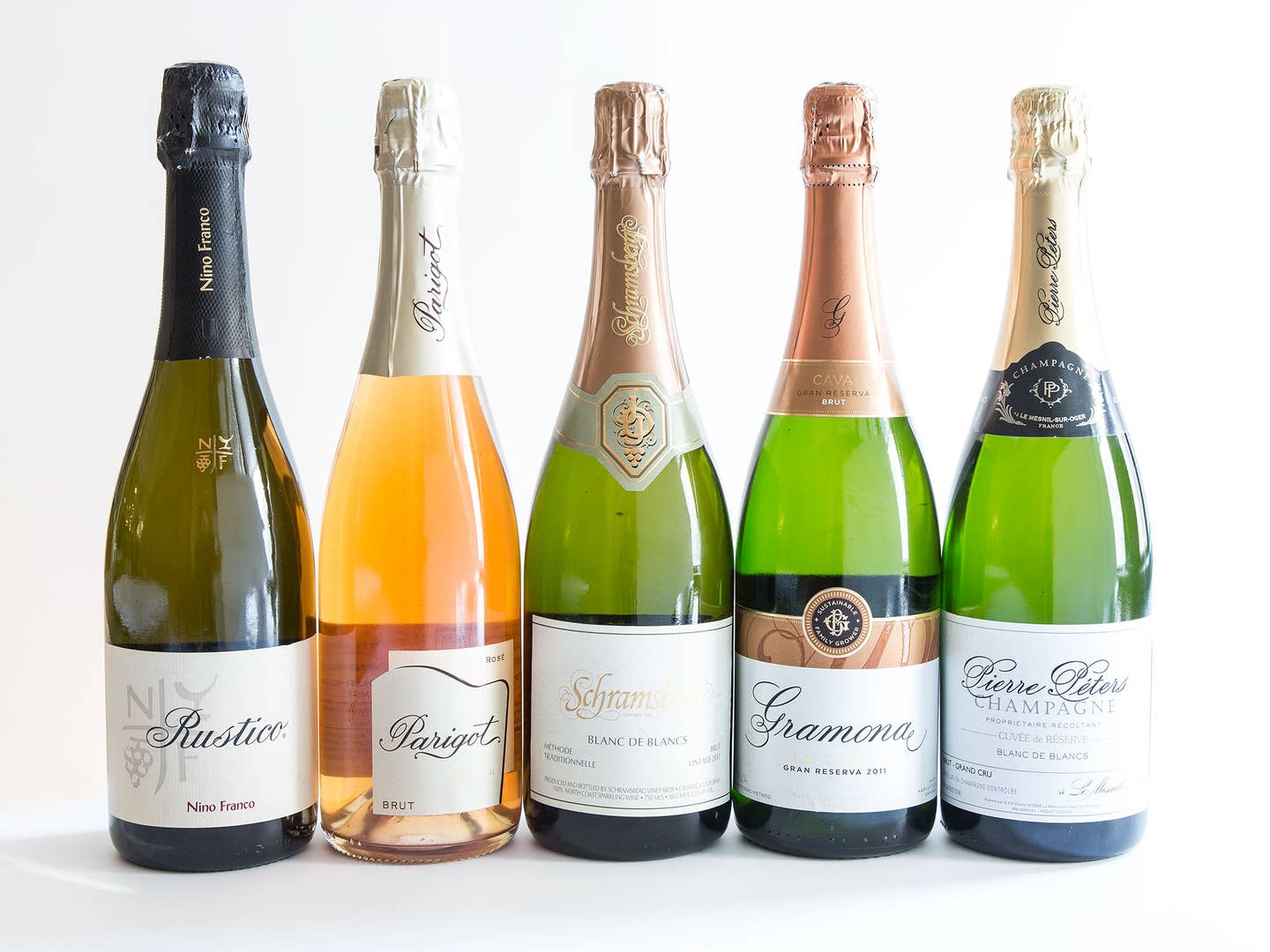 Drinks
The Pair: All About Sparklers
We're here to set apart the different styles of sparkling wine
Tasting wine is always fun, but often intimidating. To help demystify the process, we've called on Thomas Pastuszak and Jessica Brown, husband-and-wife wine geeks and sommeliers at a couple of top New York restaurants: Thomas currently serves as the wine director at The Nomad Hotel, and Jessica helms the wine program at The John Dory Oyster Bar and The Breslin Bar & Dining Room. Between them, they've got a surplus of wine knowledge to share, and each month they'll choose several wines to taste side-by-side to help us calibrate our palates and understand our preferences. This month: sparkling wine styles.
Today, sparkling wine is more popular than ever: wine shops are stocking more bottles each day; restaurants pour multiple Champagnes by the glass; and bartenders incorporate sparklers into cocktails of every stripe. But what exactly are the different styles of sparkling wine, and what sets them apart?
Let's start with the sparkling motherland: Champagne. About an hour's drive northeast of Paris lies the countryside that helped bring sparkling wine to practically every corner of the globe. The story goes that centuries ago, Champagne was accidentally created here when bottles of still wine started to pop their corks in the cellar. Whether or not it's actually true, it does help illustrate just exactly how Champagne-method sparkling wines are made.
When making white (or rosé) wine, grapes are pressed and the juice that runs off the skins is fermented into a final, still wine. Whether aged in oak or stainless steel, it's bottled ready for consumption. Champagne, however, goes through the fermentation process twice, the second time inside the bottle that you will end up drinking; this process is known as the méthode traditionelle.. A little yeast and some sugar is added into the bottle to kick off this secondary fermentation, which creates not only the bubbles we love in the wine, but also adds texture, weight, and complexity. The bottle is then disgorged—the spent yeast in the bottle is shot out when opened by the cellar master, thanks to the pressure now present in the bottle. After the disgorgement, it's topped off with a bit more wine to fill the bottle and finalize the style the winemaker is going for, sealed under cork and cage, et voilà! A bottle of Champagne is born.
A favorite Champagne of ours that really exemplifies the nuances this style of winemaking can bring is the Pierre Peters Cuvée de Réserve Blanc de Blancs from the village of Le Mesnil-sur-Oger. Made from Chardonnay grapes grown on chalky soils, it's lean, refreshing, and nervy, but also has some serious weight thanks to its bottle aging and the style of the house. Blanc de Blancs means the wine is made exclusively from Chardonnay grapes; the other predominant grapes of Champagne, Pinot Noir and Pinot Meunier, are used to make single-varietal wines which are called Blanc de Noirs. Most often, however, you'll see blends of multiple grapes and years.
It can be challenging to find a good bottle of Champagne in the store for under $30; most of the good stuff starts at $50 a bottle—and goes way up from there. Champagne can command a high price because of the history of the region, quality of the terroir of the sites, and its fashionable nature. Thankfully, there are many other parts of the world that are making sparkling wine in the style of Champagne, but at a much friendlier price thanks to their locale (only wines from the region of Champagne can put that name on the bottle).
For example, drive south a few hours from Champagne to Burgundy, and in the village of Savigny-les-Beaune you'll find the Parigot & Richard domaine. They make delicious méthode traditionelle sparkler using Burgundy varietals (Pinot Noir, Chardonnay, Aligoté) which is labeled Crémant de Bourgogne. It's a true Champagne-style wine that is of the very highest quality, and available at a fraction of the price of a similar wine made in Champagne itself. We particularly love their Rosé Crémant de Bourgogne, made from 100% Pinot Noir, because it brings together yeasty, citrusy flavors as well as a little bit of red fruit character from letting the juice sit for a bit with the Pinot Noir skins at the beginning of the winemaking.
If you hop the pond to the New World, you'll find a bevy of excellent méthode traditionelle wines being made all over the map. One of the true old-school sparkling wine producers in California is Schramsberg, based in Napa Valley. The estate's history is long and rich (going back to the 19th Century), and their methods are as exacting as those you'll see in use at the very best Champagne houses. The Schramsberg Blanc de Blancs 2011 is a doughy, toasty, and very generously flavored Chardonnay-based cousin to the Pierre Peters we raved about before, and shows that the United States can really bring the heat when it comes to sparkling wine production.
Now let's talk about sparkling wine made from grapes other than the traditional Champagne duo of Chardonnay and Pinot Noir. Cava is Spain's answer to Champagne. Based in the Catalonian sub-region of Penedes, here we find the traditional grapes of the region: macabeu, parellada, and xarel-lo. Cava, like Champagne, is made using the méthode traditionelle, and in a huge range of styles from dry to sweet, white to rosé, with some meant to be consumed young and others meant to lay down in the cellar for decades of further aging. An excellent example of ready-to-drink Cava is the Gramona Cava La Cuvée Gran Reserva 2011; aged in both wood barrels and steel tanks before going into the bottle for its secondary fermentation, this wine is extremely refreshing and bright like some of the best introductory Champagnes, ready to drink today. And if you're looking for something to put away for a special occasion, there are a number of other bottlings made at Gramona for that very purpose.
So far, all of the wines we've talked about have been made using the méthode traditionnelle inspired by Champagne, but let's get into a category of sparkling wine made in a very different method known as Charmat. Here, after the initial fermentation is complete, instead of allowing the wine to go through a second fermentation in the bottle, the wine is actually kept in large tanks under pressure, where the second fermentation occurs before the wine is bottled. Think of this as a large, batched secondary fermentation, which naturally means less work on a small scale, making the production more streamlined and far less expensive. One of the most well-known wines made in this style is prosecco, hailing from Italy's northeast corner. Culturally, prosecco is really more of an everyday sparkling wine; it's meant to be consumed with great abandon, and sometimes even mixed into cocktails. We really like the Nino Franco 'Rustico' Prosecco, not only because of its affordability, but because it does a great job of balancing between being a seriously well-made wine, and being extremely easy to drink.
While there's so much more to discuss about Champagne and sparkling wine in general (let's not let us get into dosage, length of aging sur lie, or so many more of these complexities), we want to finish our bubbly chat on a service point. Some folks drink sparkling wine from champagne flutes (the narrow, tall glasses we're all used to); some are reviving the tradition of drinking from coupes, (supposedly shaped by Marie Antoinette's bosom); but we cannot stress enough how awesome it is to drink ALL sparkling wines from white wine glasses! Remember, sparkling wine is a wine first and foremost, which means one of its greatest characteristics is the aromatics it gives off. Don't miss out on all the great smells sparkling wine has to offer by drinking them from glasses that don't give your nose a chance to really get in there.