Our Favorite Passover Dessert Recipes Offer a Chance to Pause, Reflect—and Try Out New Ingredients
Think: Grain-free flours and fresh rhubarb instead of dried fruit.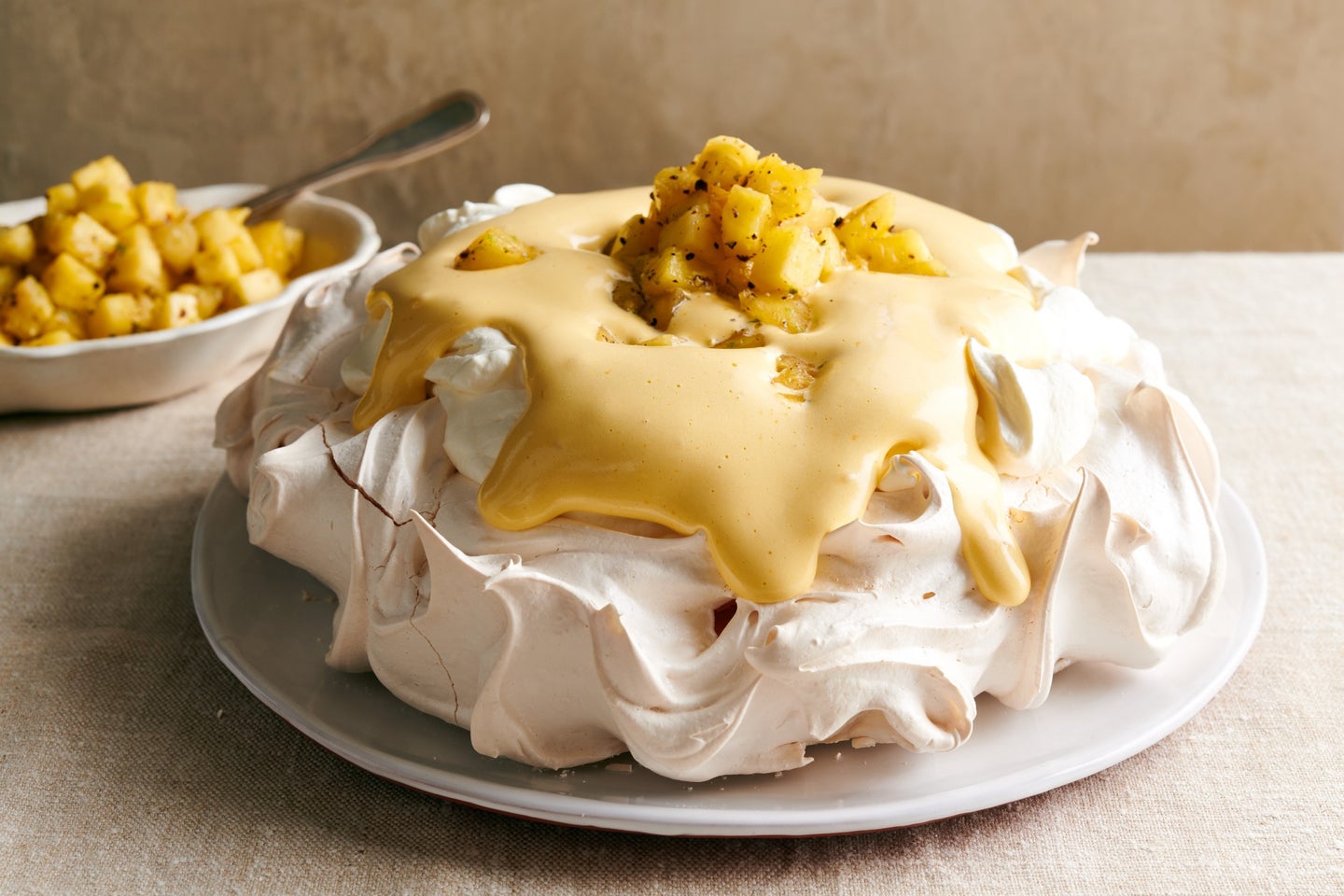 Passover is a celebration that recalls the Jews' enslavement in Egypt and subsequent exodus into freedom. The Passover Seder—an elaborate meal dominated by symbols and rituals—also poses challenges, particularly to us bakers who are asked to forego so many ingredients taken for granted throughout the rest of the year. In addition to flour and yeast, nothing can be used during Passover that contains barley, wheat, rye, oats, or spelt. These grains are considered chametz, leavened foods that are forbidden during the holiday. 
This interruption of day-to-day baking gives us pause, a time for reflection and gratitude. Today, many products and alternative flours are available that meet kosher-for-Passover guidelines, providing dessert options well beyond those embraced by our grandmothers. (Do note, however, that these products cannot always be used interchangeably; for best results, always match recipes with flours for which they are intended.) 
Food memories and cherished family recipes play an integral role in any Passover celebration, linking multiple generations to those who came before. The homemade Passover desserts of my childhood made a lengthy Seder bearable. My grandmothers followed Ashkenazic practices mirroring their ancestors' ties to Central and Eastern Europe. They relied on a number of trusted cookbooks and recipe pamphlets created in tandem with various advertising campaigns of the times. The combination of old and new recipes kept traditions alive while also Americanizing our grandmothers' kitchens. 
Maxwell House Coffee published a Haggadah in 1932, making it free with a purchase of their coffee. Other companies quickly capitalized on the Jewish holiday, publishing recipe pamphlets highlighting their products. Among them Borden's Farm Products, whose slim Passover Cook Book from 1940 is one to which I still refer. Based on the faded spatters and smudges, "Borcas Eingemachts" and "Chremslach" have clearly been the best-loved recipes in the book.  
A favorite of my maternal grandmother Dorothy, borcas eingemachtes (Russian-style beet preserves) are traditional in eastern Ashkenazic households. A ruby-colored sweet enjoyed by the spoonful alongside a "gleyzele tay," (Yiddush for "glass of tea"), the jam-like confection is made from sliced or grated beets, honey, and vinegar. Commonly part of Passover preparations, when the tradition was brought to America, lemon juice replaced vinegar and different families added their own spins on the slow-cooked preserves. Eingemachtes can even be cooked down beyond the jam stage, resulting in more of a candy texture. Over the years, commercially prepared kosher-for-Passover versions became available, and for many, the homemade tradition faded. 
My father's mother, Minnie, never fretted over the health ramifications of using a dozen eggs in a single sponge cake, or of feeding several pints of heavy cream to the Sunbeam mixer as she whipped up the filling for her Passover schaum torte. Minnie also had in her repertoire a recipe for sweet fritters known as chremslach. Made from crumbled matzo, eggs, dried fruit, and almonds, chremslach are common among many cultures and recipes date as far back as the Roman Empire. It's the Ashkenazi Jews, however, who are credited with incorporating this treat into their Passover tradition. One of the earliest recorded recipes for Pesach chremslach can be found in Esther Levy's Jewish Cookery Book on Principles of Economy Adapted for Jewish Housekeepers (1871), considered the first Jewish cookbook published in America. 
For me, adaptation is an important part of the Passover tradition too; I like to swap out Mama Minnie's dried fruit for seasonal fresh rhubarb. The crispy fritter can serve as dessert at the conclusion of the Seder or for breakfast the next morning, with a dollop of sour cream or yogurt and fresh berries—or a side of Dorothy's earthy, crimson eingemachtes.
The Passover holiday spans eight days, offering plenty of time for experimentation in the kitchen. When preparing your menu, be mindful of the varying degrees of observance amongst your Seder guests. The orthodox union provides a list of permissible Passover products here. Fresh fruit, chewy macaroons, and a tray piled high with matzo brittle should satisfy even the most devout celebrants' cravings. For more tempting options, check out these recipes from our archives.
Vegan and dairy free, this rich sorbet has an intensity of flavor to satisfy the most serious of chocolate hankerings. Get the recipe >
The true harbingers of spring, strawberries and rhubarb shine in a crunchy tart shell with a rich layer of mascarpone cream. Get the recipe >
Fernet Branca, a bitter, aromatic spirit, is made from more than 40 herbs and spices, among them myrrh, rhubarb, chamomile, cardamom, saffron, and parsley. Technically not kosher for Passover, the liquor is grape-, not grain-based, making it appropriate for those less strict with kosher laws. Get the recipe >
Forsaking the flour, these petite cakes are enhanced with the addition of pistachios and rosewater, then gussied up with rose petals. Stored in an airtight container, these elegant bites hint at spring while sweetening Passover's eight-day holiday. Get the recipe >
A decadent-yet-airy dessert for any night of the Passover week,his small batch recipe is ideal for a small gathering. Get the recipe >
If you like, feel free to substitute a Passover brandy for the coffee in this rich, flourless chocolate dessert from the legendary Zuni Café. Get the recipe >
Zabaglione and tropical fruit gilds the lily of this airy meringue cake. For observant guests, feel free to swap out the Marsala for a kosher wine. Get the recipe >
Coconut flour and white chocolate update the traditional coconut macaroon. Get the recipe >
A fresh take on tradition: matzo fritters, spring rhubarb and sweet beets creates a memorable dessert or brunch. Get the recipe >