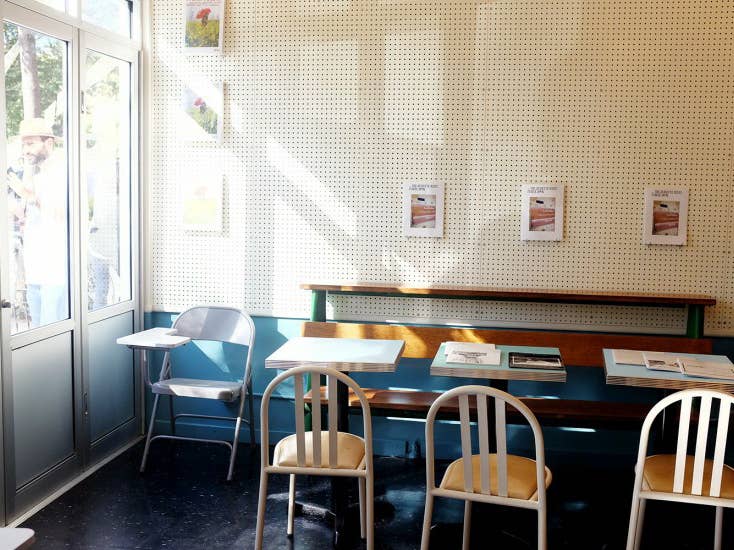 Shopping & Reviews
Take Pegboards Out of the Garage and Into Your Kitchen
A new wave of restaurants is turning the utilitarian staple into smart design
Remember the walls with symmetric holes that lined your grandfather's garage? It's called pegboard, and this humble material, traditionally delegated for the most utilitarian storage, is having its moment in the sun, emerging from storage closets to front and center in restaurant dining rooms.
"The perforated panels help give a graphically strong and contemporary feel to the room," says George Livissianis, the designer of the popular Cho Cho San restaurant in Sydney, Australia. "The speakers, air conditioning, and lighting are all elegantly concealed behind the customized pegboard."
Pegboard became popular in the 1950s, coinciding with an urban push to the suburbs. New garages needed to be organized, and pegboard fit the bill. Today, restaurants have embraced the familiar dots, which we see as part of an ongoing trend to reinvent barebones work materials, like Edison bulbs and exposed pipes, for more creative means. "Pegboard is pleasingly minimalist, especially when painted bold colors, which proved perfect for our purposes." Says Alex Hall, the owner of Brunswick Café in Brooklyn.
But perforated symmetry has been a popular design element for a while. Mid-century icon Jean Prouve was a big fan of arranged perforation, and he used it in both his home and furniture designs. "There is something innately beautiful about utilitarian products," says Brett Robinson, the co-founder of New York's Café Henrie. It echoes the mid-century mantra, where equal emphasis is placed on form and function, and it proved a perfect compliment to our Prouve benches."
We've noticed pegboard design in restaurants around the world. Bestie Currywurst in Vancouver uses it to hang lighting; the pegboard at Bistro Proti Proudu in Prague highlights their symmetric design; and Jamie Oliver's Union Jacks in London's famed Covent Garden prominently places pegboard at the heart of several design elements.
The question is, what's in it for you? Pegboard, with its affordability and adaptability, could prove a great addition to your home. It's an easy way to hang art, plants, and pots with the same set of tools, and their texture and symmetrical pattern of dots can do wonders for warming up a space.
So what are you waiting for? Here's how to bring it home.
Traditionally, pegboards were a made of hardboard, a composite consisting of various wood fibers, usually with the addition of resin tempered with a thin layer of linseed oil. These days though, pegboards come in a variety of materials, including plastic, metal, and regular wood.
Uline is your best source for regular pegboard, but wherever you choose to go, make sure your board is strong—we recommend you stick with the quarter-inch thickness over the eighth-inch to ensure its sturdiness. A lot of pegboard on the market is made from MDF, a super-cheap material that is easily destroyed by water or weight, so know what you're buying.
To make the best use of pegboard in your pad, look to these alternatives to the standard fare:
Kreis Design, started by Swiss-born designer Nikki Kreis, has a selection of contemporary pegboard in multiple colors.
Block Design in the UK carries colorful boards, pegs, and shelves for those looking for something a little brighter.
George & Willy in Australia customizes pegboard to ensure a cleaner, more modern look.
Connox ramped up the artistic slat and created a graphically appealing bamboo wardrobe.
Did you know Julia Child hung her cookware from a giant blue pegboard wall, way before it became trendy? Forever practical, Julia knew that for small kitchens pegboard is a great way to create space. So when you go with pegboard, rest assured, you're in some good company.
This monochromatic pegboard wall with oversize pegs makes for the perfect entryway fixture. Who needs closets?
Advances in pegboards technology, specifically the materials used to create it, have brought a much-needed splash of color to the table.
There's no shortage of innovative ways to use pegboard. Apply a splash of chalkboard paint and suddenly the world's your oyster.
The MP Shift is a New York based concept, design and branding studio, which specializes primarily in hospitality & lifestyle.