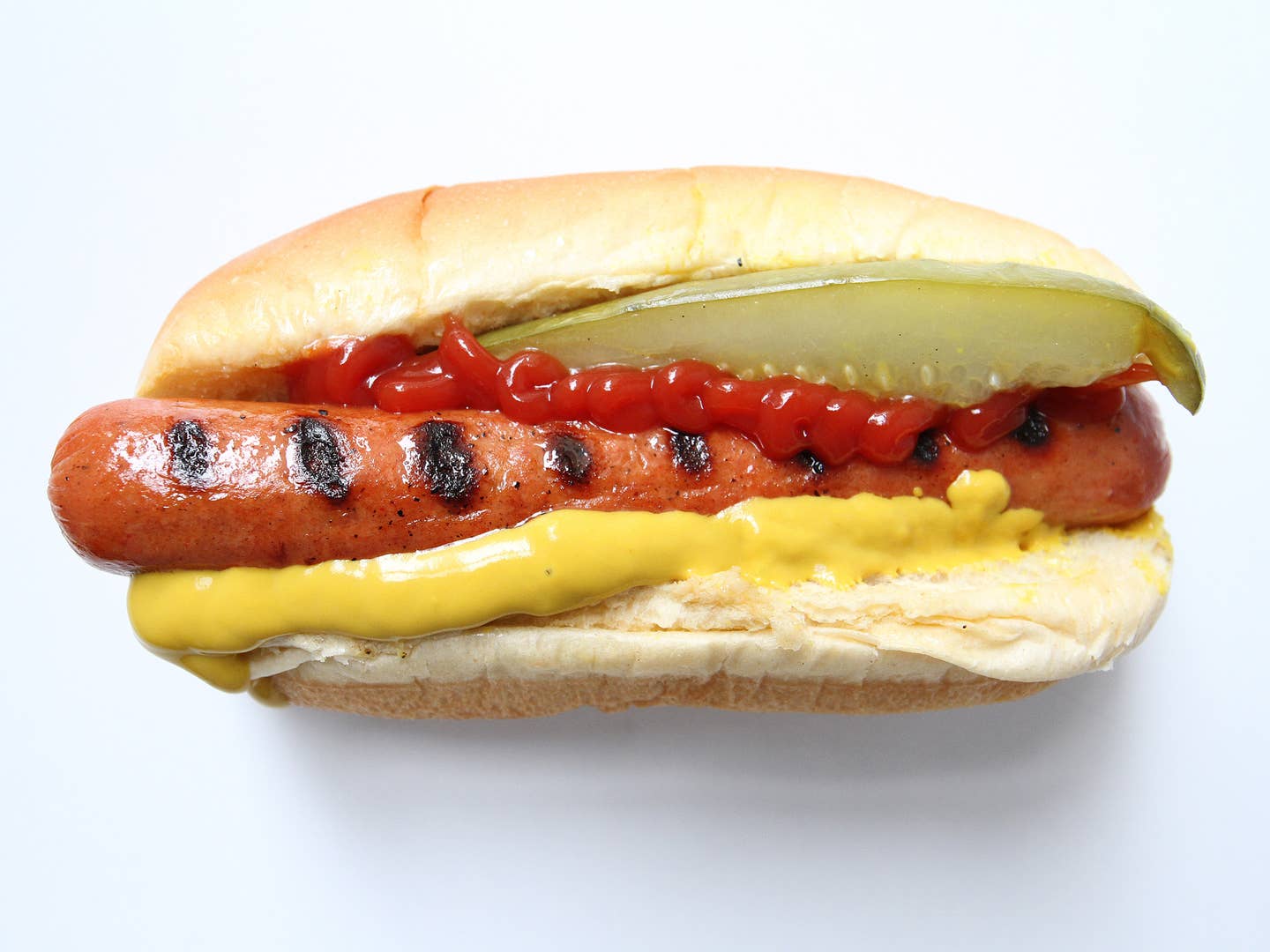 Techniques
How to Build Your Best Hot Dog
Brent Young of Brooklyn's Meat Hook butcher shop offers his tips to building the perfect hot dog
A good hot dog has three components: a hearty dog (preferably from a butcher shop), piled on condiments, and then a Martin's potato roll to act as the vehicle to deliver the former to your mouth. That's what Brent Young says, who's the master of all things meat at Brooklyn's celebrated Meat Hook, a butcher shop that works with small family farms and does whole animal butchery. Young's been a butcher for eight years, and his shop offers over 50 sausages ranging from traditional lap cheong and boerewors, to "trashy sausages" with flavors like Chicken Parm and Banh Mi. "Hot dogs are a real judgement-free dish," he says, but he still has strong opinions about them. Here, he shares his tips for the perfect dog—which we'll be recreating all summer long.
What's your favorite bun?
Martin's Potato Rolls are the best hot dog bun. They're light, fluffy, not too artisanal. You don't want to eat bread—you just want to eat hot dogs and condiments. The bun is just the vehicle. Martin's is the 1994 Honda Civic of hot dog bun—the most reliable, most stolen bun out there.
Do you grill the bun?
I don't really prefer a grilled bun. I love the consistency of a Martin's potato roll as is.
Grilled or boiled hot dogs?
I think hot dogs should always be grilled. When you boil them, the hot dog's flavor leeches out. The grill will plump them and give them more snap, which is what you want with a hot dog. Personally, I like to use a charcoal grill and cook the hot dogs over medium heat. I don't like them black and blistered. Sure, it's just a hot dog, but you still want to be nice and gentle to it—you don't want to beat it up. It should plump and it should be glistening, so cook it for about 8 minutes.
How do you add your condiments?
Ah, layering. Real hot dog artistry. Believe it or not, we've thought a lot about this at The Meat Hook. You want to be able to fit the whole thing in your mouth, but you want each bite to have the full experience. Personally, I say do whatever works for you, because I think it's un-American to tell people how to make their own hotdog. But if I have a point to make, it's that you should think carefully about what you're putting on your hot dog. Anything that's going to fall off of it, put it underneath. Put crispy things on the top.
What's your ideal hot dog?
Well, I'm a Pittsburgh guy. There's a little company by the name of Heinz that started in Pittsburgh. So, I'm a sucker for Heinz condiments. Heinz ketchup, Gulden's mustard, a McClure's pickle spear, and canned Heinz sauerkraut. But go light: You want your condiments to complement the meat, but if you buy a good hot dog from a good butcher shop, you don't want to cover it up.
Any hot dog mistakes people make?
I absolutely hate hot dogs out of the bun. I don't want them near my beans, I don't want them near my eggs, I don't even want to see them anywhere else besides in a bun. Hot dogs in an omelette are offensive to me.
So what would you serve with hot dogs in a bun?
A good coleslaw is a staple. I make one that's mayonnaise-based, but mine has more vinegar in it than you might think. It's pretty tart. I like coleslaw because it's a family tradition, but it's also good because a hot dog is fatty and rich; coleslaw is tangy and sets that richness off. I'm also a potato chip guy, my favorite being Zapp's. Flavor: Cajun Crawtator.
And hot dog drink pairings—what goes best with hot dogs?
The coldest, cheapest beer you can find. My ideal? Miller High Life.