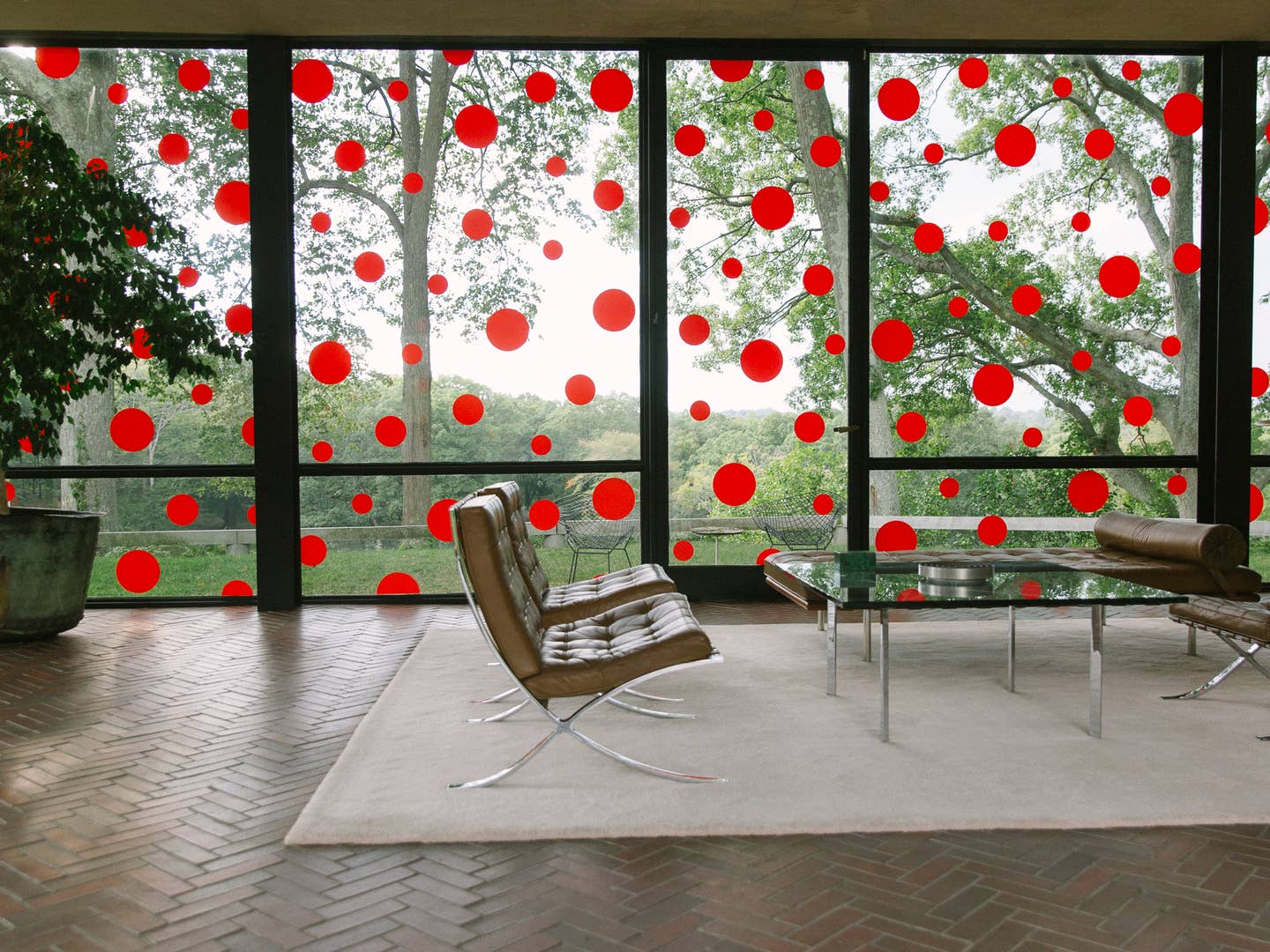 Culture
People Who Live in Glass Houses Should Throw More Dinner Parties
How art and food collide at the Philip Johnson Glass House
One by one, a crew in chef's whites descends the slope down to the Philip Johnson Glass House (a former residence and current museum space literally made of glass), their arms stacked high with meticulously plated preserved tomatoes, which are themselves stacked high with intricate installations of Spanish jamon.
The brigade is led by Park Hyatt New York's Executive Chef Sebastien Archambault, who, despite the muck on his shoes and the acute September thunderstorm rumbling overhead, still has a smile on his face as he leads his team past Philip Johnson's modernist glass home to the Painting Gallery across the way.
Guests flock for cocktail hour inside the Glass House, soaking up the renowned architect's inimitable dream come true, a home in effortless conversation with its surrounding landscape: "the only house in the world where you can see the sunset and the moonrise at the same time." Finished in 1949, the house became home to Johnson and his partner David Whitney, where they lived a surprisingly private life, despite the building's literal transparency.
Today, in celebration of what would been Johnson's 110th birthday year (both Johnson and Whitney passed away in 2005), and the Glass House's 10th season of public access, there is a new temporary installation. "Dots Obsession—Alive, Seeking for Eternal Hope" is Japanese artist Yayoi Kusama's contribution to Johnson's dream, expanding the vision of the Glass House to include thousands of her signature red polka dots. The result is a wondrous display of color and light, inspiring the casual visitor to dwell on the illusory divide between interior and exterior space.
One guest, Di Mondo, partner to accessories designer Eric Javits, even brought his own red polka dots in the form of a fabulously oversized sunhat. Many selfies were taken.
Meanwhile, up the hill, Park Hyatt New York's culinary team continues preparing the family style menu. In one room of the grey-shingled home, pastry chef and eclair mastermind Scott Cioe composes plates of grilled mushrooms (seven heirloom varieties, all from the family-owned Primordia Farm in Lenhartsville, PA), while in another room Archambault and chef de cuisine Chad Brauze put the final touches on a cured fluke crudo and their "Montauk Tuna," a bowl of ruby-red tuna tartare finished with a vibrant sungold tomato sauce. The delicate crudo is adorned with round slips of neon-pink radish, as charming and uplifting as Kusama's playful dots.
In the Painting Gallery, seated beneath an assemblage of Frank Stella's striking ten-foot-tall paintings, the spectacle shifts as medallions of Mangalitsa pork collar hit the table, laden with chimichurri and scallions, and accompanied by smoked, crisped, and pickled fingerling potatoes.
Plates are passed and conversation drifts back and forth between the way Kusama's "Narcissus Garden" in the pond out back reflects the light, and how Cioe managed to instill such a subtle smoky flavor into his s'mores tarts. In a place so decidedly surreal, we all find ourselves feeling like Johnson did once, remarkably at home.