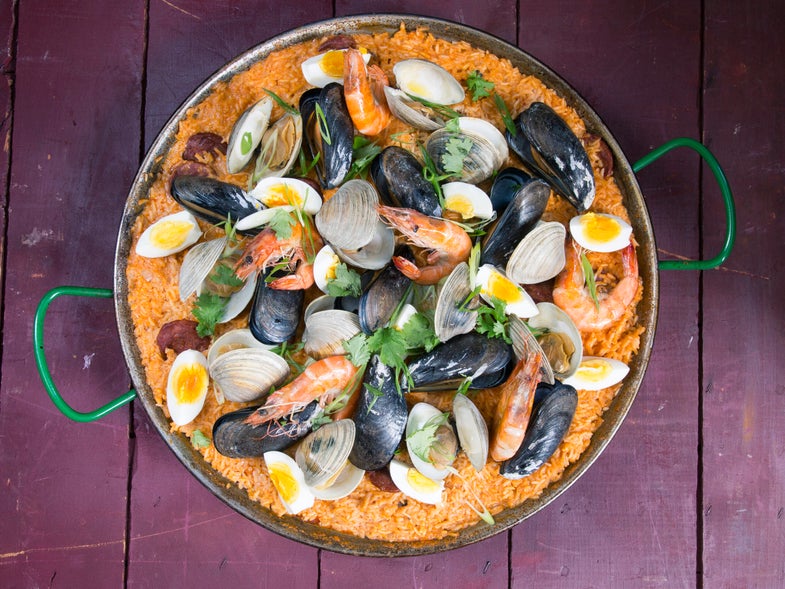 "I love this dish because it really shows how major of a role that the Spanish had on Filipino cuisine. This wasn't served at every party—only at the special ones."– Leah Cohen of Pig & Khao
Featured in: A Feast for Filipinos
Philippine Paella
Distinguished by it's inclusion of sticky rice, coconut milk, and hard boiled eggs, this seafood paella is indicative of Filipino's Spanish-influenced cuisine.
Time: 1 hour, 30 minutes
Ingredients
4 cups jasmine rice
1 cup sticky rice
3⁄4 cup plus 1 tbsp. olive oil
10 cloves garlic, minced
1 Spanish onion, minced
14 oz. chorizo, sliced
1⁄4 cup tomato paste
1 tbsp. smoked paprika
8 cups chicken stock
2 cups clam juice
2 cups coconut milk
1 lb. manila clams (about 12)
1 lb. mussels (about 12)
Kosher salt and freshly ground black pepper
1⁄2 lb. head-on prawns (about 6)
1⁄4 cup sliced scallions
4 hard-boiled eggs, peeled and quartered
Cilantro leaves, to garnish
Instructions
Combine rices together, then rinse under cold running water until the water runs clear.
Heat 1⁄4 cup oil in a 12-inch skillet; add garlic and onion and cook until soft, 8–10 minutes. Transfer to a blender, then purée until smooth.
Heat 1⁄2 cup oil in a paella pan over medium-high; add chorizo and cook until golden, 5–7 minutes. Transfer chorizo to a plate.
Add rice and cook for 2 minutes. Add reserved garlic purée, the tomato paste, and paprika and cook 2 minutes more. Add stock, clam juice, and coconut milk and continue cooking until the rice is slightly tender, about 35 minutes. Add the clams, cover, and cook 10 minutes, until the clams begin to open. Add the mussels, and cook, covered, about 5 minutes more. Season with salt and pepper and keep warm.
Meanwhile, wipe skillet clean; heat remaining oil over medium-high and add prawns. Cook prawns until pink and cooked through, turning once, about 3 minutes.
To serve, top paella with prawns, scallions, eggs, and cilantro.