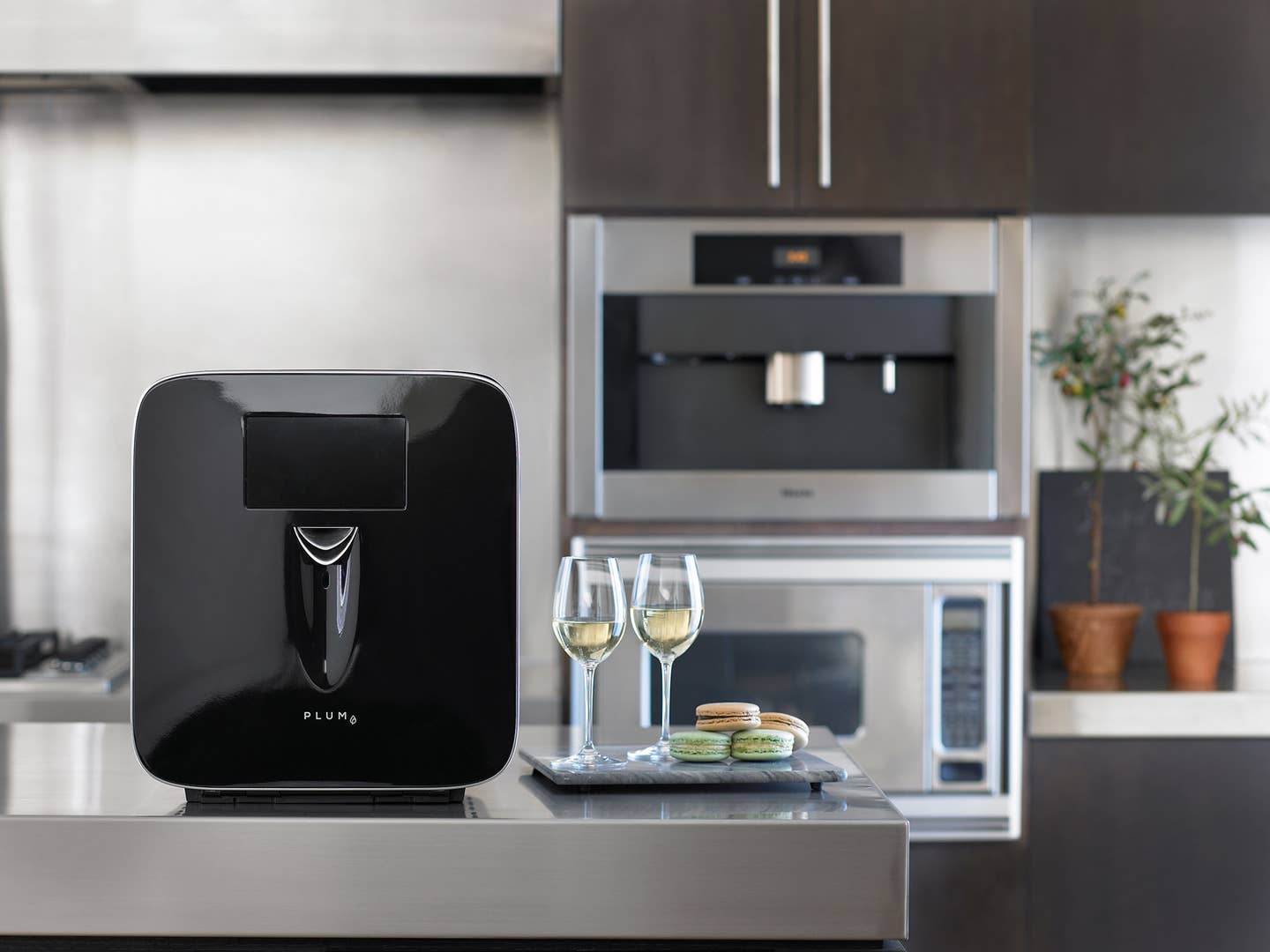 Drinks
Would You Buy This Crazy-Expensive, Futuristic Wine Appliance?
The creators say it'll give you the perfect glass every time—for a mere $1,500
With the rise of relaxed wine bars, sneaker-wearing sommeliers, and younger drinkers spending on bottles, new companies are experimenting with solutions for storing and dispensing wine at restaurant quality in a home setting.
Enter Plum, a nascent startup that bills its namesake product as the world's first super-automatic wine appliance. The sleek, brushed-steel device, which holds two 750ml bottles, is fitted with a computer and camera that identifies a wine simply by scanning the label (there are six million in the database). It then individually chills the bottle and preserves it for by-the-glass drinking. Choose from labels, which appear on a full-color, seven-inch touchscreen, and dispense the wine with the tap of a finger.
According to founder and CEO David Koretz, Plum was designed as a solution for the casual drinker who wants to enjoy a special bottle one glass at a time, or who may be hesitant to open a new bottle for fear of wasting wine that's been oxidized.
"Wine has not kept up with our lifestyles. Most of us want to enjoy a glass of wine after work, pair a glass of wine with food, or be a great host and offer guests an option of red or white," said Koretz in a press release. "I created Plum to enable wine lovers to enjoy the perfect glass of wine. Their wine collection, on their terms."
At $1,500 a pop, it may seem excessive, but the mechanics behind the Plum machine are admittedly well-conceived—and rightfully so, Koretz is a longtime tech executive with a dozen patents under his belt. Bottles are all stored at a 55-degree angle to keep sediment contained in the shoulder, stainless steel tubes (akin to those used in winemaking) deliver the wine from bottle to glass, and a motorized, double-cored needle pressurizes each bottle with argon gas to keep oxygen out.
Because such things are now standard for these home appliances, an integrated web application and WiFi capability allows users to keep track of their own wine history as well as see what friends, sommeliers and winemakers are drinking. It's a pricey purchase, but considering its obsessive attention to detail, that may not be a problem for the new generation of tech-savvy oenophiles.