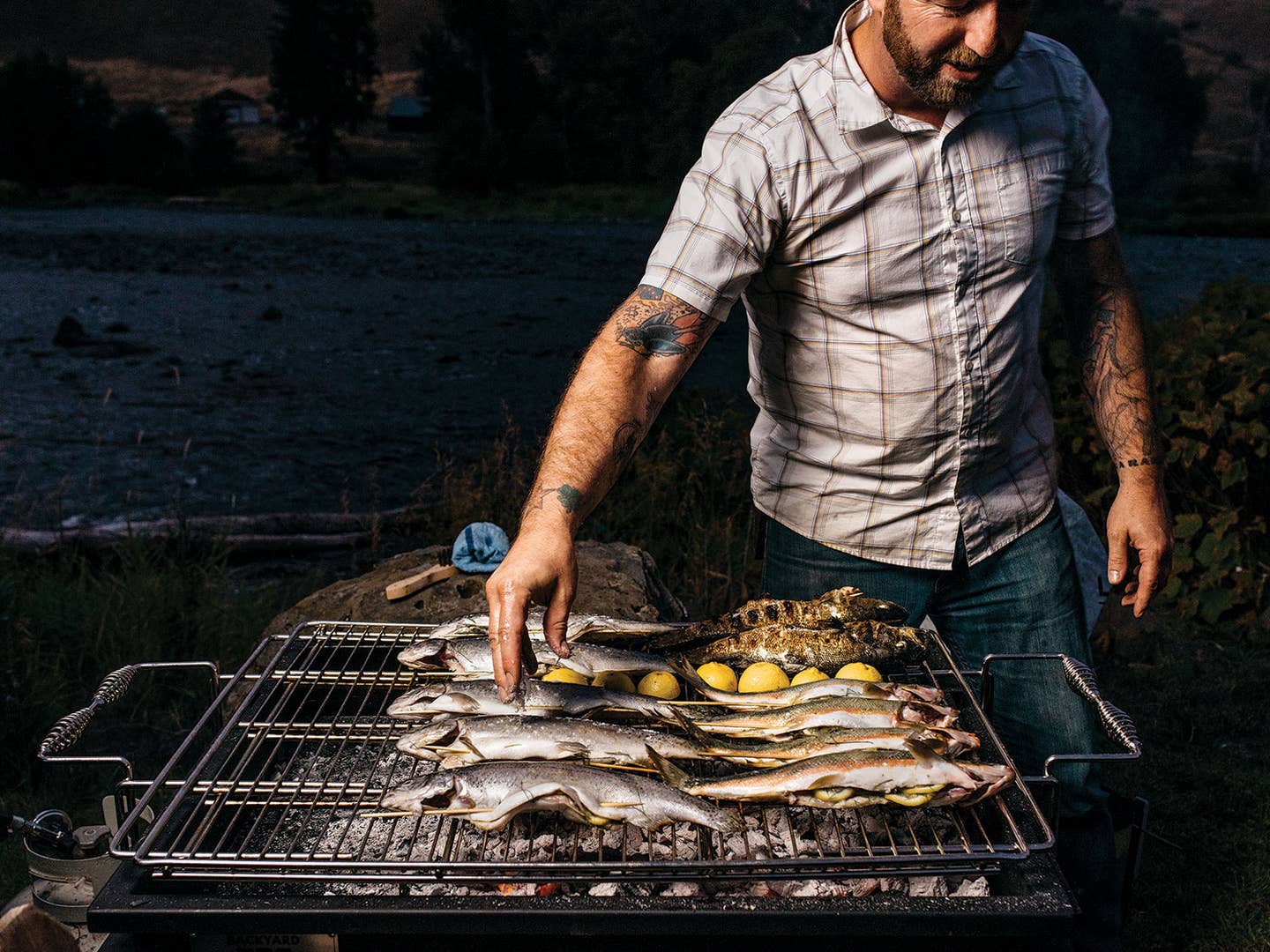 Travel
Portland Chef Elias Cairo Is as Serious About Fishing as He Is Eating
When this chef and charcutier rounds up friends to go fly-fishing in eastern Oregon, they don't exactly rough it
Before I floated down Oregon's Grande Ronde River with chef and charcutier Elias Cairo, I would have figured that an angler who brought his own trout on a fishing trip to be sure to have something for the grill was not much of a fisherman at all. This was the first lesson of many.
The idea of joining a fly-fishing trip with Cairo came up as we were wrapping the cookbook we wrote together for his restaurant ­Olympia Provisions. "I've never seen anywhere quite like the Wallowas," he had told me. "It's a mountain range: 250,000 acres of public land, six thriving rivers, and Hells Canyon, America's deepest gorge. Come out and fish sometime." I went home and looked it up on Google Maps. Fishing wasn't usually my thing, but this was coming from a guy who apprenticed for a murderers' row of intimidating Swiss chefs and Jägermeisters, a former USA national team snowboarder who also has a vineyard in his backyard. In nine years, he turned his first business into a Portland mini empire: five restaurants and a massive salumeria, plus a hot dog cart for good measure. He is, in other words, not someone who half-asses anything he does.
The plans were forgotten until they weren't, and all of a sudden I was in a Toyota Tacoma three hours down the road from Portland, with five more still to go. Cairo was driving me and two of his Olympia Provisions colleagues—and oldest friends—Tyler Gaston and Eric Moore, to a cellphone-­signal-free retreat close to the Idaho border. Trips like this have been routine for Cairo and Moore since they were teenage snowboarders in Salt Lake City. "When I wasn't at school or working at my parents' diner, I'd borrow the car, and we'd escape to the river," Cairo says. "We'd talk trash, drink beers, smoke, and fish."
Not much has changed. One reason Cairo chose Portland as home was its proximity to wilderness. After a week at the meat plant, he often heads east with his fiancée, Jessica Hereth (an Olympia Provisions sommelier), and his two dogs, Leather and Utah. When a week really gets to him, he'll trek all the way to the Wallowas to fish. "This spot may have the most diverse water in America," he says. "Chinook salmon, gorgeous bass, and trout so big, they feed on mice."
Along the way, we blow by Pendleton­—home of the eponymous blankets—and at one point pull over to pick wild plums and ­huckleberries. Eventually we turn north onto Promise Road and climb in elevation. Below, a canyon sinks terrifyingly. The sun is setting against the Wallowas, turning the tops a rich copper, around the time we reach the hamlet of Troy. Here you'll find 10 people (according to the most recent census), a grocery store that's open "once in a while," a schoolhouse, and, down the road, our cabin.
We're among the last to arrive and, even though we're eight hours from the city, it feels like industry night: A sizable crew has ­assembled, and while there's no electricity, there is Campari. Hereth greets us with glasses of a pinot noir that she made herself, and Cairo and his friend Dave Flynn, a local rancher, begin tossing enormous bone-in cuts of beef straight into a fire to cook directly on the coals, which leaves the outside of the steaks crusty and smoky but not a bit sooty.
"Historically, Oregon is cattle country," Flynn says. "Free range is all we do." One of Troy's 10 inhabitants, he first visited the town on a fishing trip when he was 19 and resolved to relocate. He asked a rancher off Promise Road if he needed a hand and, over a decade, helped multiply his 30 head of cattle to around 30,000. Part of their secret turned out to be pigs: The cows eat the grasses, which are regenerated by the pigs, who turn the soil and keep out invasive species. They've begun leasing the pigs to other local ranchers. "This really is progressive stuff," Cairo points out. "His practices have redefined how we receive pork at our shop."
Once the steaks are ready, Hereth brings out a slab of California blue cheese. Slices of cheese as big as a piece of birthday cake are gingerly placed atop the beef like pats of butter. We fall into a rhythm: Add logs to the fire when it burns low, replace the bottles of wine and whiskey as they're emptied, and suddenly it is only a few hours from sunrise.
The next day, in fact, starts at sunrise, as if we are on some bizarre hedonistic Oregon Trail: late nights, endless bottles of wine, harmonicas, and coffee filtered through a paper towel. The boat is provisioned with Yeti coolers full of beers, pickles, and Olympia Provisions terrines; and we're soon drifting down the Grande Ronde. Cairo points out the areas where the most trout can be found—where the water foams up, or the dark shadow where a shallow shoal drops off into a deeper channel. We choose one, park the rafts, and wade in. Pretty quickly, Moore catches not a trout but a long, silver northern pikeminnow, a whitefish that thrives in the reservoirs of the state's hydropower system.
Here begins my education. Fly-fishermen aim to be responsible stewards of the rivers they fish. Pikeminnows, it turns out, are a little too happy in the reservoirs, and they prey on juvenile trout and salmon, threatening their survival. The state of Oregon will pay anglers up to eight bucks for every fish removed from certain bodies of water. We don't need this inducement—in the right hands, I would later learn, they are delicious.
For vulnerable native fish like trout and salmon, on the other hand, Cairo practices a strict catch-and-release ethic. The days of fishermen showing off long chains of native fish are long gone. "We are trying to learn from our mistakes," Cairo explains. "We use barbless hooks, and if we catch a native rainbow trout, it's important to be sure we get it back into the water as quickly as possible." This explains the store-bought fish: If we want to eat trout, it is a BYO situation.
Non-native smallmouth bass are another story. We float on our way in search of "bassy" areas. When we find the right spot, the competition begins. "If you catch nothing­—get skunked—you can't show your face around these guys," Cairo says with a laugh.
The key to catching whatever lies beneath is finding the perfect fly. Some fish eat tiny midges and will be fooled only by flies smaller than my pinkie fingernail. Others prey on small fish and will attack big, flashy streamer flies. Today, we start casting poppers—a fly that imitates a frog and makes a popping noise as it skims on top of the water. One after another, the fish emerge from their hiding spots and crush the foam flies with an alarming, thrilling splash.
We break for lunch: pimiento cheese and grilled padrón pepper toasts, baked beans with corn and cherry tomatoes, sardine sandwiches with olives and sliced tomatoes, and Olympia Provisions saucisson sec. Once we've killed the last bottle of wine, some 200 yards from camp, I dive into the water to float downstream as I admire a black bear sunning itself on a cliff in the middle distance.
We didn't get skunked. All in all, we brought back six smallmouth bass and $40 or so worth of pikeminnows. (All of the trout got released.) Cairo stuffs the fish with lemon and fennel fronds, then tosses them on the coals just as he did with the steaks the night before. He tries to remember how he first heard about a place this magical and out there.
"Wasn't it Gene?" Moore asks. Gene Thiel was a pioneer of the Slow Food movement in the Pacific Northwest, and was one of the first purveyors at the Portland Farmers Market. In the early 2000s, if you were a chef in Portland, you worshipped Thiel. Cairo met him in 2006. "The guy would show up places with weathered, baseball-mitt hands full of plums. He also loved fishing," Cairo says. "Hardly 30 seconds would go by any time I saw him before he brought up fish." Eventually, Thiel told him about this place, known mostly only by progressive farmers and foragers he'd met through the market, where the lakes were alpine-clean, the gorges breathtaking, and the trout hungry and gullible.
"On my first trip up here, I remember running up small creeks in the mountains, bagging morel mushrooms and catching cutthroats," Cairo says, referring to a shy native trout. The whole trip, he didn't see another soul. "It's an escape from reality," he says. "You come up here, and all you have to focus on is where the fish are."