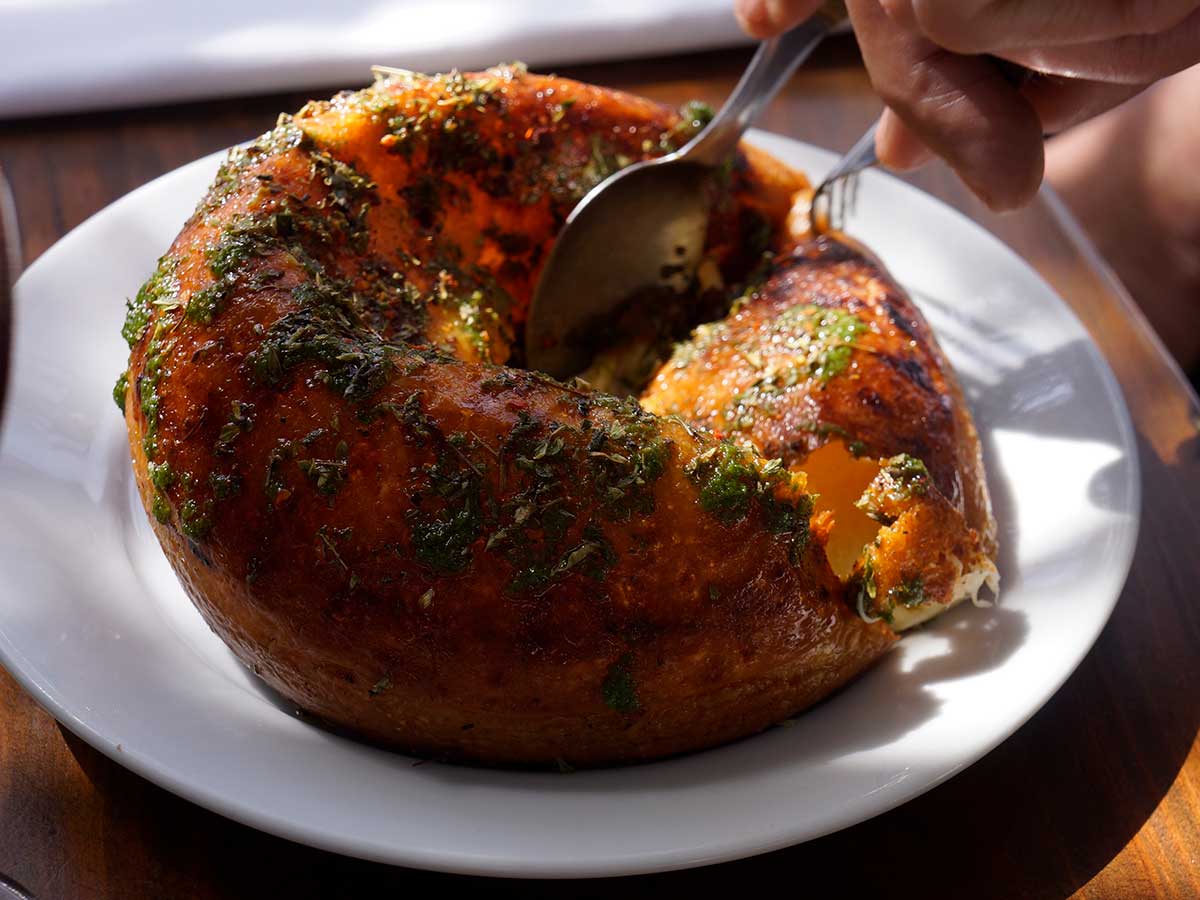 Recipes
The Provoleta is Your New Favorite Gooey Cheesy Sandwich
Head to Argentina and Uruguay to try this breadless version of a grilled cheese
Many grilled cheese connoisseurs know that the best part of a grilled cheese sandwich is the bubbling melted bits that spill over the sides and crisp on the pan. So what happens when you ditch the bread and cook a hunk of cheese in a wood-fired oven or on the barbecue until browned yet gooey? Meet the provoleta, Uruguay and Argentina's answer to the grilled cheese. And in an unassuming spot on the South Atlantic, cheese fanatics flock for a one-of-a-kind rendition.
In Uruguay and Argentina, the provoleta is an integral part of the barbecue ritual. It is usually served as an appetizer during an asado, and joins starter companions like chorizo sausages, blood sausages, sweetbreads and chitterlings. Provoleta can be cooked directly on the parrilla (grill) like a steak, or in a provoletera, a cast-iron pan dedicated to the cheesy dish. In the queso fundido family, it is generally made from a long, cylindrical provolone-like semi-hard cheese, but tends to be more elastic than melty, and slightly browned on the outside. Not many riffs exist on the classic cheese dish, until now.
On any busy night, Agustín Benítez and Federico Desseno will stick their hands into 1000°F ovens at least 200 times to prepare the house favorite. "We didn't mean for this to happen, the dish was an accident," Desseno tells me in the garden at Cantina del Vigía, his restaurant in Maldonado, a municipality about a mile outside of Punta del Este on Uruguay's coast. Desseno and Benítez, both cooks and carpenters by trade, converted two dentist offices into the casual family restaurant, complete with a giant wood-fired clay oven they made by hand. This is Francis Mallmann country, where open flames and rustic presentation are ubiquitous. Like a handful of prominent cooks in the region, Desseno is a Mallmann disciple, and feels most comfortable working alongside roaring fire pits, which is how the provoleta technique was mastered.
"One day I stuck the provoleta into the horno de barro and it started to become really crispy," says Benítez, explaining that he first created this unique version over ten years ago at Marismo in José Ignacio, Cantina del Vigía's sister restaurant open only during the summer. The culprit of this wonderful mistake? Uncovered provoletas Benítez found sitting out in the walk-in fridge. "I took the provoleta out of the oven, flipped it with a spatula, and put it back in. It started to inflate. I thought I burned it, but when I cut into the shell, cheese began to melt out of the center," he explains. They later discovered that the high temperatures caused the provoleta to seal and form a cheese enclosure, and when flipped midway, the whey's steam became trapped inside, and it puffed up. A cheese star was born.
In the years to come, the duo perfected their ballooned provoleta technique at Cantina del Vigía by altering the pan type and oven temperature, and the crowds couldn't get enough. Today, they make about 50 provoletas each night, and they buy approximately 3,000 pounds of cheese between Cantina del Vigía and Marismo every year.
But according to Desseno, do not try their provoleta at home; he cautions, "It's not easy to replicate our recipe." It begins with Uruguayan queso parrillero (grill cheese) from Granja Narbona, a dairy farm in the countryside. Next, the cheese is sliced into discs and kept uncovered in the refrigerator for seven to ten days, or until it dries out. Then, it is placed inside a specially cured pan and cooked next to embers that reach 900-1150°F. The provoleta goes in the clay oven for 30 seconds, and it is taken out, flipped over, and placed back inside. The process repeats itself various times until the crust forms and turns golden brown. Finally, a chimichurri-like sauce (drizzled olive oil, oregano, and red pepper flakes) gets smothered on top of the provoleta dome.
Why does Desseno believe their provoleta receives such accolades? The answer now seems obvious. Most people have eaten the provoleta one way their entire lives, but this twist accentuates the best parts of the beloved dish. "The cheese inflates forming a delicious crispy shell, and when you cut into it, cheese oozes out," he says. "¡Es buenísimo!"