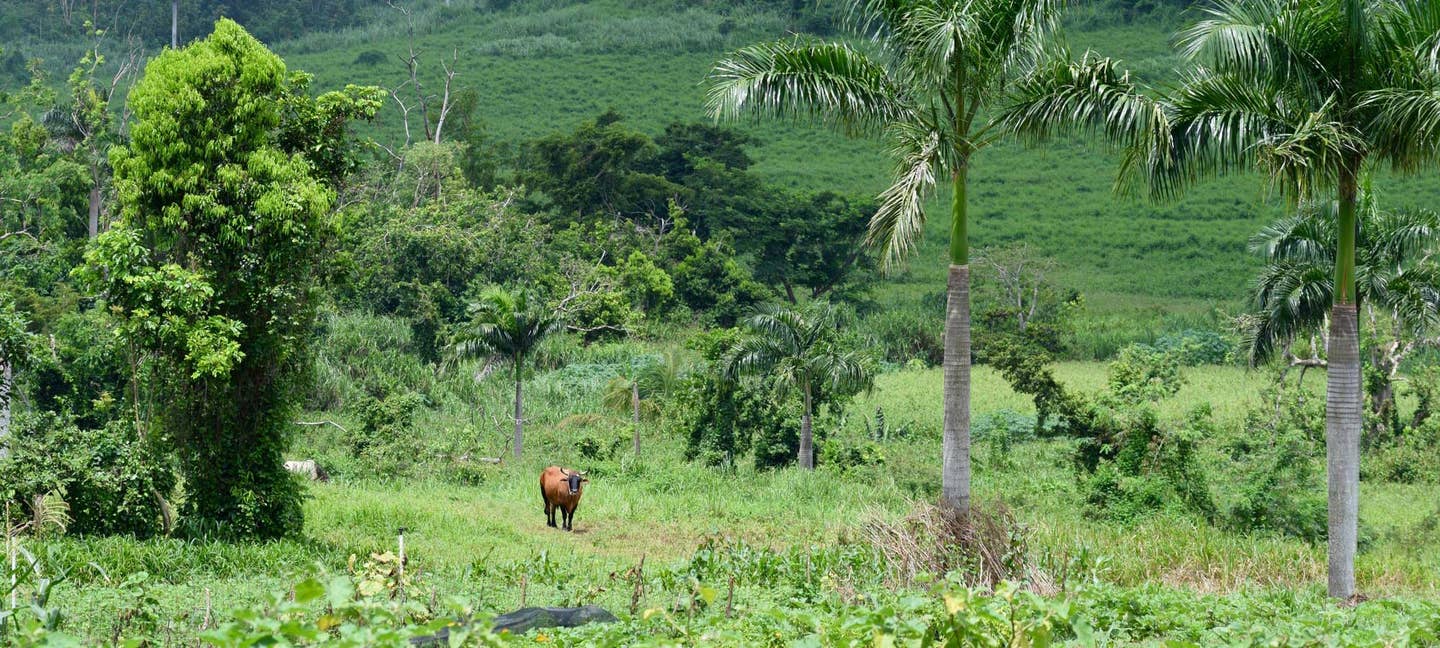 Culture
How Puerto Rico is Rebuilding Its Food Economy After Hurricane Maria
One year later, a group of chefs and farmers are pioneering a way forward that takes advantage of the island's own edible resources
Shortly after arriving in Manatí, Puerto Rico, following a winding ride down a highway nestled between green-covered mountains, Juan José Cuevas pulls the car into a dirt drive. A sign cautioning "playing children and loose ducks" signals our arrival at the Frutos del Guacabo farm. Cuevas greets the owner, Efrén Robles, with a hug. They laugh and begin to walk past rows of crops: deep pink amaranth that crumbles into confetti in my hands, vines weighed down with sungold tomatoes as sweet as candy, and wrinkled passion fruits that Robles splits open to reveal neon yellow seeds. Rambunctious goats bleat for a taste of freshly picked habañeros, and Silkie chickens flaunt their fluffy white plumage as they strut around. A space-saving hydroponic system of elevated pipes and nutrient-rich water cultivates lanes of microgreens, arugula, and bok choy, almost gem-like in color, in a covered greenhouse. Cuevas holds some cilantro up to his nose, inhaling deeply and smiling approvingly while a crowd of turkeys gobble behind him.
Cuevas is the executive chef at 1919, a fine dining restaurant housed inside the expansive Condado Vanderbilt Hotel in San Juan. Born and raised on his family's coffee farm in the mountains, Cuevas helms 1919 with a farm-to-table focus, a mighty task on a island that imports 85% of its food from the United States. This philosophy has only become more difficult to maintain in the aftermath of hurricane Maria, as the small island is still reeling from the effects of a storm that caused the deaths of 3,000 people and inflicted over $90 billion worth of damage. The food economy sputtered much like the electricity, leaving the island with an insufficient supply of fresh produce and food. "It was a slap in the face," Cuevas admits, but acknowledges that it was time to do more than just captain a kitchen. He traveled from town to town delivering hot meals, water, and music to communities whose houses lay in ruin, while the Condado Vanderbilt stayed open, acting as a shelter to tourists, aid workers, power companies, first responders, and stranded locals.
Now, the Condado Vanderbilt is back to relative normalcy: Tourists and guests have returned, to a degree, and at 1919, Cuevas is back to working with his favorite purveyors, like Robles at Guacabo. But Maria destroyed 80% of the farm's structure, and it took Robles and Angelie Mart'ínez, his wife and co-owner, 177 days before they could even get the farm running again. "I think Maria changed everyone," says Robles. "If you are in the game now, you have to be serious."
With a vast majority of the island's crops destroyed, Robles saw that "any [business] that was a little shaky before couldn't come back." Rather than start over after the hurricane, most farmers on the island either moved to the mainland or retired. With the shortage of farmers, those few still operating have been forced to diversify their product to keep their businesses alive. "We had to work three times as hard. But it made us stronger. I can survive anything now," Robles declares, standing taller. Next door, cinder blocks sit in piles as a demolished house waits to be rebuilt. Only feet away, in the newly built greenhouse, delicate salad greens stretch toward the sun.
Whenever Cuevas is looking for ingredients uncommon to Puerto Rico for his culinary experiments at 1919, Robles gets to work in his "laboratory," testing different crops until he finds the right growing conditions to bring vibrant color and flavor to Cuevas' plates. For Cuevas, direct and frequent communication is fundamental to building strong relationships like these, as many farmers are wary of working with hotel restaurants more loyal to price than product. "If I promise you something, I will do it. I am at my word," he asserts proudly. Farmers typically come to the Condado Vanderbilt to personally deliver their produce to Cuevas; when he partnered with the hotel, he was able to solidify trust with the purveyors after the storm by buying off excess produce while the farms struggled to recover—even if he couldn't use it. Cuevas talks about these local producers like they are family, from gushing about the woman who makes his go-to marmalade ("I love her to death!") to teasing his local fishmongers for their drinking habits ("They have this Latin thing in their DNA … they like to celebrate.").
Robles knows, however, that he and the other farmers will need to find additional support—beyond chefs like Cuevas—if they are to persevere through the lasting damage. "We need people to start consuming more fresh, local products!" Robles says, his voice amplified with emotion. "People don't know where their food comes from. They don't have the education or understanding." Many citizens are content to buy from chain grocery stores with imported, mega-brand products, as goods from the mainland United States are much cheaper than local goods, according to Robles. Farms like Guacabo mostly supply to restaurants and hotels, and are only just beginning to break into small, pop-up farmers' markets.
Farmers are still looking for support from the federal government, too—assistance they believe has been too little, too late. "If you can move trucks full of arms to Iraq for a war, why can't you bring food here during a disaster?" Cuevas shakes his head. When Hurricane Irma hit the Caribbean and the southern United States in early September 2017, food security was threatened in Puerto Rico: the island depends greatly on goods from the mainland, particularly Florida and parts of New Jersey. The stability of the food supply was further impaired just two weeks later when Maria struck the small island and its ports. While the failure of the U.S. government's disaster relief efforts remains a sore spot, Cuevas also believes that some of the food scarcity could have been lessened by a greater reliance on goods produced in Puerto Rico. "The [Puerto Rican] government does not promote local products," he says, insisting that this is a significant determinant for the widespread hunger and struggling economy of the island.
This is why Cuevas works with Ian Pagán, one of the his produce purveyors and the manager of El Josco Bravo, a farm, agroecology project, and non-profit educational program in the northern town of Toa Alta. As we walk through the rows of black beauty eggplants and pumpkins with watermelon-like stripes, Pagán stresses that "Puerto Rico is vulnerable. Maria was a great example of that." His solution to the food security crisis is to educate the young Puerto Ricans, many of whom are newly discovering a love for their island that was almost completely destroyed. By building a new generation of farmers with a commitment to the environment, the food supply, and health of the island, Pagán believes that his project "has the potential to multiply the economy." The oxen that plow the fields eye us as we take in the view with Pagán's bulldog, Almendra, by our side; tall-standing palm trees dot a grassy range, leading up to a wall of green that commands the skyline. The beauty of the land is moving, and Cuevas' purveyors hope that it will draw agrotourism to Puerto Rico, giving travelers a chance to see the passion they have put into the soil, no matter the setbacks they have previously faced.
In conversation, many of the locals—from farmers to the Condado Vanderbilt staff to Cuevas himself—echo each other in two strong sentiments: a determination to push forward and an adoration for their homeland. "This gave us a second chance," says Robles. "We are more secure now in what we want in life. We love Puerto Rico!"
This devotion is reflected in Cuevas' impeccable food at 1919; silky king salmon poached slowly in fat sits next to two tender mussels, seasoned by the sea they were pulled from. The seafood is accompanied by a local bean fricassé plucked straight from the farm, all resting in a broth made from herbs I had sampled only hours earlier. Tasting the local tomato salad with watermelon, mango, ricotta, and topped with a quenelle of tomato sorbet, conjures memories of Cuevas' words earlier that day: "It's not about the tomato. It's about the consequences of farming that tomato." When eating his food, every ingredient has a complex meaning, a relationship with the soil, the weather, and the people, a deep story that harmonizes with the stories of other ingredients to create balance, purity, and inspiration. In Cuevas' eyes, local farming is not only the savior of Puerto Rico—it is the catalyst for its future.