Recipes
Rack of Lamb with Roasted Pumpkin and Chickpea Salad
Serves

serves 4

Cook

45 minutes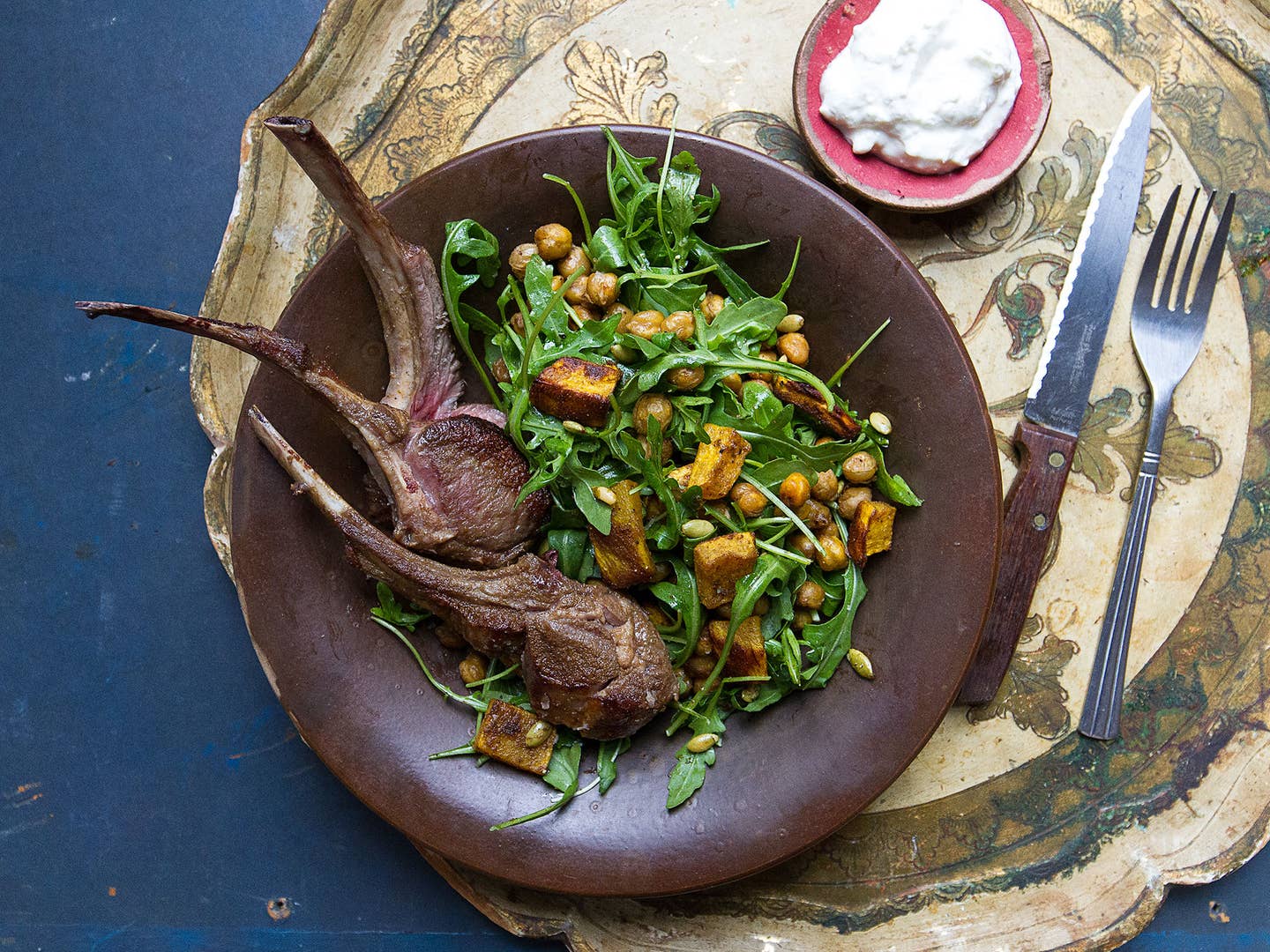 Rack of lamb seems intimidating, but when you take a step back, you realize it's just like cooking any hunk of meat. Start like you would with any steak or roast: Trim away the loose edges and, because lamb can be so fatty, peel away some of the exterior fat. Then all you have to do is give it a quick sear in a pan until a golden crust forms, and pop it in a hot oven to cook to your desired doneness.
Lamb is a forgiving meat, so even if you overcook it a little, you'll still get a good meal, in a fraction of the time of a beef roast. And since most of the cooking is inactive, you have time to make this roasted pumpkin salad on the side.
Ingredients
3 lb. sugar pumpkin
2 (15-oz.) cans chickpeas, drained and rinsed
7 tbsp. olive oil
2 1⁄2 tsp. ground cumin
1 1⁄4 tsp. ground coriander
1⁄2 tsp. garam masala
Kosher salt and freshly ground black pepper
1 (1-lb.) rack of lamb
3⁄4 cup labne
1⁄4 cup crumbled feta
1 tbsp. milk
1 clove garlic, finely grated
2 oz. baby arugula
1⁄4 cup toasted pepitas
Instructions
Step 1
Heat oven to 425°. Halve and peel pumpkin. Scoop out seeds, reserving seeds for another use. Cut pumpkin into 1-inch pieces and toss in a large bowl with the chickpeas, 3 tablespoons olive oil, 2 teaspoons cumin, 1 teaspoon ground coriander, the garam masala, salt, and pepper. Spread into an even layer on a baking sheet and roast until pumpkin is cooked through and golden, about 30 minutes. Cool.
Step 2
Meanwhile, season lamb with 2 tablespoons oil, the remaining cumin and coriander, salt, and pepper. Heat an 8-inch skillet over medium-high and cook lamb, turning as needed, until golden, 2 to 3 minutes. Transfer skillet to oven and cook until an instant-read thermometer inserted into center of the meat reads 130˚ for medium rare, about 5 minutes. Let cool for 10 minutes before slicing into chops.
Step 3
In a small bowl, mix labne, feta, milk, garlic, and salt. Toss remaining oil with the pumpkin and chickpeas, arugula, pepitas, salt, and pepper. Serve salad with lamb and yogurt sauce on the side.