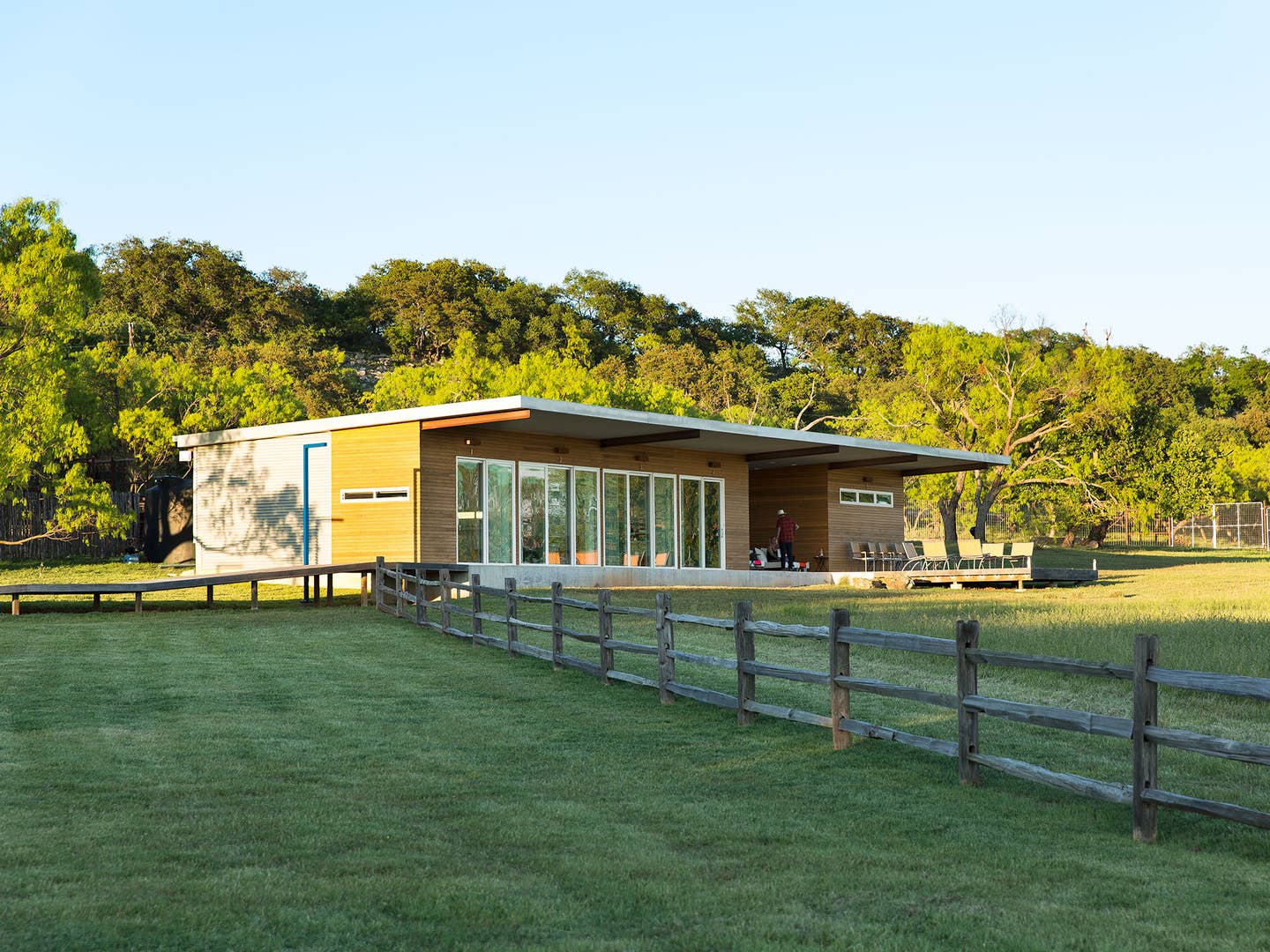 Travel
This Texas Ranch is Helping to Revitalize an Entire Town
In the teeny-tiny town of Talpa, Rancho Loma, a family-run restaurant, has been quietly attracting accolades and destination diners. Now its owners are setting their sights on something bigger
At the conclusion of a three-hour drive northwest from Austin, through rolling hills of scruff, a renovated 1878 limestone farmhouse materialized at the end of a small dirt road like Oz's Emerald City: Rancho Loma. I'd been hearing about Robert and Laurie Williamson's vaunted Friday- and Saturday-only 24-seat restaurant run out of their home for a couple of years, but I'd had to wait for months until my schedule aligned with their six-week waitlist. Now, finally, my boyfriend and I were here, to see firsthand not only how two former commercial filmmakers had managed to create a destination restaurant and inn in the middle of nowhere—with not a day of professional chef, restaurateur, or hotelier experience between them—but also how they are working to remake the nearby town of Coleman into Texas' next cultural hotspot.
We parked, put our bags down at Rest, the ranch's five-room, bunker-chic auberge, and, with a few hours still before dinner, wandered the 300-acre property. I spied sheep in the distance looking like clouds caught in the scrub, and marveled at chickens dressed to kill in coats of ombré, polka dots, and paisley. We passed the garden and a few acres of land that were plowed in order to accommodate syrah, grenache, and mourvèdre vines (Robert believes he's sitting on the best growing region in Texas). Pigeons flew in a choreographed loop overhead and a deer coyly eyed me, then fluttered its fluffy white tail before skipping up the hill, a Comanche burial ground after which the Williamsons named their property: Rancho Loma de las Almas. I looked out at the seemingly endless horizon, and understood why Texans wax poetic about the wide open sky.
Laurie and Robert, both born in West Texas, bought the property in 1998 as a weekend getaway and promptly quit their Dallas jobs in commercial film to devote themselves to the details of renovation. "We didn't know what we were doing," Robert told me, "but it was easier to figure it out myself than to communicate my ideas to someone else." When their dream house was finally finished two years later, Laurie realized there was little within driving distance that she wanted to eat. So she turned to her next project: researching and refining what would become her straightforward but carefully considered menu.
Rancho Loma opened on Valentine's Day 2003, having announced itself with only a few small ads in the local papers. To the couple's surprise, their dining room was completely packed. One local complained that his fourth course, a 6-ounce steak, left him so hungry he had to stop at 7-Eleven for a burrito after, but otherwise the word of mouth was positive, and over the years rock stars, state politicians, and rodeo clowns have sought a coveted spot in the peaked-roof dining room to eat Laurie's food, which changes every week. When I was there, the menu included frisée aux lardons salad with oozing egg yolk and crisp bacon cubes, a winding heap of homemade linguine alle noci (walnut sauce), and a dessert of rich vanilla panna cotta with a ruby brooch of blood orange supremes and snowflakes of blood orange granita too airy to be terribly cold.
But Laurie and Robert's aspirations extend way beyond dinner.
"We want to be the catalyst for creatives," Robert told me, recounting a time, a few years back, when the couple, craving the creative culture of their previous lives, almost ditched everything and moved to Santa Fe. But after serious soul-searching, they decided to attract and create that culture themselves, by revitalizing the nearby town of Coleman (population 4,500).
Coleman, the self-proclaimed hunting and fishing capital of Texas, has long been a gathering spot for local farmers, and on the town's main drag there's still an old-fashioned soda fountain and a pawn shop that peddles power tools, guitars, and guns.
At Rancho Pizzeria, the Williamsons' hip and spacious pie shop that opened in May 2015, I ate a superb Caesar salad and margarita pizza alongside locals in cowboy boots, Stetsons, and hunting camo, as well as out-of-towners, taking a break, perhaps, on their commute between Austin and Lubbock. Next door was a spot slated to become an art gallery, and across the street stood a gutted old filling station where Robert and Laurie plan to open a tasting room, which, if all goes according to plan, will make and serve Rancho Loma's very own wine, grown from vines Robert has been tending.
With a restaurant that started out as something of a whim, the Williamsons have begun to create something more lasting than they originally intended—an invitation to stay beyond dinner.