Recipes
Baked Lemon Pudding
One simple batter magically bakes into a soufflé-like cake atop silky citrus curd in this ethereal English dessert.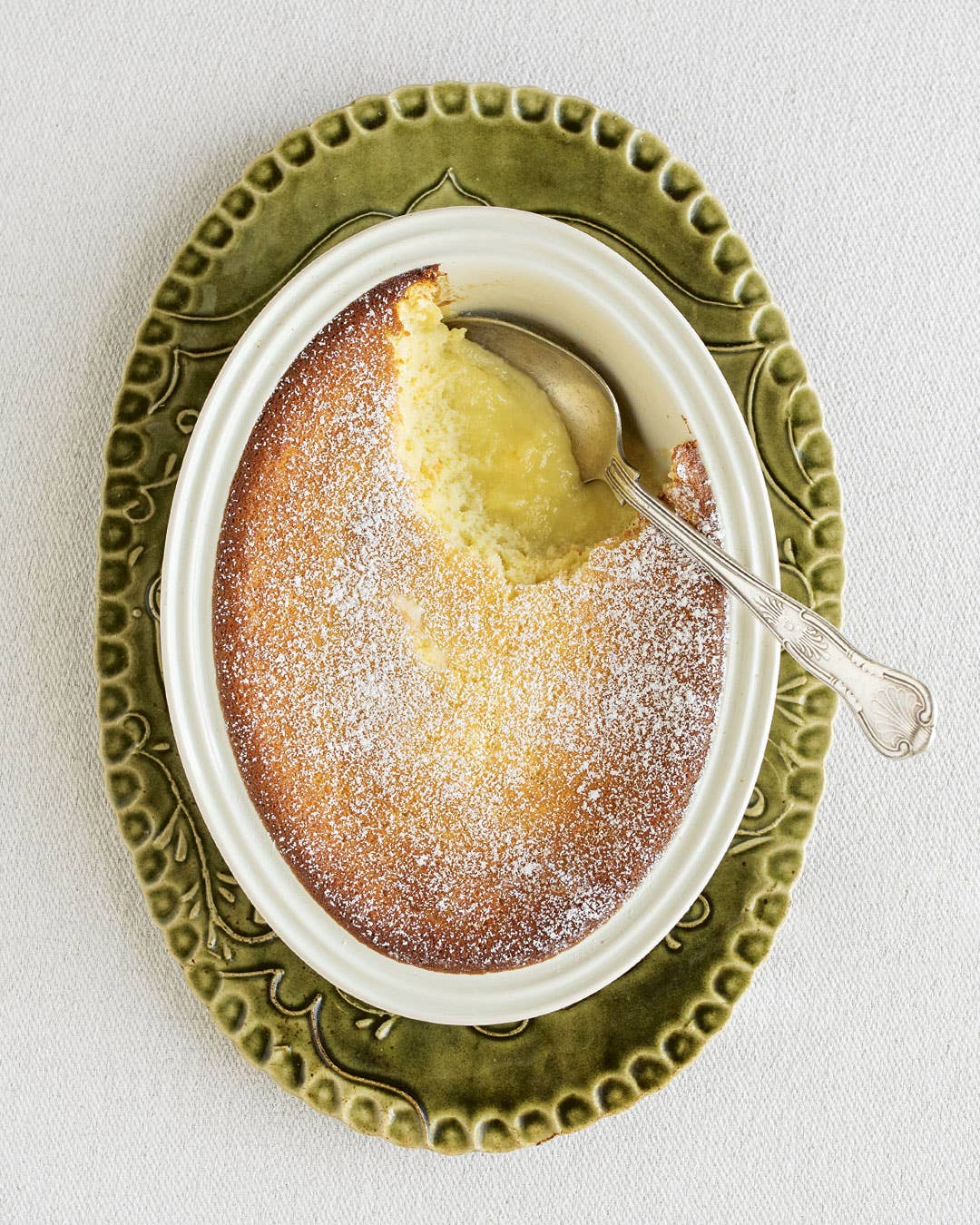 Myrtle Allen was making this old-fashioned pudding cake long before she opened her restaurant at Ballymaloe in County Cork, Ireland. The recipe first came into her family in the 1930s. It is a lovely dish, and I like to serve it as a lunchtime dessert throughout the year. As the pudding bakes, it separates into two layers: The top is a light lemon sponge and the bottom is a creamy lemon sauce. I serve every spoonful of this baked lemon pudding recipe with a generous amount of softly whipped cream.
Ingredients
1 Tbsp. unsalted butter
1 cup plus 2 Tbsp. superfine sugar, or granulated sugar
3 large eggs, separated
3 Tbsp. all-purpose flour
2 Tbsp. finely grated lemon zest
¼ cup plus 2 Tbsp. fresh lemon juice
1 cup whole milk
Confectioners sugar and whipped cream, for serving
Instructions
Step 1
Position a rack in the center of the oven and preheat to 350°F.
Step 2
Using a handheld or stand mixer fitted with the whisk attachment, beat the egg whites to stiff peaks. Gently scrape into a bowl and set aside.
Step 3
In the empty bowl, beat the butter and sugar at medium speed until it's the texture of damp sand, about 2 minutes. Add the egg yolks and mix, scraping down the sides of the bowl once or twice, until combined, about 1 minute more. Add the flour and mix until just incorporated, then beat in the lemon zest and juice, followed by the milk. Scrape down the sides and bottom of the bowl, then, using a silicone spatula, fold in the reserved egg whites until no streaks remain.
Step 4
Scrape the batter into an ungreased 8-inch soufflé dish or a 9-inch pie plate and bake until golden and just set, about 40 minutes (or 45 minutes if using a 9-inch pie plate). Serve warm, dusted with confectioners sugar and topped with whipped cream.