Recipes
Tagliolini with Shaved Black Truffle
Delicate fresh pasta in a heady, infused oil.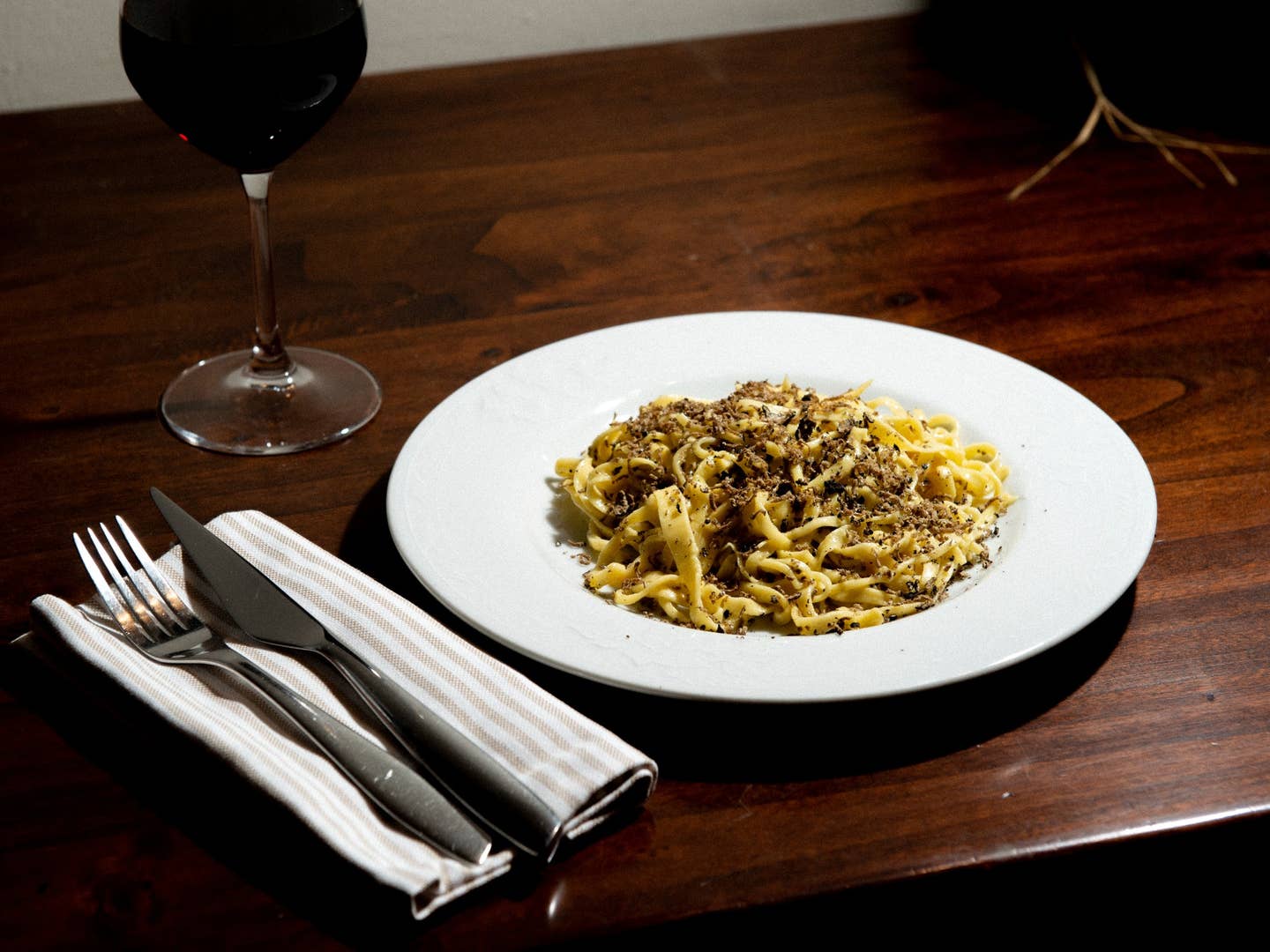 At Semiramide, a small trattoria in Melezzole, Umbria, delicate ribbons of tagliolini are served with fragrant local truffles. This fine cut ensures the truffle flavor is not overpowered. Additionally, the cooked pasta is tossed with truffle-infused olive oil, deepening the flavor of this seasonal dish. While it is traditional to roll and cut tagliolini by hand, feel free to swap out the rolling pin for a hand-crank pasta roller for speed if desired.
Ingredients
2⅓ cups (300 g) all-purpose flour, plus more for rolling
1 tsp. kosher salt, plus more for cooking the pasta
3 large eggs
¼ cups extra-virgin olive oil
1 medium fresh black truffle (about 1 oz.)
Instructions
Step 1
Form the flour into a mound and sprinkle the salt over it. Create a well in the center of the mound and crack the eggs into it. Using a fork, gently beat the eggs, pulling in small amounts of flour until a shaggy dough begins to form. Use a bench scraper to pull away any flour that remains unincorporated, then begin kneading dough by hand, adding a little flour as necessary, to prevent sticking, until it's smooth, elastic, and firm, about 10 minutes. If the dough becomes tight and starts to tear before it is smooth, cover with a sheet of plastic wrap and set aside for 10 minutes to allow the gluten to relax, then continue kneading about minutes more. Once smooth, wrap the dough tightly in plastic wrap and set aside at room temperature for 30 minutes.
Step 2
When ready to roll out the dough, cut into quarters and lightly flour a clean work surface. Cover three of the quarters with a sheet of plastic wrap, then, using a rolling pin, flatten the remaining quarter to an even 1⁄16-inch-thick sheet, about 5 by 14 inches. Generously flour the sheet on both sides, then, starting from one of the short sides, roll it up into a loose log. Using a sharp chef's knife, slice the log crosswise to make very thin noodles. Spread the noodles out on a dry baking sheet while you repeat the process with the remaining dough.
Step 3
Bring a large pot of generously salted water to a boil over high heat then add the noodles and cook, stirring occasionally, until al dente, stirring occasionally 5–6 minutes. Using a heatproof measuring cup or mug, remove about a quarter of the cooking liquid and set aside, then drain the pasta and set aside.
Step 4
To a large skillet over medium-low heat, add the oil. Shave half of the truffle into the skillet and swirl gently to warm in the oil. When the oil begins to shimmer and smell intensely of truffle, add the reserved pasta and its reserved cooking liquid and cook, tossing gently to coat the noodles in the truffle oil. When the pasta is heated through and the water is almost completely absorbed, remove from heat. Transfer the pasta to a small platter, finely grate the remaining truffle over the top, and serve immediately.