Recipes
Broccoli with Crispy Bread Crumbs and Pumpkin Seeds
A creamy purée and crunchy topping make this 30-minute dish a more-than-worthy addition to your weeknight repertoire.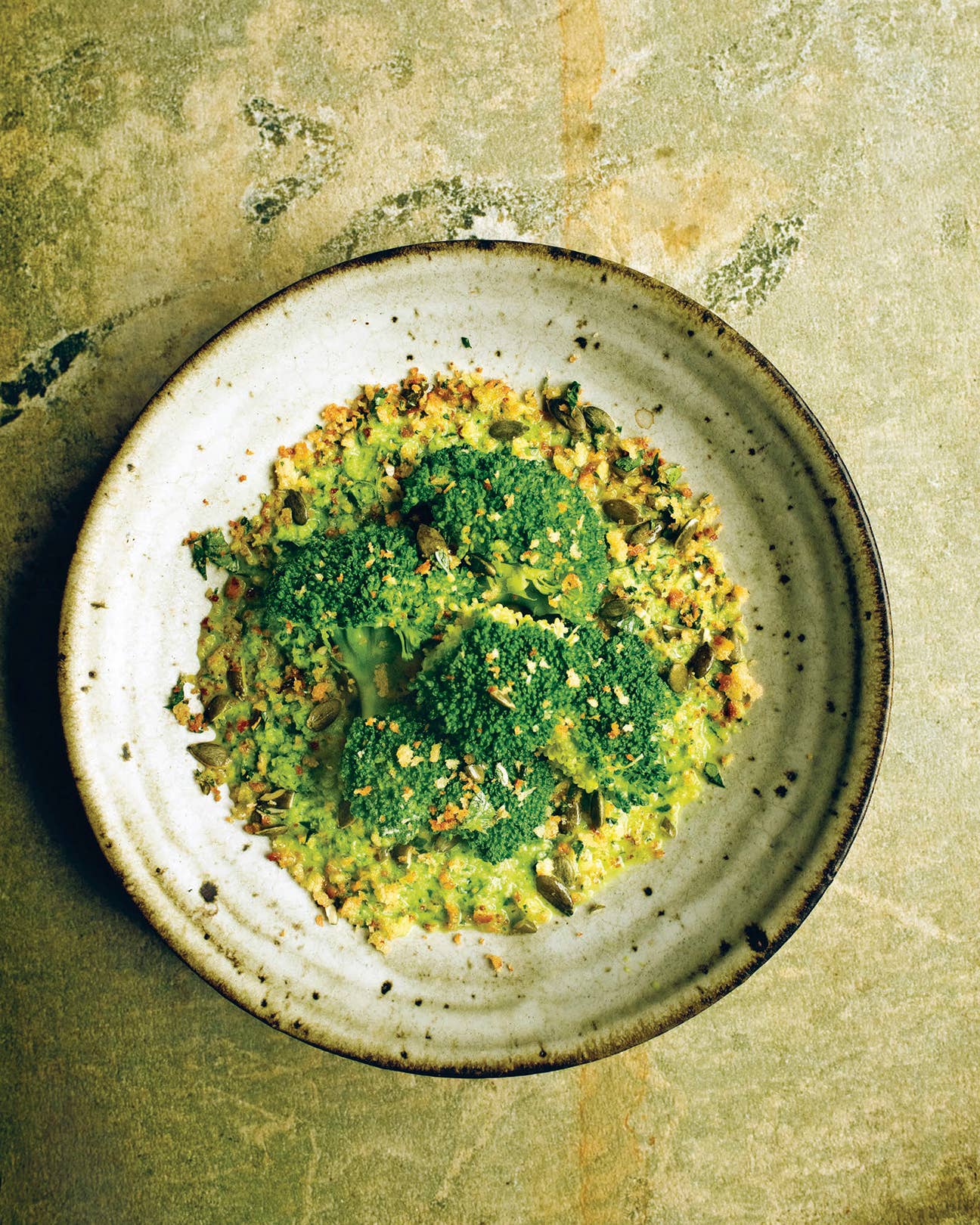 This recipe is brought to you by SAVEUR Cookbook Club, our passionate community of food-loving readers from around the globe celebrating our favorite authors and recipes. Join us as we cook through cookbooks new and old, and share your food pics and vids on social media with the hashtags #SAVEURCookbookClub and #EatTheWorld.
Vegetables are far too often an afterthought when it comes to weeknight dinners. Playing second fiddle to the meat and starch, they're like an addendum that makes the meal legal. But celebrated British cookbook author Nigel Slater aims to change that with this fast, unfussy take on broccoli, which turns the oft-maligned veg into a main course with wonderful complexity in flavor and texture. It calls for just a handful of ingredients to boot.
Ingredients
½ cup dried bread crumbs
¼ cup plus 1 Tbsp. extra-virgin olive oil, divided, plus more for serving
½ cup packed fresh parsley leaves, coarsely chopped
3 Tbsp. pumpkin seeds, finely chopped
Kosher salt and freshly ground black pepper
4 cups vegetable stock (optional)
2 lbs. broccoli (4 heads), trimmed, cut into large florets, stalks sliced into ¼-in. coins
Instructions
Step 1
To a large pot set over medium heat, add the bread crumbs and 3 tablespoons of the oil. Cook, stirring frequently, until crisp and golden, about 3 minutes. Stir in the parsley and pumpkin seeds, season with salt and black pepper to taste, and scrape into a bowl.
Step 2
To the empty pot, add the vegetable stock (or an equivalent amount of generously sated water) and bring to a boil. Add the broccoli and cook until just tender and bright green, about 5 minutes. Turn off the heat.
Step 3
Using a slotted spoon, transfer half of the broccoli to a blender or food processor. Add 1½ cups of the cooking liquid and the remaining olive oil. Blend until smooth, adding cooking liquid as needed until it has a creamy, yogurt-like consistency. Season the purée with salt and black pepper to taste and divide between two warmed plates.
Step 4
Drain the remaining broccoli and place atop the purée. Scatter both plates with the bread crumb mixture, drizzle with more olive oil, and serve.