Recipes
Chicken-Fried Steak with Sausage Gravy
A heartland breakfast staple.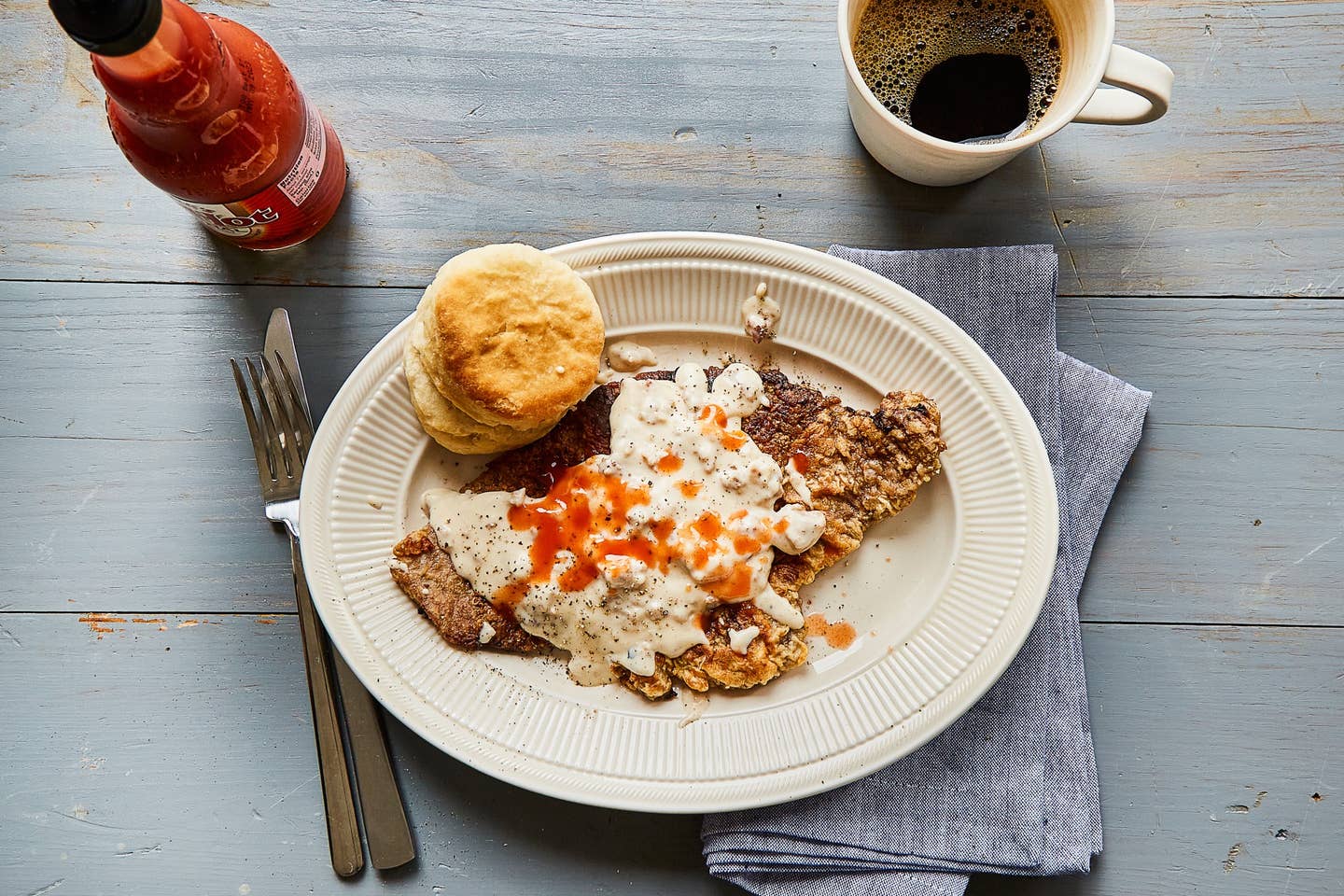 Cube steaks tenderized by your butcher work best for this American heartland breakfast staple, which first ran in 2013 alongside James Roper's Kansas game hunting story, "Wild at Heart." Round out the meal with fried eggs, skillet potatoes, and buttermilk biscuits.
Ingredients
1 cup buttermilk
1½ tsp. freshly ground black pepper, plus more to taste
½ tsp. onion powder
¼ tsp. cayenne pepper
⅛ tsp. dried oregano
⅛ tsp. ground cumin
2 large eggs, lightly beaten
1½ tsp. kosher salt, divided
1 cup plus 3 Tbsp. all-purpose flour, divided
1 cup vegetable oil
Four 8-oz. cube steaks, about ¼ in. thick
2 oz. fresh pork breakfast sausage meat
2 cups whole milk
Hot sauce (optional)
Instructions
Step 1
In a medium bowl, whisk together the buttermilk, black pepper, onion powder, cayenne, oregano, cumin, eggs, and 1 teaspoon of the salt. Add the steaks and turn to coat.
Step 2
To a pie plate or shallow bowl, add 1 cup of the flour.
Step 3
Position a rack in the center of the oven and preheat to 200°F. To a large cast-iron skillet, add the oil and turn the heat to medium-high. Working in batches, remove the steaks from the buttermilk mixture, then dredge them one by one in the flour mixture, shaking off any excess. When the oil is hot and shimmering, fry the steaks, flipping once halfway through cooking, until golden and cooked through, 5–7 minutes.
Step 4
Transfer the steaks to a baking sheet fitted with a rack and place in the oven to keep warm.
Step 5
Discard any oil left in the skillet and place the skillet back on the stove. Turn the heat to medium-high, add the sausage, and cook, using a wooden spoon to break the meat into very small pieces, until browned, 3–5 minutes. Add the remaining flour, and cook, stirring continuously, for 1 minute. Whisk in the milk, bring the mixture to a boil, and cook, whisking occasionally, until the gravy thickens slightly, about 2 minutes. Whisk in salt, black pepper, and hot sauce (if using) to taste.
Step 6
To serve, divide the steaks among 4 plates and ladle with the gravy.