Chinese Cilantro and Peanut Salad (Huāshēngmĭ bàn xiāngcài)
This refreshing salad from Xinjiang is the perfect accompaniment to grilled meats.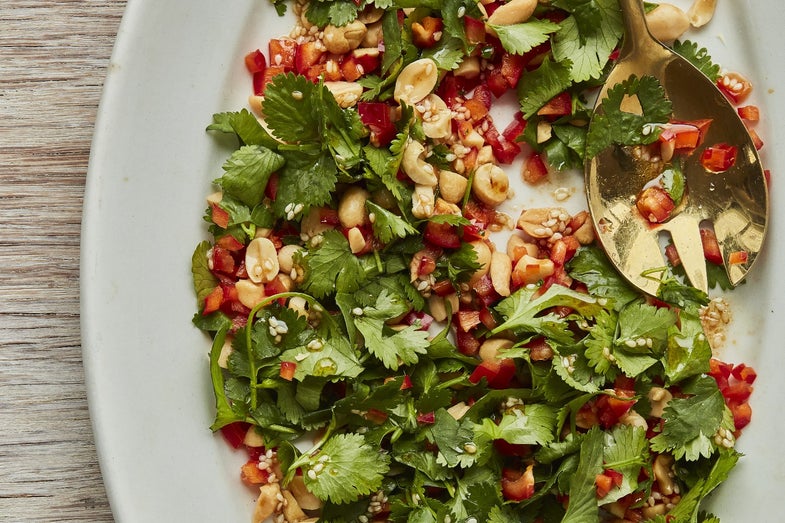 This refreshing peanut salad from Xinjiang, an autonomous region in northwest China, is adapted from Carolyn Phillips' cookbook All Under Heaven. It pairs well with both grilled meats and fish. Use both the stems and leaves of the most delicate cilantro you can find. Use leftover peanuts in a spicy bar mix, or blend them into Indonesia's classic satay condiment, bumbu kacang.
Featured in: "Eating on the Western Edge of China."
Cilantro and Peanut Salad (Huāshēngmĭ bàn xiāngcài)
This refreshing salad is a perfect to accompaniment to fatty grilled meats.
Time: 5 minutes
Ingredients
1 tsp. soy sauce
½ tsp. kosher salt
½ tsp. sugar
2 tbsp. sesame oil
½ cups roasted salted peanuts, coarsely chopped
1 tbsp. toasted sesame seeds
1 bunch coarsely chopped cilantro
1 cup finely chopped red bell pepper
Instructions
To a salad bowl, add the soy sauce, salt, and sugar. Slowly whisk in the sesame oil, then add the peanuts, sesame seeds, cilantro, and red pepper and toss to coat.
Cilantro is one of the world's most popular—and most polarizing—herbs. For cilantro lovers, the herb is a non-negotiable ingredient in dishes ranging from guacamole to Indian chutneys to grilled steak topped with chimichurri. Shake up your cooking routine with these herb-enlivened sauces, starters, and stews.