Recipes
Sauce Espagnole
A rich brown sauce at the heart of classic French cuisine.
Serves

makes 1 Quart

Cook

1 hour 45 minutes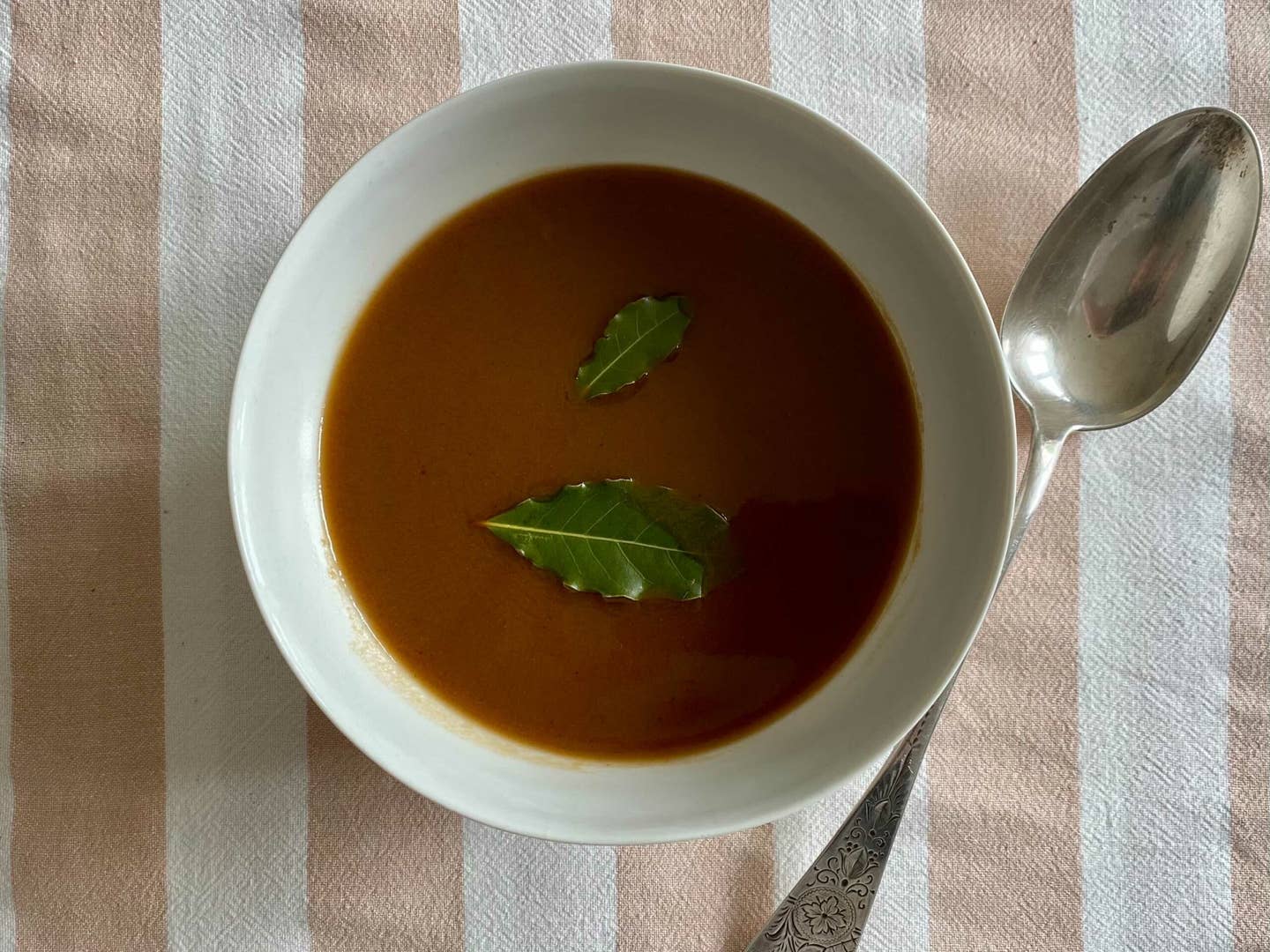 The mother sauce Espagnole belongs to Escoffier's brown sauces, and is distinguished with tomatoes introduced by Spanish cooks who arrived in the entourage of Infanta Ana María Mauricia, eldest daughter of Philip III of Spain, on the occasion of her marriage to Louis XIII in 1615. While rarely used on its own, sauce Espagnole shines atop fried potatoes; it's also the base for more popular wine-enriched daughter sauces such as bourguignonne and hussarde, a variation of marchand du vin lavished atop one of our favorite Creole brunch dishes from Brennan's Restaurant in New Orleans, where the staff creates sauce-themed floats for their annual Mother's Day second line parade.
Ingredients
3 tbsp. clarified butter
3 tbsp. all-purpose flour
1 qt. beef or brown veal stock, hot
1 tbsp. bacon fat or substitute unsalted butter
1 small onion, coarsely chopped (½ cup)
1 small carrot, coarsely chopped (¼ cup)
1⁄2 stalk stalk celery, coarsely chopped (¼ cup)
Kosher salt and freshly ground black pepper
2 tbsp. tomato puree
1 bay leaf
1 sprig sprig of thyme
1 sprig sprig of Italian parsley
Instructions
Step 1
Make a dark roux. In a medium pot over medium heat, melt the butter, then whisk in the flour and cook, stirring occasionally, until deep chocolate brown, 35–40 minutes. Whisking constantly, slowly add the hot stock to the roux. Bring to a full boil, then lower the heat to simmer and cook, stirring occasionally, until lightly thickened, about 20 minutes
Step 2
Meanwhile, in a large skillet, heat the bacon or butter fat over medium-high. Add the onion, carrot, and celery, season lightly with salt and pepper, and cook, stirring frequently, until the onions are translucent, about 5 minutes. Stir the tomato puree into the vegetables and cook until the tomato has concentrated to a paste and begins to brown, about 5 minutes. Add the tomato-vegetable mixture to the sauce, add the bay leaf, thyme, and parsley, and cook, skimming occasionally, until the sauce is concentrated and reduced slightly and the vegetables are very soft, about 45 minutes. Remove from heat and cool slightly.
Step 3
Set a fine mesh strainer over a large, heatproof bowl. Strain the sauce, discarding the solids. Use the sauce immediately or transfer to a heatproof container, cover the surface with plastic wrap, and refrigerate for up to 3 days.