Recipes
Coffee-Crusted Beef Tenderloin
Use those beans for more than just your morning cup of joe.
Serves

serves 8

Cook

3 hours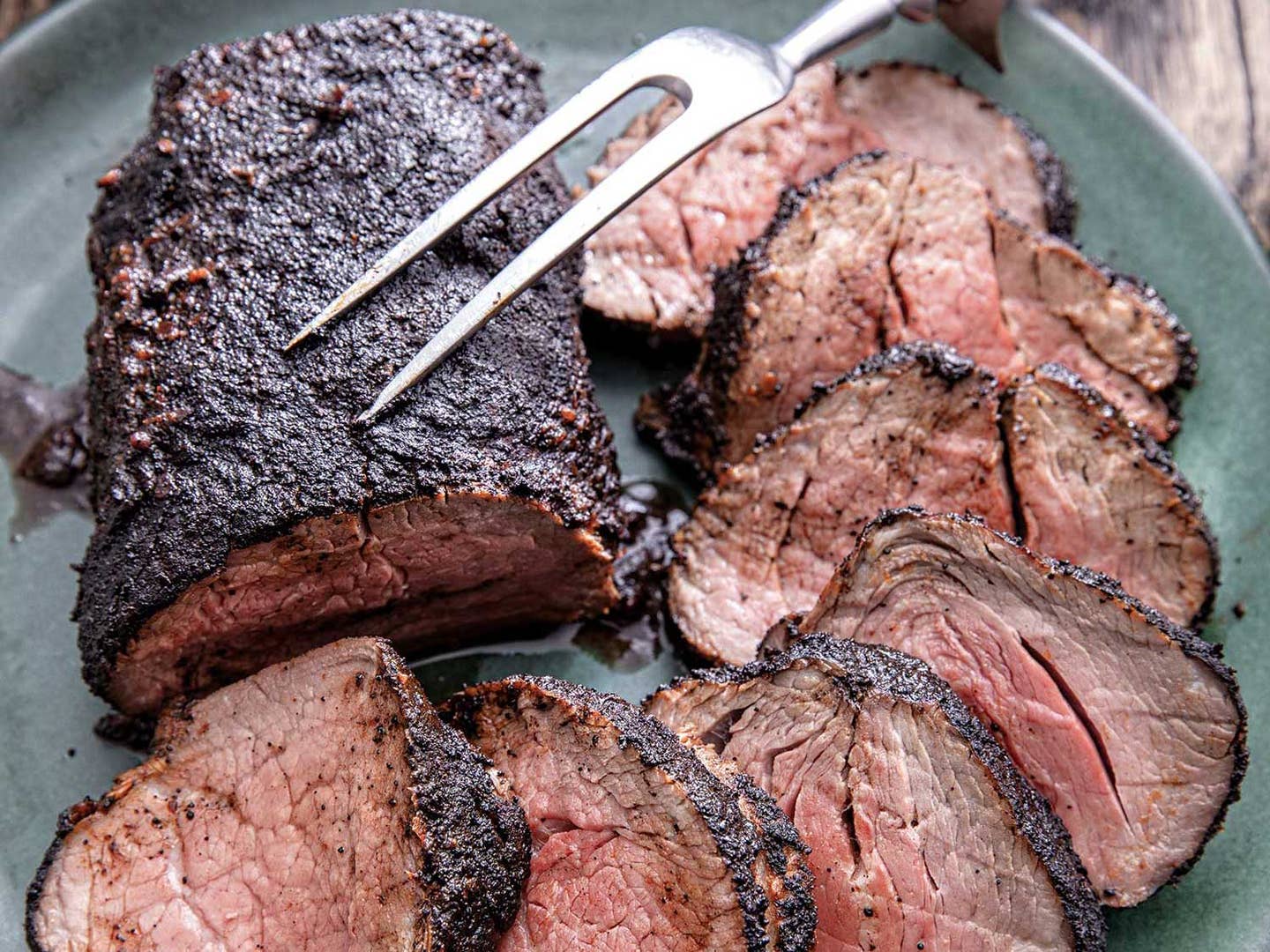 One Christmas morning in the mid-1990s, chef Robert Del Grande spilled coffee grounds all over the cutting board he was about to use to prep the day's roasts—and he decided to just go with it. "He thought back on a conversation he'd once had with a friend about the meaty quality of coffee," wrote Margo True in a November 2006 story about Del Grande's Cafe Annie in Houston. "In a second, he was rolling the filets in the coffee. The ground beans formed a rich, unctuous crust." Today the place is called the Annie Cafe & Bar, but Del Grande remains its executive chef, and coffee-crusted tenderloin beef is still on the menu. For more of our very best Christmas dinners, check out all of our recipes here.
Ingredients
4 guajillo chiles, stemmed and seeded
2 ancho chiles, stemmed and seeded
4 medium garlic cloves, peeled
2 canned chipotle chiles in adobo
1⁄2 small white onion, finely chopped (about ¼ cup)
1⁄4 cup extra-virgin olive oil, divided
2 tbsp. light brown sugar
2 tbsp. red wine vinegar
Kosher salt and freshly ground black pepper
One 2-lb. beef tenderloin roast, tied with butcher's twine at ½-in. intervals
3 tbsp. very finely ground coffee
1 tbsp. cocoa powder
1⁄8 tsp. ground cinnamon
Instructions
Step 1
In a large, dry skillet over medium heat, toast the guajillo and ancho chiles, turning occasionally, until fragrant, 4–5 minutes. Transfer to a medium bowl, cover with warm water, and soak until softened, 20–25 minutes.
Step 2
In a blender, puree the softened chiles, 1 cup of their soaking liquid, and the garlic, chipotles, and onion until smooth.
Step 3
Make the chile sauce: In a small pot over medium-high heat, heat 2 tablespoons olive oil until it shimmers, then add the chile mixture, lower heat to low, and cook, stirring frequently, until thickened but still pourable, about 30 minutes. Add the brown sugar and vinegar, and continue cooking, stirring frequently, until further thickened to a loose paste, 12–14 minutes more. Season to taste with salt and pepper, remove from heat, and let cool to room temperature.
Step 4
Meanwhile, position a rack in the center of the oven and preheat to 400°F. Rub the roast with the remaining olive oil, season generously with salt and pepper, then brush all over with 2 tablespoons of the chile sauce (save any remainder for another use).
Step 5
In a large bowl, stir together the coffee, cocoa powder, and cinnamon, then roll the roast in the mixture to coat. Transfer to a large, rimmed baking sheet fitted with a wire rack and allow to marinate for 30 minutes.
Step 6
Roast the meat for 15 minutes, then lower the temperature to 225°F. Continue roasting until a thermometer inserted into the thickest part of the meat reads 120°F for rare, 12–14 minutes. Let rest at room temperature for 15 minutes, then cut away and discard the twine, and slice against the grain before serving.