Bec d'Asan (Emilia-Romagna-Style Eel Stew)
From Comacchio, Italy—a hearty fish dish, seasoned with wine vinegar, onions, and tomato.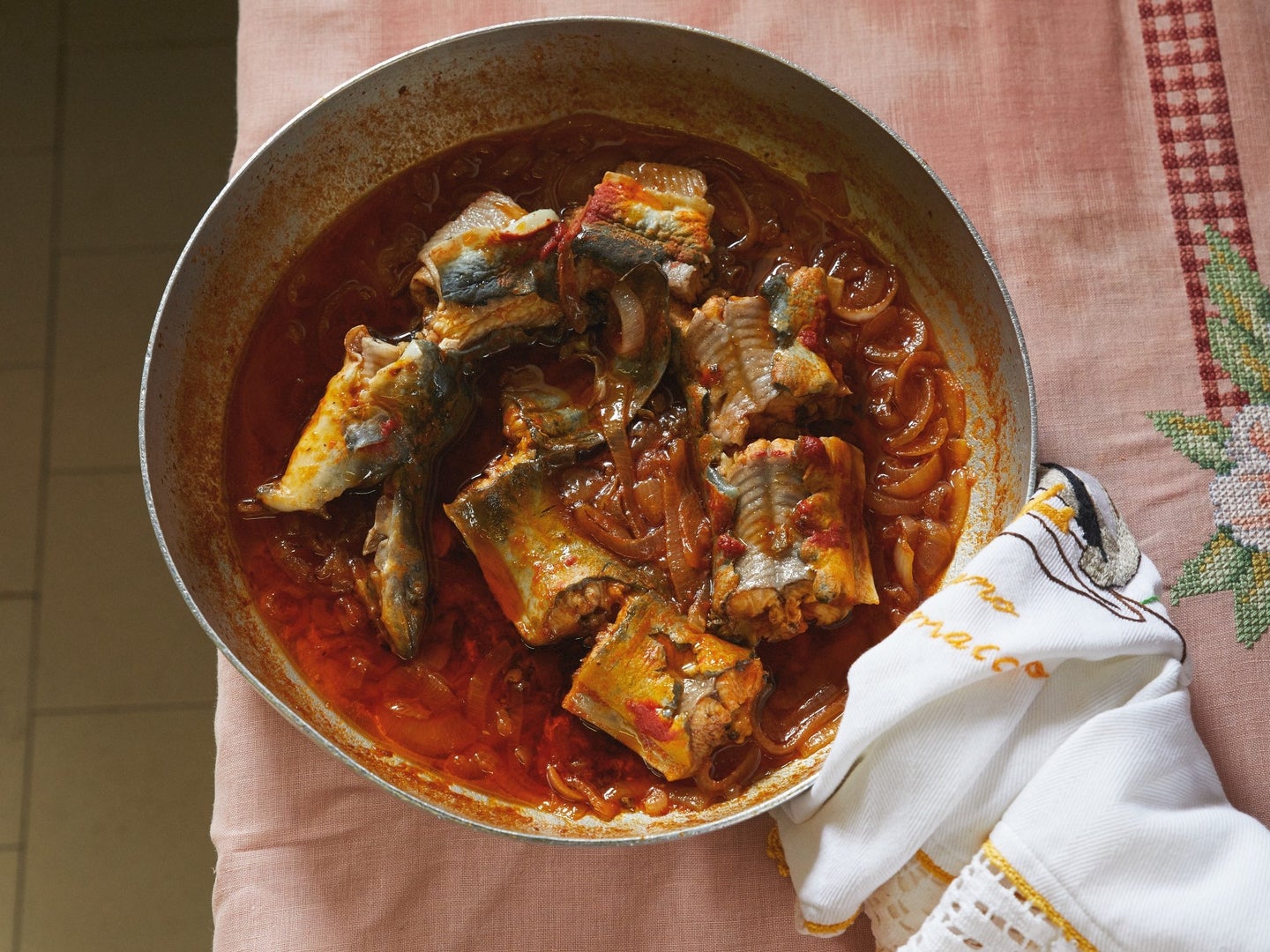 Eel is traditionally stewed with vinegar in Emilia-Romagna, Italy. In this recipe from photographer Simon Bajada, tomato paste and a generous helping of onions, adds extra kick and complexity.
Ask your local fishmonger to bleed and "deslime" fresh eel for you, or order cleaned, frozen eel online from American Unagi.
Featured in: "Fatty, Moist, and Perfectly Crisp When Grilled, No Wonder Eel Is a Big Deal In This Adriatic Town."
Yield: serves 6
Time: 1 hours
Ingredients
For the eel:
¼ cups extra-virgin olive oil
2 medium yellow onions, thinly sliced (4½ cups)
¼ cups plus 1 Tbsp. tomato paste
1 cup white wine vinegar
2–2½ lb. eel fillets, cut crosswise into 3-in. pieces
Kosher salt and freshly ground black pepper
For the polenta:
3 tbsp. extra-virgin olive oil, divided
1 tsp. kosher salt
¾ cups (6 oz.) medium-grain polenta
¼ cups (2 oz.) finely ground buckwheat
Instructions
To a large skillet set over medium heat add the olive oil. Once hot, add the onions and cook, stirring occasionally, until soft and translucent, 5–6 minutes . Stir in the tomato paste and vinegar and then top with the pieces of eel. Season with salt and pepper. Lower the heat to simmer, cover, and cook, turning occasionally, until the eel is tender and flakey and the sauce has thickened slightly, 20–25 minutes. (Add a splash of water as needed to avoid drying out.)
Meanwhile make the polenta: To a medium, heavy bottomed pot over medium high heat, add 4 cups of water, 2 tablespoons of the olive oil, and salt, and bring to a boil. Slowly whisk in the polenta and the buckwheat until no lumps remain. Lower the heat to simmer and cook, whisking frequently, until the polenta has thickened and the grains are tender, about 10 minutes. Pour the polenta on to a large rimmed baking sheet, smooth the surface with a spatula, and set aside to cool to room temperature.
Preheat the grill to cook over medium-high heat. Lightly oil the grates. Cut the polenta into 8 equal portions, rub them with the remaining oil, and grill the pieces, turning occasionally, until a delicate crust has formed, 7–8 minutes per side.
To serve, divide the grilled polenta into 6 shallow soup bowls. Ladle over the stew and serve warm.