Recipes
Kimchi- and Red Wine-Braised Short Ribs (Kalbi-Jjim)
Jujubes, roasted chestnuts, and brown sugar lend this riff on the festive Korean stew a lavish savory-sweetness.
Serves

serves 6-8

Cook

2 hours 45 minutes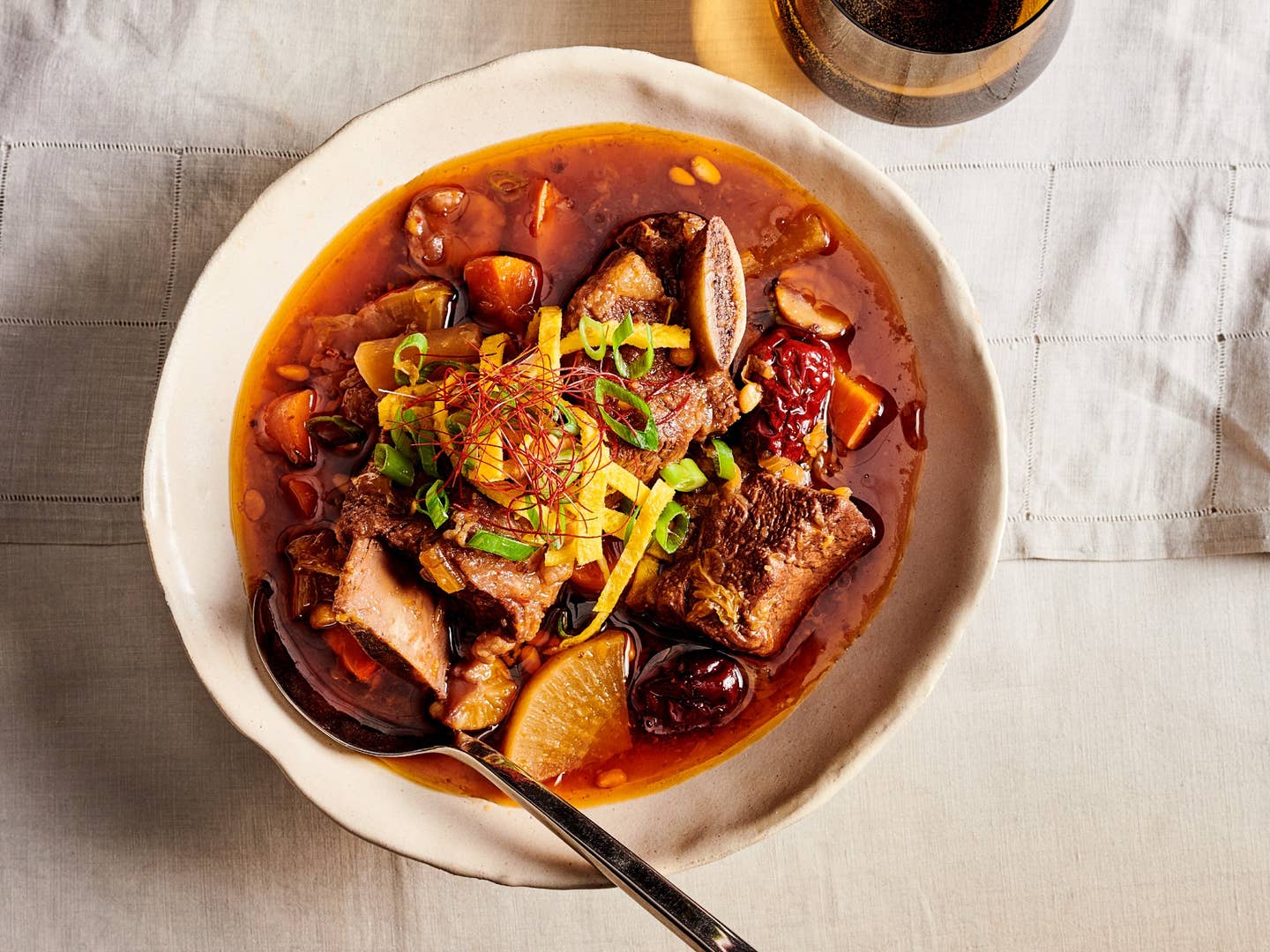 This autumn stew recipe from Gage and Tollner chef Sohui Kim is a nod to classic kalbi-jjim (or galbi jjim) while also applying French technique, which often involves braising meat in wine to introduce depth of flavor. In Korean cuisine, tougher cuts are typically boiled to break down their proteins, with soy sauce and sugar lending a hit of umami and subtle sweetness. These two styles of braising merge beautifully in this short rib recipe. Says Kim, "I've come to firmly believe that red wine and soy sauce can and should coexist—just like the unexpected assortment of dishes and people that make their way to the table at Thanksgiving and somehow meld in the warmth of togetherness."
This recipe is adapted from one which appeared in Sohui Kim's 2018 cookbook, Korean Home Cooking.
Ingredients
5 lb. bone-in beef short ribs, cut "English-style" into 2- by 3-in. pieces
1 large white onion (8 oz), peeled and quartered
8 garlic cloves, peeled
⅓ cups peeled, sliced ginger
1 cup (8 oz.) coarsely chopped kimchi, with juice
¾ cups soy sauce
½ cups light brown sugar
½ cups mirin
½ cups dry red wine
1 tsp. freshly ground black pepper
2 cups coarsely chopped carrots
2 cups coarsely chopped Korean radishes
1 cup (6 oz.) roasted, peeled chestnuts
7 dried jujubes
1 large egg
Neutral oil, for frying
1 tbsp. pine nuts
1 tbsp. Korean chile threads
⅓ cups thinly sliced scallions
Instructions
Step 1
To a large pot, add the short ribs and enough cold water to completely submerge. Set aside at room temperature for 30 minutes to draw out the blood.
Step 2
Place a colander in the sink and drain the ribs. Rinse the ribs well in plenty of cold running water, rinse out the pot, then transfer the ribs back into it. Add enough fresh, cold water to completely submerge the meat, then set on the stove over high heat and bring to a full boil. Boil for 2 minutes, then remove from the heat, drain the short ribs (discarding the cooking liquid) and set aside. Rinse out the pot and return it to the stove.
Step 3
To the bowl of a small food processor or blender, add the onion, garlic, and ginger and process to a coarse purée. Transfer the purée to the pot and add the kimchi, soy sauce, brown sugar, mirin, red wine, and black pepper. Add the reserved short ribs and enough cool water to just cover the meat (about 3 cups), then set over medium-high heat and bring to a full boil. Cover the pot, then lower the heat to maintain a simmer and cook until the fat has softened but the meat is not yet tender, about 1 hour.
Step 4
Uncover the pot, then stir in the carrots, radishes, chestnuts, and jujubes. Turn the heat up to return the liquid to a simmer and continue cooking until the beef and vegetables are very tender, 30–40 minutes more.
Step 5
Meanwhile, make the egg ribbons: In a small bowl, beat the egg with a pinch of salt. Lightly oil a large, nonstick skillet with neutral oil, and set over medium heat. When hot, add the egg and immediately swirl the pan to make a thin and even omelette. Cook just until the egg is set, about 2 minutes, then use a thin spatula to flip. Continue cooking about 5 seconds more, then transfer to a cutting board. Cool slightly, then roll the omelette into a tight log. Using a sharp chef's knife, cut the log crosswise into very thin ribbons. Set the aside for garnish.
Step 6
When ready to serve the kalbi-jjim, ladle the ribs along with the vegetables, chestnuts, and jujubes into deep bowls. Top each bowl with some of the cooking liquid, then garnish with the reserved egg ribbons, pine nuts, chile threads, and scallions.