Recipes
Goat (or Chicken) Tagine with Fennel, Olives, and Ras el Hanout
I traveled deep into the Atlas Mountains in search of Morocco's signature stew—and returned with this phenomenal low-lift recipe.
Serves

4–6

Cook

1 hour 45 minutes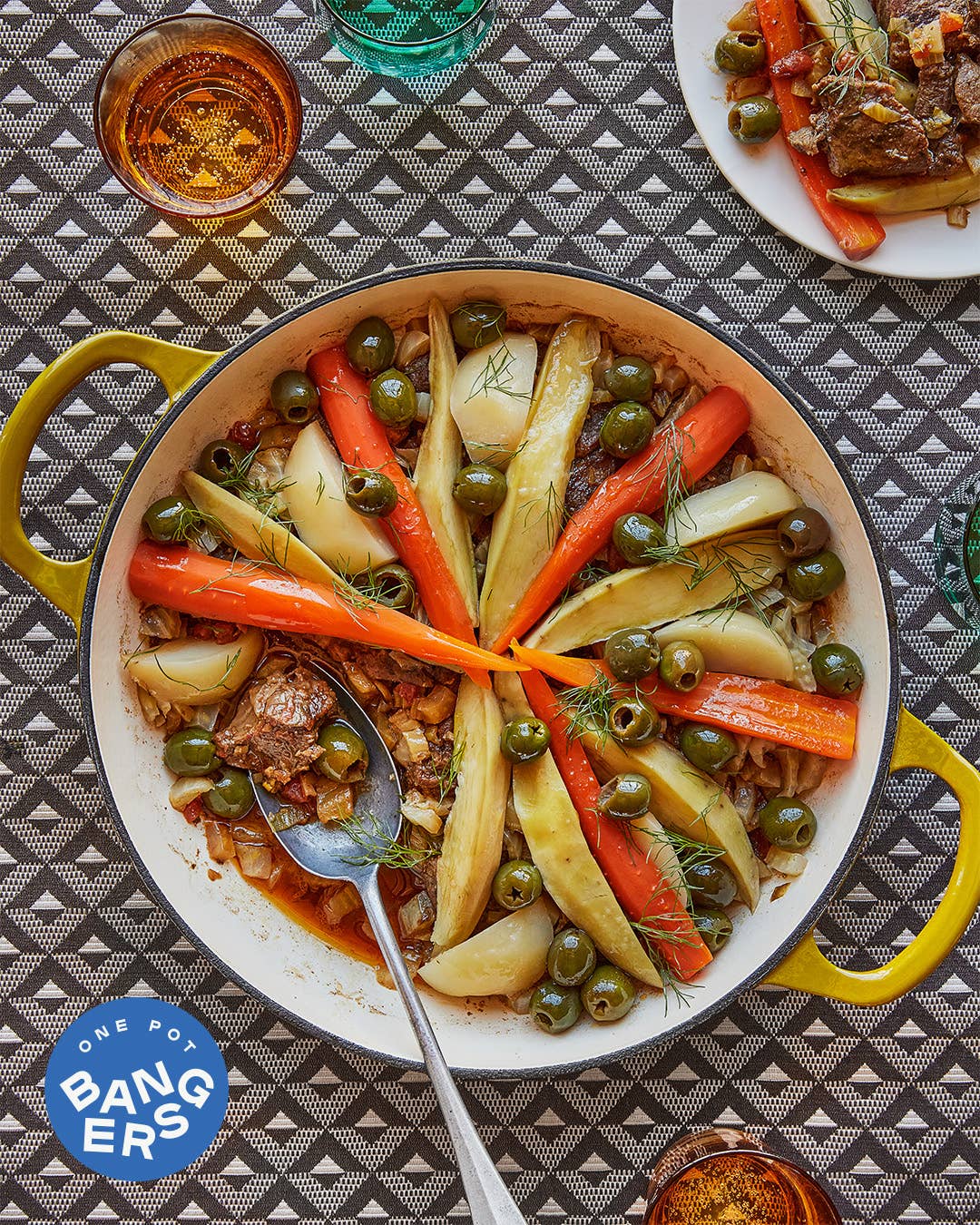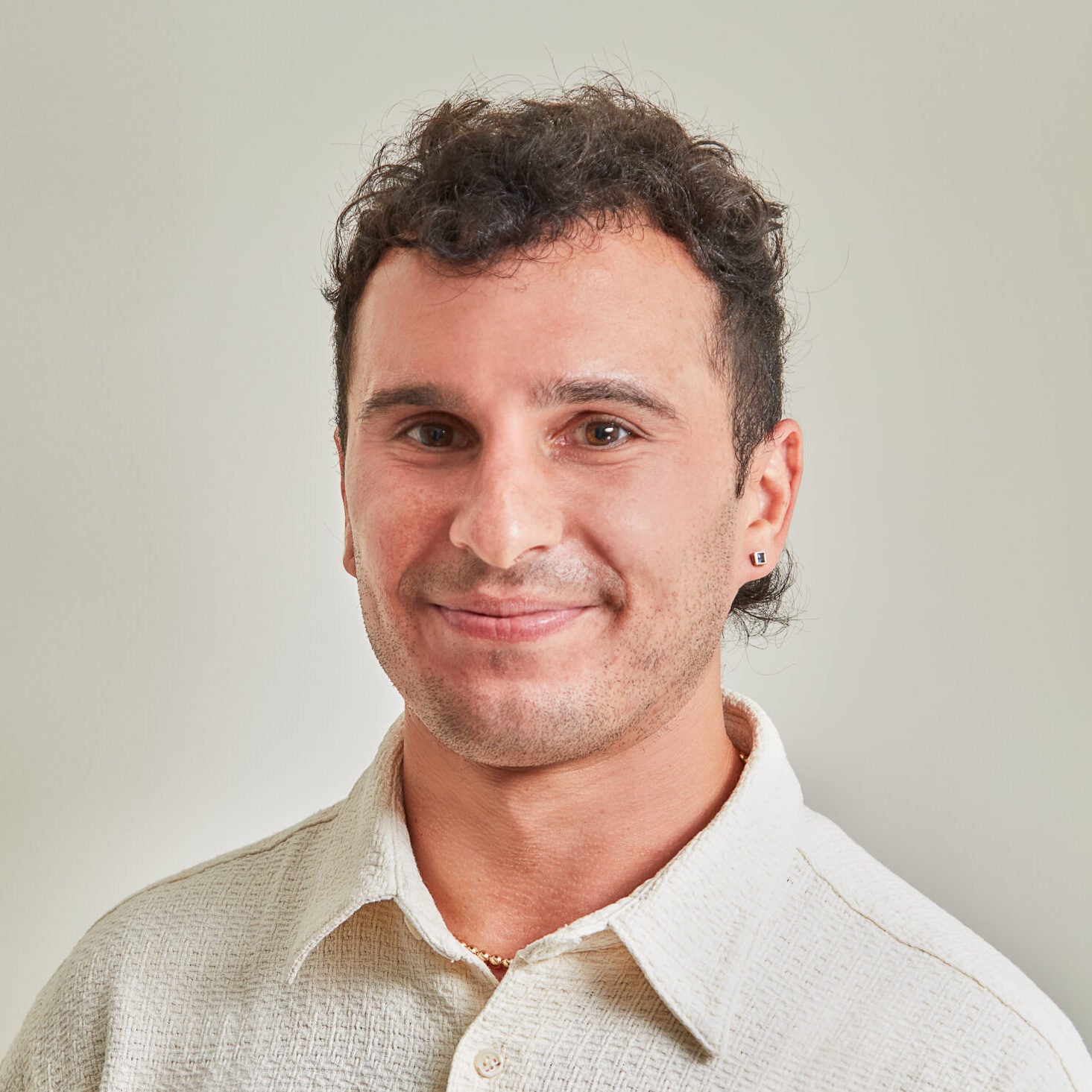 ---
Welcome to One Pot Bangers, Benjamin Kemper's weeknight cooking column, where you'll find our freshest, boldest ideas that require just one pot, skillet, or sheet pan. Busy week? We've got you covered with these low-effort, high-reward recipes from around the globe.
"Tagine is architecture," explained Houssa Yakobi, owner of Gîte Ourthane in Zaouiat Cheikh, as his elder sister Mouna—a stern silver-haired woman with faded face tattoos—scattered sliced cardoon over goat meat stewing in orange broth. The olives, carrots, and sweet potatoes would be layered on in an hour or so—enough time for us to knead up a batch of sourdough khobz, the sturdy Moroccan bread that doubles as a sponge for the goat tagine's cumin-scented juices.

Purists will tell you a tagine isn't a tagine unless it's cooked in the eponymous conical pot, but don't worry if you don't own one: This dish comes out wonderfully in a Dutch oven. If you can find cardoon, use it (peeled and coarsely chopped) in place of the fennel as they do in the Atlas Mountains, adding it along with the parsley and spices in step 1. Cardoon and fennel are traditional early-spring tagine ingredients. Chicken thighs make a fine substitute for goat if the latter isn't readily available.
Ingredients
2 lb. boneless goat meat, such as leg, shoulder, or neck (or 2 lb. boneless skinless chicken thighs), cut into 3-in. chunks
2 Tbsp. olive oil
1 Tbsp. kosher salt
6 garlic cloves, coarsely chopped
2 Tbsp. coarsely chopped parsley leaves, plus more for garnish
1 Tbsp. ras el hanout spice blend
1½ tsp. ground cumin
1 small onion, peeled and quartered
1½ lb. fennel bulbs (about 3 small), cored, trimmed, and coarsely chopped, fronds reserved
2 plum tomatoes (fresh or canned), peeled and coarsely chopped
3 medium carrots, peeled and halved lengthwise
1 large red potato (12 oz.), peeled and cut lengthwise into eighths
1 large white sweet potato (12 oz.), or regular sweet potato, peeled and cut lengthwise into eighths
1 cup pitted green olives (preferably Moroccan, Greek, or Turkish), smashed with the side of a knife
Instructions
Step 1
To a large, wide pot or tagine, add the goat, oil, salt, and garlic and turn to coat. Turn the heat to medium-high and cook, turning the meat frequently, until opaque all over (do not brown), about 5 minutes. Add the parsley, ras el hanout, cumin, onion, and 1 cup of water. Cover, turn the heat to medium-low, and cook for 30 minutes.
Step 2
Scatter evenly with the fennel and tomatoes. On top, alternate wedges of carrot, red potato, and sweet potato in a tight circle pointing toward the center (save any vegetables that don't fit for another use). Top evenly with the olives (do not stir), then cover and cook until the vegetables are soft and the meat flakes easily when poked with a fork, about 1 hour. Sprinkle with the fennel fronds and serve.