Recipes
Jamaican Beef Patties
The island's favorite fast food.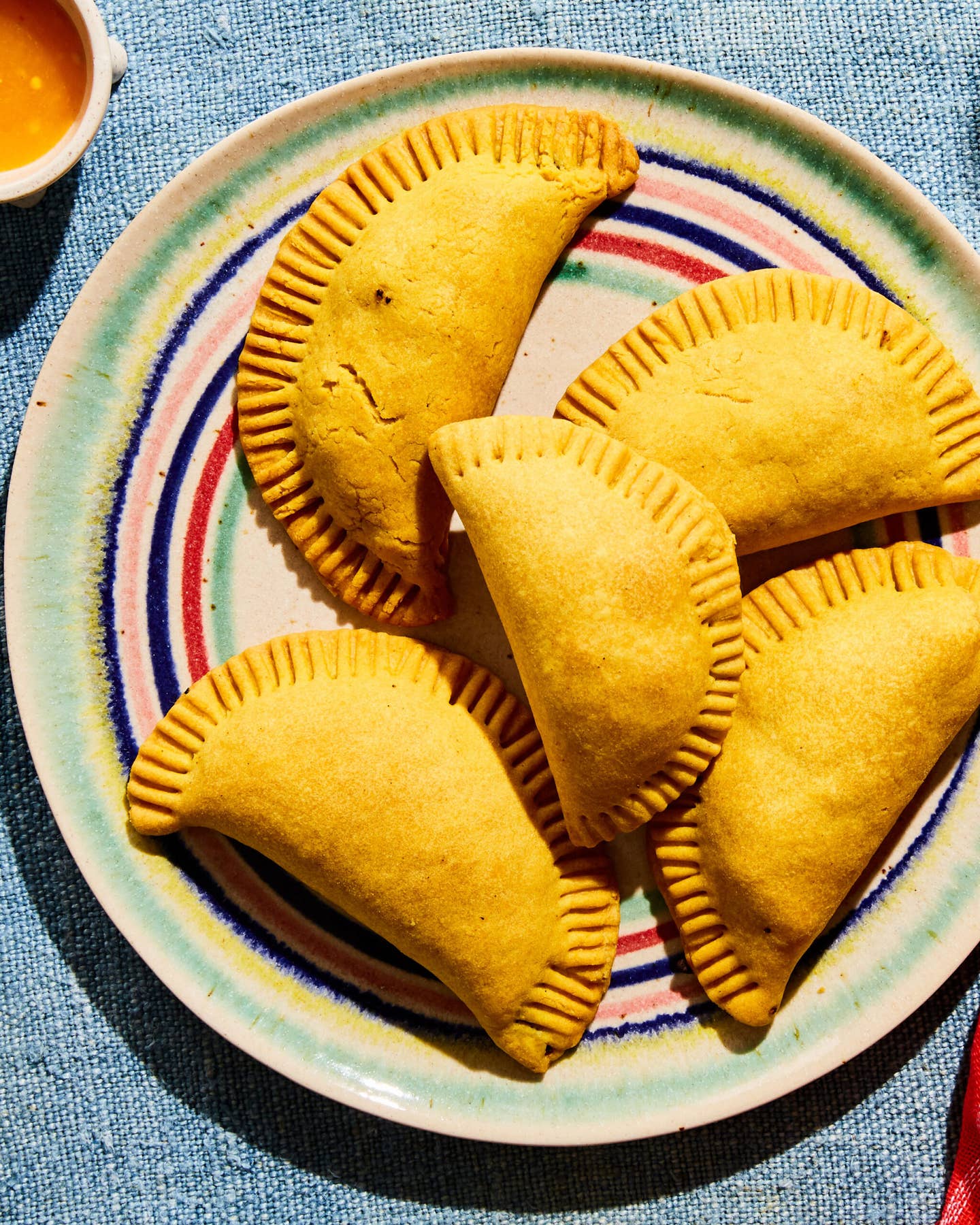 The crescent-shaped patty is the number one fast-food item in Jamaica. The flaky crust is traditionally filled with Scotch-bonnet laced ground beef, herbs, and seasonings. However, you can also find patties made with different fillings ranging from curry goat or jerk chicken to callaloo, ackee and saltfish, or mixed vegetables.
The best patty crusts are made with beef suet, but you can also use a traditional butter-based shortcrust pastry or even a vegan version made with all shortening.
This recipe makes traditional large beef patties, but if you prefer to serve cocktail-sized patties, use a 2½-inch round cookie cutter and half the amount of filling for each one.
Ingredients
For the dough:
3 cups all-purpose flour, plus more for dusting
1 tbsp. plus 1 tsp. tsp. Caribbean-style curry powder
1 tsp. baking powder
1 tsp. kosher salt
½ cups cold beef suet (or tallow), coarsely chopped
½ cups vegetable shortening, coarsely chopped
For the beef filling:
1 tbsp. vegetable oil
12 oz. ground chuck (80% lean 20% fat)
¼ cups finely chopped white onion
2 tsp. chopped fresh thyme leaves
1 tsp. finely chopped Scotch bonnet pepper (flesh only, seeds carefully discarded)
1 tsp. freshly ground black pepper
½ tsp. ground allspice
2 garlic cloves, finely chopped
1 scallion, thinly sliced
Kosher salt, to taste
1 cup bread crumbs, preferably homemade, plus more as needed
Instructions
Step 1
Make the dough: Into the bowl of a stand mixer, sift together the flour, curry powder, baking powder, and salt. Using the hook attachment on low speed, incorporate the suet and shortening into the flour until the mixture resembles small peas or crumbs.
Step 2
Gradually add ¾ cup of ice water, a tablespoon at a time, mixing continuously until you have a smooth dough that comes together in a ball, with visible flecks of fat. Flatten into a disk, wrap in plastic wrap, and chill for at least 1 hour.
Step 3
Meanwhile, make the filling: To a large skillet set over medium-high heat, add the oil. When it's hot and shimmering, add the beef and cook, stirring occasionally to break up any lumps, until no pink remains, 6–7 minutes. Add the onion, thyme, Scotch bonnet, black pepper, allspice, garlic, scallion, and salt to taste. Turn the heat to medium-low, cover, and cook until the onions are soft and the mixture is fragrant, about 20 minutes.
Step 4
Stir in ¼ cup of the bread crumbs, then add more bread crumbs ¼ cup at a time until all of the liquid is absorbed (about 1 cup in total). The mixture should be moist but not wet. Set aside to cool to room temperature, at least 1 hour.
Step 5
Position a rack in the center of the oven and preheat to 350ºF. Halve the dough and transfer one of the halves to a floured work surface. (If you're concerned about staining your countertops with the curry powder in the dough, you may also choose to do this step on a large, lightly floured sheet of parchment paper.) Using a rolling pin, roll the dough to a thickness of ⅛ inch, then use a bowl or round cutter measuring 5 inches in diameter to cut out 6 rounds . Transfer to a parchment-lined baking sheet and refrigerate while you repeat with the remaining dough.
Step 6
Transfer one dough round to a floured work surface and mound the center with ¼ cup of the filling. Fold it in half to form a crescent shape. Using the tines of a fork, crimp the edges to seal, then transfer to a parchment-lined baking sheet. Repeat with the remaining dough rounds. Bake for 45 minutes, or until the crust is golden, puffed, and flaky.