Recipes
Roasted New Potatoes with Creamed Spinach and Crispy Garlic
There's room for spuds and silky greens alike in this ultra-satisfying side-dish duet.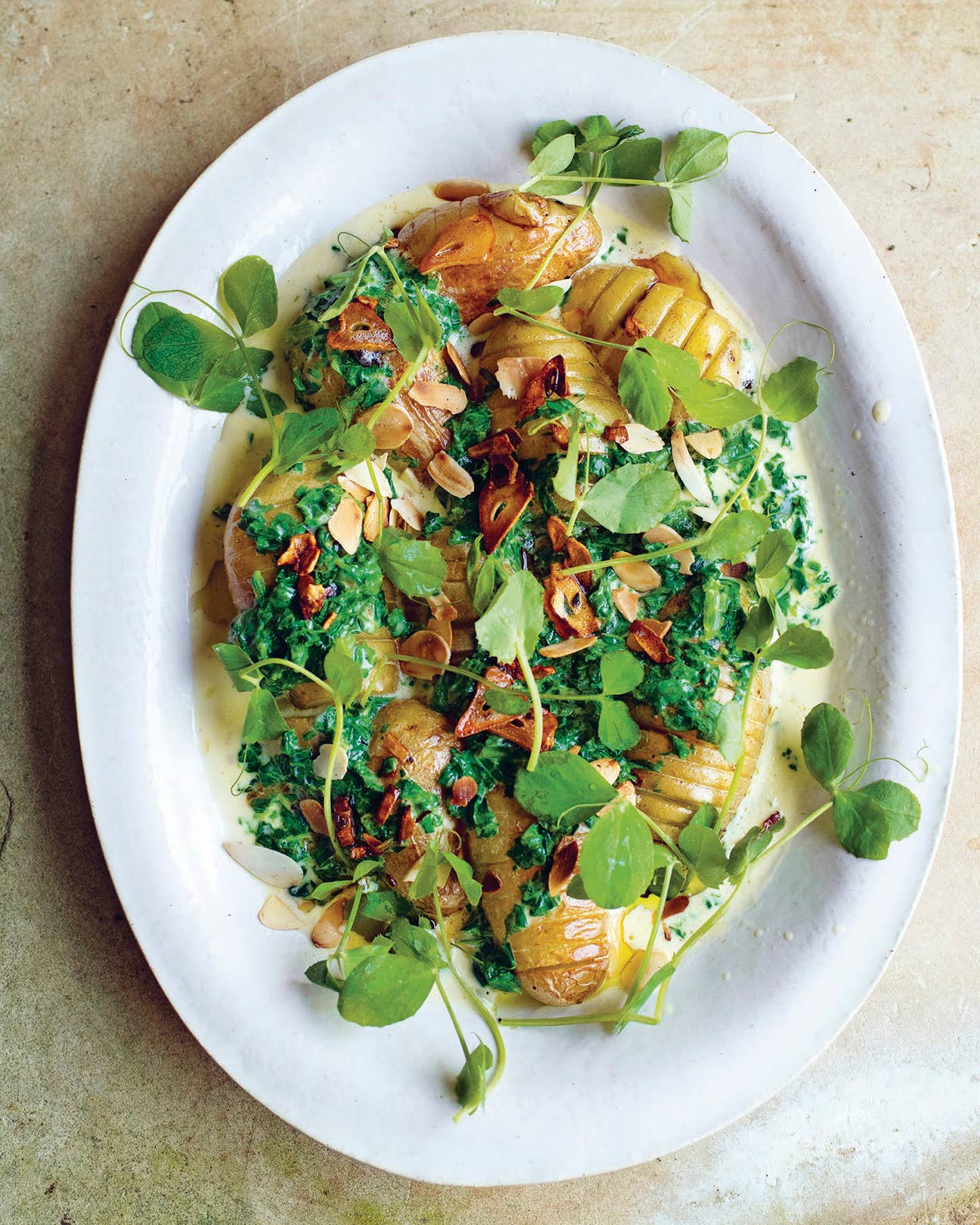 This recipe is brought to you by SAVEUR Cookbook Club, our passionate community of food-loving readers from around the globe celebrating our favorite authors and recipes. Join us as we cook through cookbooks new and old, and share your food pics and vids on social media with the hashtags #SAVEURCookbookClub and #EatTheWorld.
New potatoes will roast to a fudgy texture, like little balls of gnocchi. Score them deeply, toast rack style, and they will crisp nicely, too.
Ingredients
1 lb. yellow new potatoes, scrubbed
¼ cup plus 1 Tbsp. extra-virgin olive oil
2 Tbsp. sliced almonds, blanched
2 Tbsp. unsalted butter
2 garlic cloves, thinly sliced
3½ oz. (4 cups) spinach, rinsed
1 cup heavy cream
3 Tbsp. grated parmesan
Pea shoots, for garnish (optional)
Instructions
Step 1
Position a rack in the center of the oven and preheat to 400°F. Hasselback the potatoes by slicing them crosswise at ¼-inch intervals, stopping ¼ inch from the bottom of each potato. Transfer to a rimmed baking sheet, and top with the oil. Toss to coat, ensuring the oil gets between the slices. Arrange in a single layer, season generously with salt and black pepper, and bake, turning the potatoes halfway through, until golden and fudgy, about 45 minutes.
Step 2
Meanwhile, in a large, dry saucepan set over medium-low heat, toast the almonds, swirling  occasionally, until fragrant and lightly browned, 5–7 minutes. Scrape onto a plate and set aside. To the empty pan, add the butter and turn the heat to medium-low. When it's melted, add the garlic and cook until golden and crisp, 2–3 minutes. Scrape onto the plate with the almonds.
Step 3
Wipe out the saucepan, turn the heat to medium, and add 3 tablespoons of water and the spinach.  Cover and cook until the spinach wilts and turns bright green, about 3 minutes. Drain and run under cold water until cool. Working in batches, squeeze the leaves, pressing out as much water as possible. Transfer to a cutting board and coarsely chop, then add it to the empty pan along with the cream, parmesan, and salt and black pepper to taste. Turn the heat to low and cook, stirring occasionally, until warm, about 2 minutes.
Step 4
To serve, divide the spinach sauce evenly among four plates, then top with the roasted potatoes and scatter with the almonds and garlic. Garnish with pea shoots if desired.