Recipes
Sicilian Seafood Stew with Almonds and Couscous
A bounty of Mediterranean seafood, piled high atop the quick-cooking North African starch.
Serves

serves 4-6

Cook

1 hour 10 minutes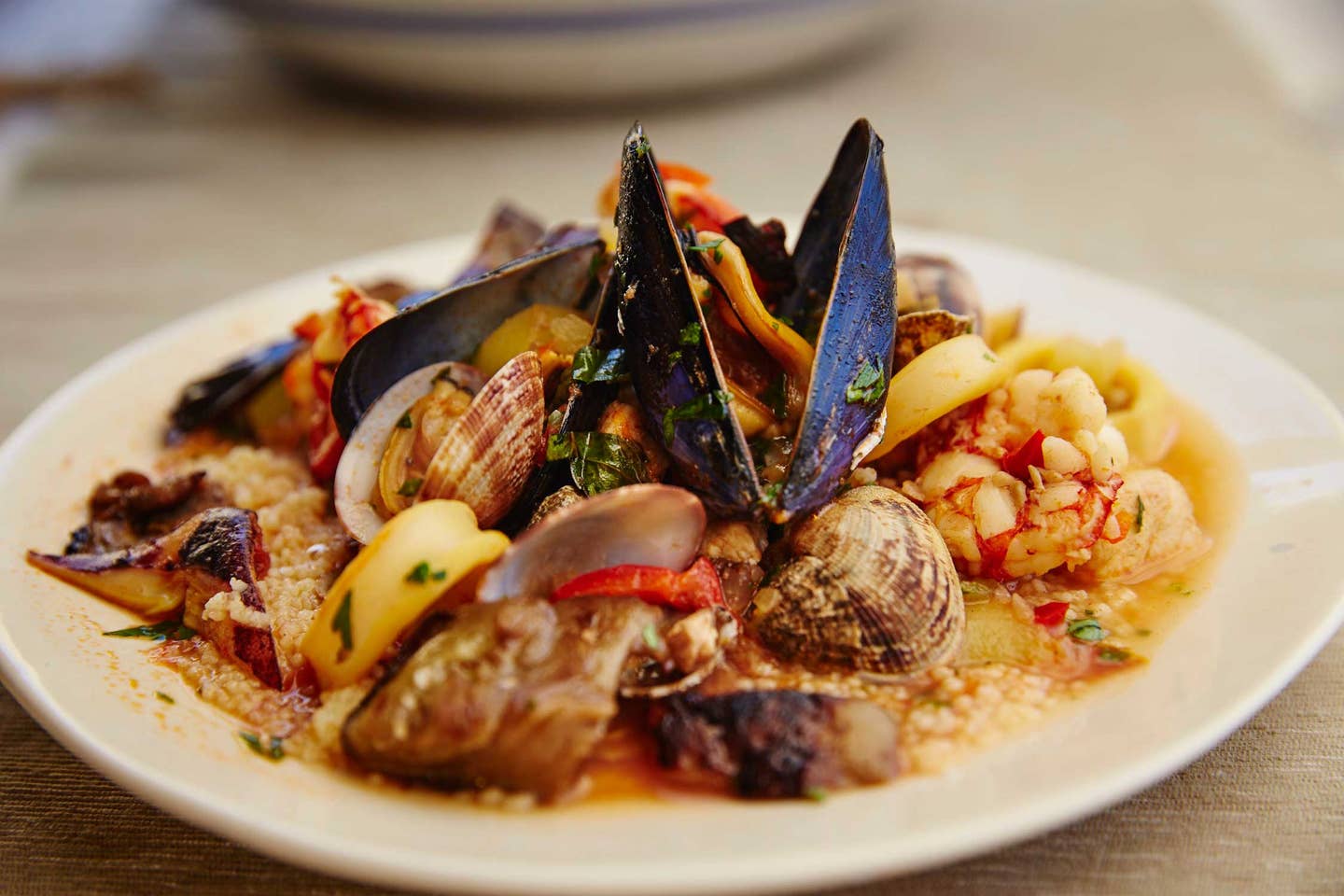 Couscous was introduced to Sicily by way of North Africa, and makes a filling main course when topped with the island's fish, shrimp, squid, and mussels. The fragrant tomato and seafood broth is a finishing flourish for the semolina granules to soak up.
Ingredients
⅓ cups olive oil
1 celery stalk, finely chopped
1 medium red bell pepper, seeded and finely chopped
1 medium yellow onion, finely chopped
1 small carrot, finely chopped
2 tbsp. tomato paste
2 medium tomatoes, seeded and finely chopped
1 garlic clove, finely chopped
1 zucchini, halved lengthwise and sliced ¼-in. thick
4 cups fish stock
¼ tsp. crushed saffron threads
8 oz. swordfish, cut into 1-in. chunks
8 oz. small head-on shrimp
1 lb. mussels, scrubbed and debearded
1 lb. whole squid, tentacles left whole, mantles cut into ½-in. rings
1 lb. cockles or littleneck clams, cleaned
½ cups whole toasted almonds, finely chopped
2 tbsp. packed flat-leaf parsley leaves
2 tbsp. toasted pine nuts
Kosher salt and freshly ground black pepper
6 cups cooked couscous, hot
Instructions
Step 1
To a large Dutch oven set over medium heat, add the olive oil, celery, bell pepper, onion, and carrot and cook, stirring frequently, until soft but not browned, about 12 minutes. Add the tomato paste and cook, stirring frequently, to coat the vegetables, about 2 minutes. Turn the heat to high and add the tomatoes, garlic, and zucchini, and cook, stirring frequently, until the tomato is broken down, about 3 minutes. Add the stock and saffron, and when the liquid boils, add the seafood in the following order: swordfish, shrimp, mussels, squid, and cockles. Cover and cook, shaking the pot occasionally, until the fish and shrimp are cooked through and the mussels and cockles open, 8–10 minutes. Remove from the heat and discard any shells that remain shut.
Step 2
To serve, sprinkle over the almonds, parsley, and pine nuts and season with salt and black pepper. Divide the couscous among shallow soup bowls, then ladle over the vegetables, broth, and seafood.