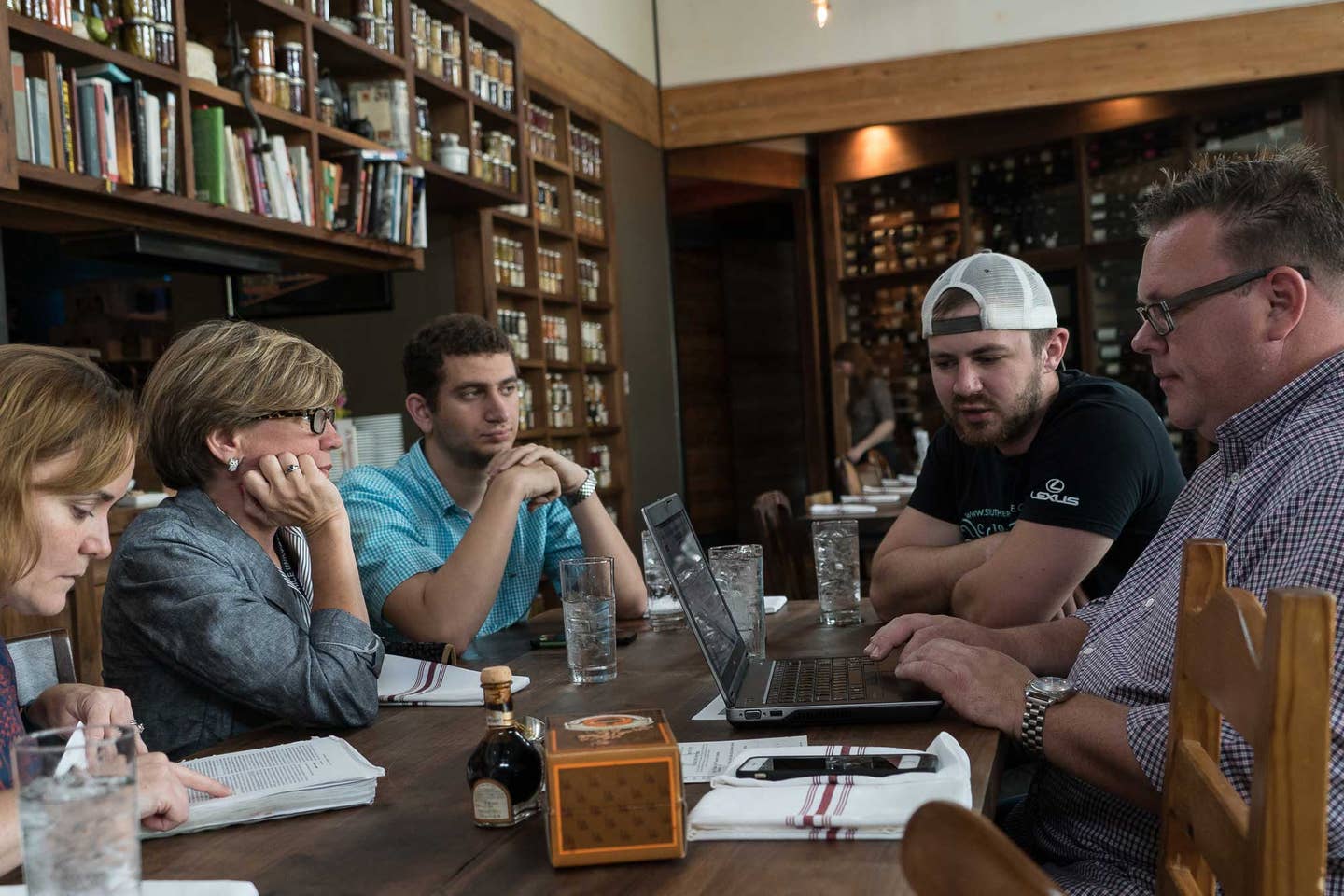 Culture
Houston Chef Chris Shepherd Enlists College Kids to Build Better Vinegar With Chemistry—and Boost Local Farming
The Underbelly chef has partnered with Rice University for a hands-on education initiative that could inspire more schools around the country
When Houston chef and Underbelly owner Chris Shepherd first started producing shrubs—sweet-tart drinks made with naturally fermented fruit vinegar—from local farmers' excess produce, he didn't know they had a high ethanol content. That is, until Rice University students pointed it out to him. "What I ended up figuring out was that what we're making is just booze, a lot of booze."
Shepherd was determined to perfect Underbelly's shrub-making process, so he enlisted the help of two freshmen classes filled with students interested in chemistry, engineering, and natural sciences. "It's like hiring one of the best universities in the country to help us do our stuff," said Shepherd. Over the course of the semester, they treated Underbelly's shrubs and homemade vinegars as science experiments, discovering what could be changed chemically to improve flavor and the production method.
The grassroots union of cooking and chemistry has an effect that reaches wider than Underbelly. Shepherd believes that making these products is a great way to support local farms by preventing them from throwing away excess crops. He explained, "If we don't buy what [farmers] grow, then we lose these products, and we could lose them forever, and in 10 years, what if this continues to happen? I've made a commitment to buy as much as I possibly can from farmers."
Of course, like every real life science project, not everything goes according to plan, but Dr. Sandra Bishnoi, a lecturer at Rice and one of the professors who worked on the project, said this kind of "authentic research" is exactly what young scientists need to know how to do. Dr. Michelle Gilbertson, a chemistry professor and the other Underbelly collaborator, said that she felt students "really needed a different experience than just a canned set of experiments with expected answers." This has even led to a summer job for one Rice student, who will continue building on the semester's research. And Shepherd is looking into possibilities beyond vinegars and shrubs—his next experiment might be miso.
Check out Rice's video on the project above to see the students in action.