Roasted Asparagus with Tahini Ranch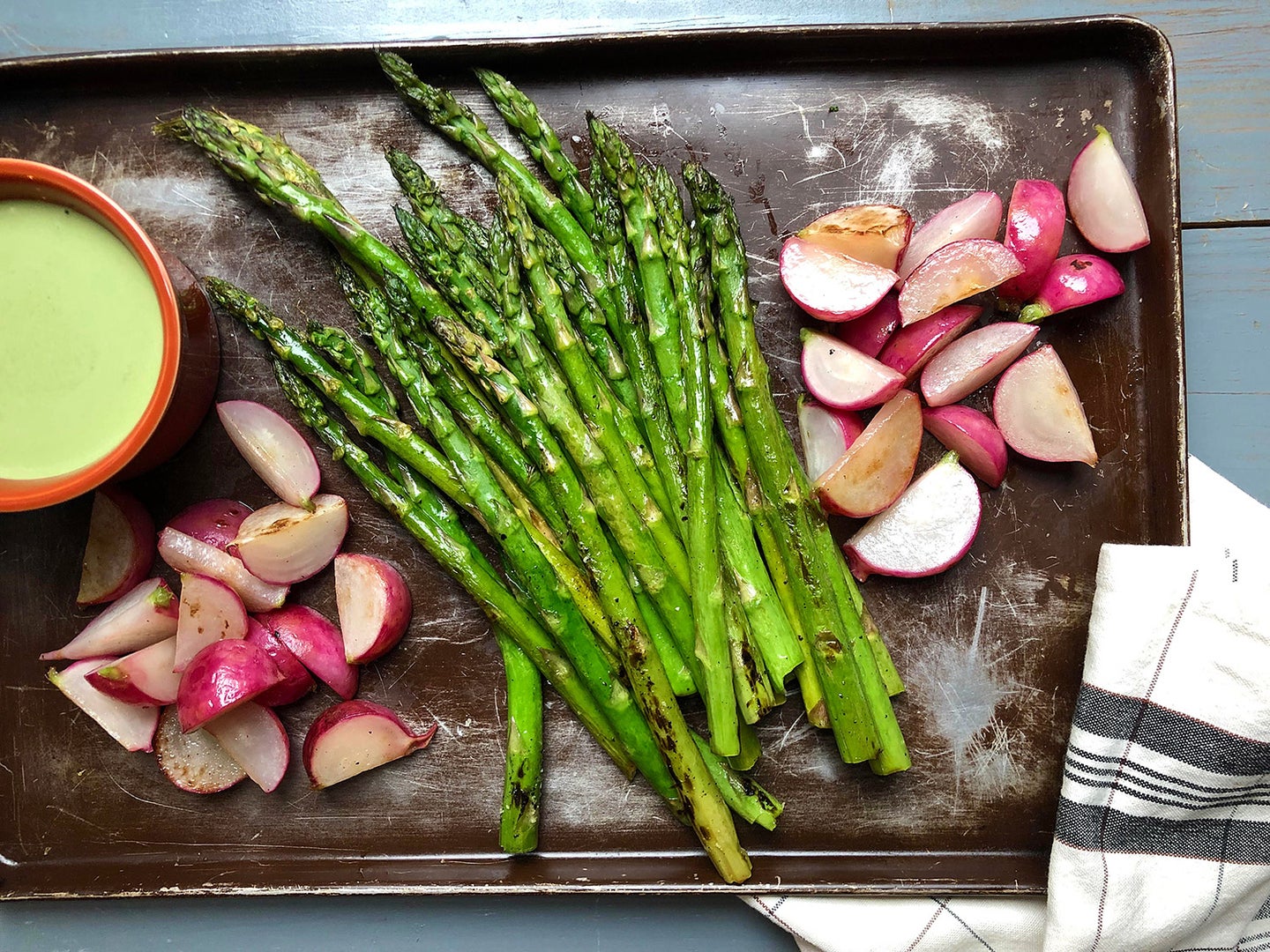 At Charleston's The Grocery, chef Kevin Johnson gives asparagus a quick turn in the oven, then serves the spears with a zesty, herb-flecked tahini-yogurt sauce—a grown-up take on ranch dressing—which also pairs well with other roasted spring vegetables, such as radishes, baby beets, and young Japanese turnips.
Featured in: All The Best Ways to Cook Asparagus
Equipment
Roasted Asparagus with Tahini Ranch
Asparagus spears are cooked on a preheated baking sheet in the oven until tender yet toothsome, then served with a tahini-yogurt sauce packed with fresh herbs for dipping.
Time: 25 minutes
Ingredients
½ cup plain whole-milk Greek yogurt
¼ cup tahini
2 Tbsp. finely chopped cilantro
1 Tbsp. plus 1 tsp. finely chopped fresh mint leaves
2 Tbsp. finely chopped flat-leaf parsley
1 Tbsp. finely chopped fresh dill
1 Tbsp. finely chopped fresh basil leaves
1 Tbsp. fresh lemon juice
¼ cup buttermilk
Kosher salt
Freshly ground black pepper
2 lb. medium asparagus, trimmed
1 tsp. extra-virgin olive oil
Instructions
Place a baking sheet or roasting pan in the oven and preheat to 450°F.
In a blender, add the yogurt, tahini, herbs, lemon juice, and buttermilk, and purée until smooth. Season with salt and pepper, then transfer to a small bowl and refrigerate.
Spread the asparagus in a single layer on a cutting board. Drizzle with the oil, season with salt and pepper, and transfer in a single layer to the preheated baking sheet. Roast until the asparagus are slightly browned all over but still hold their shape, 3–5 minutes. Transfer to a platter and serve immediately or at room temperature, with the yogurt sauce for dipping.