Recipes
Roasted Garlic Polenta "Mash" with Herbs and Mascarpone
Ditch the mashed potatoes.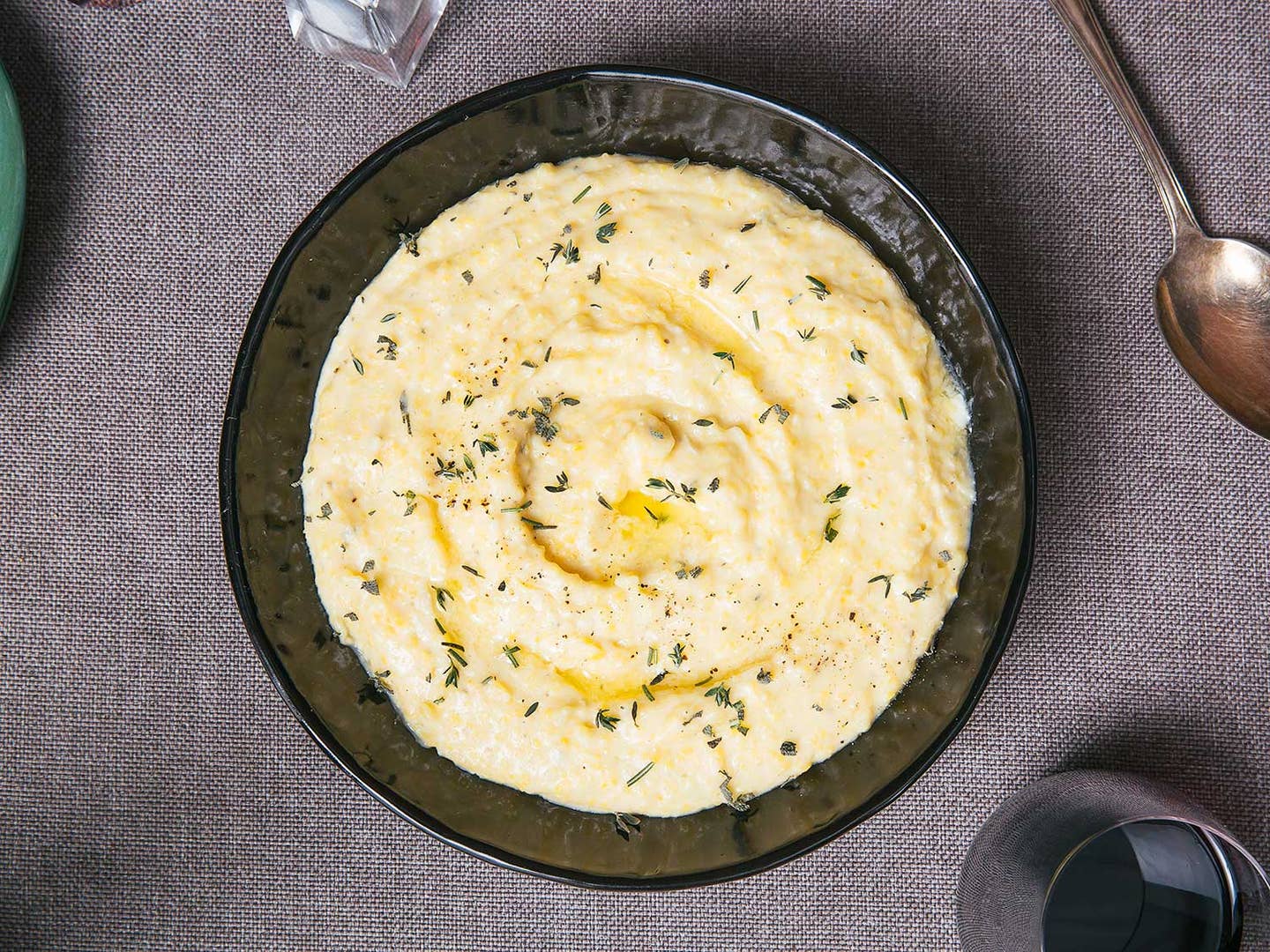 Using a medium-coarsely ground cornmeal for this dish leaves some texture in the polenta while getting it as close to the consistency of soft, fluffy mashed potatoes as possible. (If using a more coarsely ground meal, increase both the cooking time and quantity of stock accordingly.)
Ingredients
1 medium head of garlic (1¾ oz.)
1 Tbsp. extra-virgin olive oil, plus more for drizzling
4 cups chicken or vegetable stock
1 cup cornmeal (ground to a medium coarseness)
1⁄4 cup (2 oz.) mascarpone
4 Tbsp. unsalted butter, softened
1 tsp. fresh sage, finely chopped
1 tsp. fresh thyme, finely chopped
1⁄2 tsp. fresh rosemary, finely chopped
Kosher salt
Freshly ground black pepper
Instructions
Step 1
Preheat the oven to 400°F. Drizzle the whole garlic head with olive oil and wrap it tightly in a sheet of foil. Roast for until the cloves are very soft and fragrant, 30–35 minutes. Remove from the oven and let cool at room temperature.
Step 2
Once the garlic is cool enough to handle, separate each clove from the head. Peel and discard the skins. Transfer the cloves to a small bowl, mash them well with a fork, and set it aside.
Step 3
In a medium saucepan set over medium-high heat, bring the stock to a boil. Slowly pour the cornmeal into the boiling stock, whisking constantly. Lower the heat to medium-low and cook, whisking continuously until the polenta starts to thicken slightly, 2–3 minutes. Cover the pot and continue cooking, stirring every 5 minutes and scraping the bottom well to ensure that the polenta does not clump, until the polenta is creamy and lightly bubbling, but still falls off the spoon in ribbons, about 30 minutes. Stir in the mashed garlic, salt, pepper, butter and mascarpone. Continue cooking, while stirring, just until the butter and mascarpone are completely melted and the garlic is incorporated, about 5 minutes more. Taste and adjust the seasoning with more kosher salt or pepper as needed.
Step 4
Immediately before serving, stir in the sage, thyme, and rosemary. Transfer to a large serving bowl and serve hot.