Spaghetti with Garlic, Olive Oil, and Chile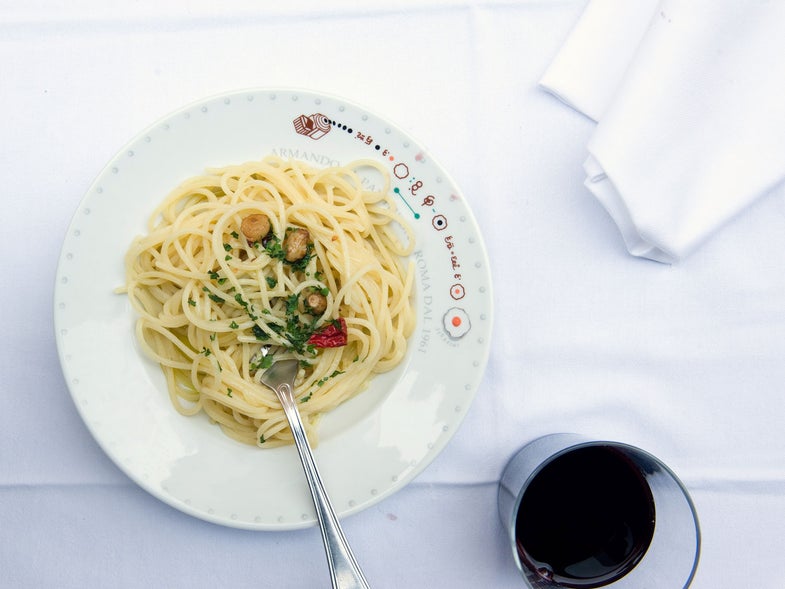 This elemental pasta classic is a ubiquitous first course in Rome's trattorias, but was at one time served at the end of the meal, a tradition that is now lost. As with all simple dishes, using the highest-quality ingredients is crucial to achieving the best flavor.
Featured in: On the Hunt for Rome's Disappearing Classic Dishes
Spaghetti with Garlic, Olive Oil, and Chile (Spaghetti Ajo, Ojo, e Peperoncino)
Once served at the end of a meal—post dessert—this simple, classic Roman pasta dish has become a staple first-course across the city.
Time: 25 minutes
Ingredients
Kosher salt
1 lb. spaghetti
1⁄3 cup extra-virgin olive oil, plus more for drizzling
2 cloves garlic, peeled and smashed
2 dried red peperoncino chiles, stemmed and broken in half
1 tbsp. roughly chopped flat-leaf parsley, plus more to garnish
Instructions
In a large pot of boiling, salted water, cook the pasta until al dente. Meanwhile, in a large skillet, heat the olive oil over low. Add the garlic and cook, stirring, until lightly browned, about 3 minutes. Stir in the chiles and cook until fragrant, 1 minute. Drain the pasta, reserving ¼ cup of the cooking water, and add to the skillet along with the cooking water and parsley and toss to combine. Drizzle with more olive oil and garnish with more parsley before serving.