Culture
Ronni Lundy Would Like to Show You What Appalachian Food Really Means
Rumors of the Mountain South's culinary death have been greatly exaggerated, according to the veteran author and historian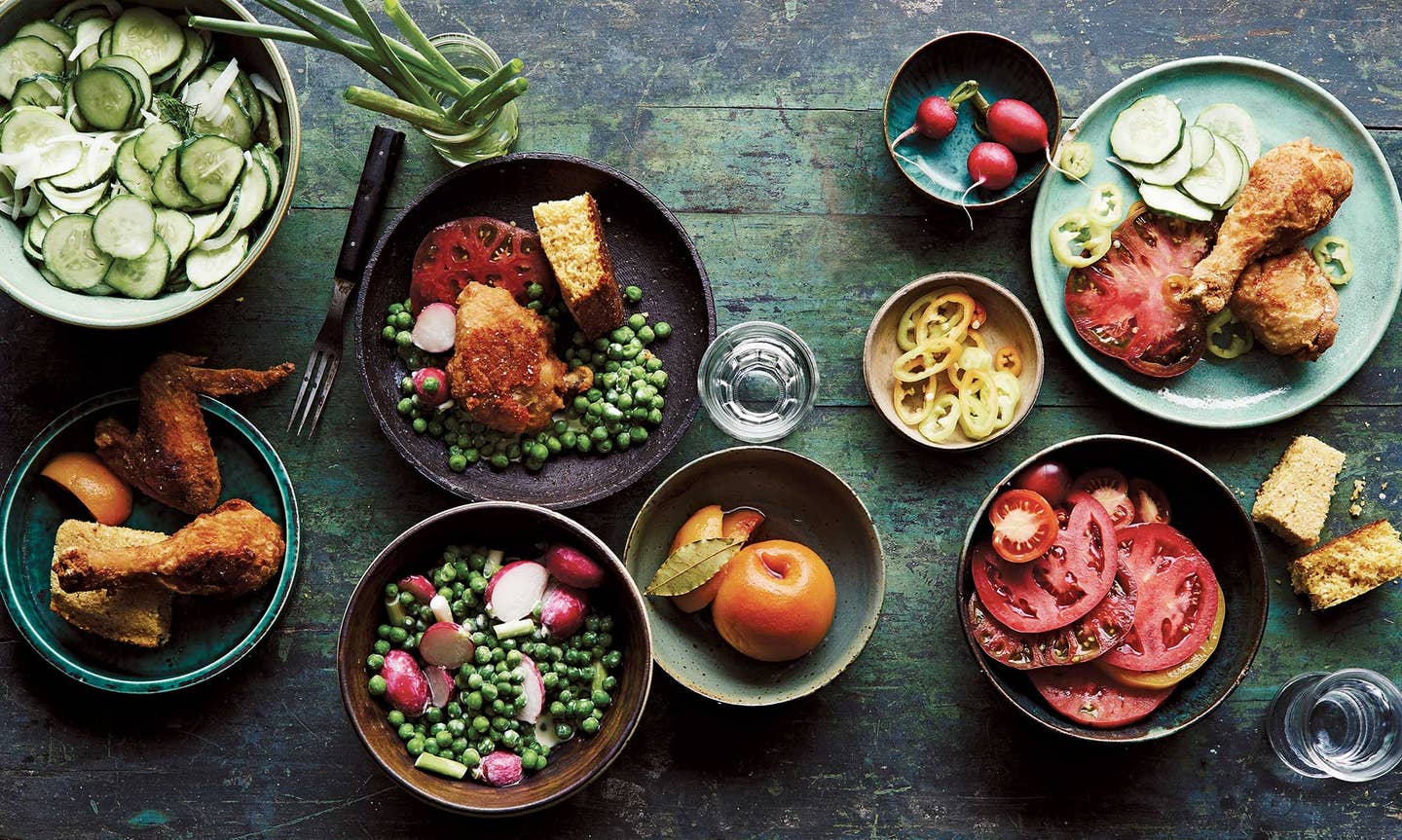 Southern chef Edward Lee, author of Smoke & Pickles: Recipes and Stories from a New Southern Kitchen, says that the most common perception of Appalachian culture "is founded on popular imagery of backwards mountain folks who drink too much Mountain Dew and play a fiddle on a porch. That," he notes, "is an imagery that Ronni Lundy has fought her whole life to undo....Ronni is not only the most equipped but also cares the most about this land."
Born in Corbin, Kentucky, then raised in Louisville as part of what she calls "Hillbilly Diaspora of the 1950s and 60s," Ronni Lundy says she started writing about the music and food of the Mountain South "as a way to understand the cultural forces that made me, and to tell the world perhaps a truer story of what it means to be Appalachian." She's one of the 50 founders of the Southern Foodways Alliance and received its Craig Claiborne Lifetime Achievement Award in 2009. Her latest book, Victuals, was released last week.
While memories of Li'l Abner and the Clampett family might be fading in our national consciousness, Lundy realizes there is still much work to be done to paint an accurate picture of Appalachia. She describes the core of her mission in the book's introduction: Upon leaving home, "I discovered quickly that my understanding of the mountains and the people I knew and loved was not much like the one presented on television, in movies, or in Life magazine."
After her first cookbook was published in 1994, people who grew up in the mountains wrote her, "happy to see the foods they made, the life they lived, celebrated. They wrote to me in the present tense," she notes. Folks from elsewhere, though, "congratulated me for recording a dying culture, a people from and fading into the past." Victuals rebels against that. Lundy isn't, as she says, "talking about a dying anything" when she writes about Appalachian foodways.
In this interview, Lundy chats about what makes the Southern Appalachians so rich, her most beloved dishes and flavors, and the many misconceptions people still have about the region.
You often use the word 'Mountain South' to describe the region in Victuals; can you tell us a bit about how that term is different from 'Appalachia,' why you use it, and what it evokes for you?
The Appalachian Mountains extend from northern Alabama and Georgia (with foothills in Mississippi and South Carolina) into the Gaspe Peninsula of Canada. Commonly when we talk about "Appalachia" as a cultural region, however, we are referring to the southern Appalachians extending north into all of West Virginia (and, depending on who is doing the talking, abutting areas of Ohio, Pennsylvania and Maryland). In terms of foodways, there are distinct traditions and provisions that characterize the cultural region that encompasses.
My sense is that there are certain characteristics—independence and resourcefulness, earth and sky knowledge, an appreciation of silence, for instance—that are fostered by life in a mountain region. That said, I also feel that some of the best aspects of southern culture—hospitality chief among them—are present in Appalachia. I use the term "southern mountains" to distinguish a geographical and culture region of the larger Appalachians, but I also favor it for this nuanced blending of stories it suggests.
How would you describe the key features that make the cuisine of the Mountain South stand out, the key ingredients and techniques, the particular gifts and challenges of living there?
The foundations of the Appalachian larder are recognizable as that of Southern food in general. But the mountain south is distinguished from the rest of the region by its altitude, climate, and topography.
We have winter—sometimes serious winter. That limits the growing season and required that people practice serious food preservation to survive. Some of our most distinctive foods—shuck beans, sour corn, pickle beans, country ham and smoked bacon; sock sausage; dried apples in both fried pies and stack cakes—were born of this need, but continued as cuisine because they taste so good!
We are the most biodiverse food shed in North America, which is one reason why people still forage here for food. Not just the ramps that have become well known, but also prized greens such as branch lettuce, creases, poke, dock and more; a vast variety of edible mushrooms and nuts galore, including my and many mountain folks' beloved black walnut; flavorings such as sumac and hickory bark. Similarly, people here still actively hunt for food: venison, rabbit, squirrel, quail and more.
What do you feel like people get wrong about Appalachian food? About Appalachia? What do you want to set straight about this place and its food?
In the broadest sense, people not from around here think of the food, the people, the culture as crude or primitive. Sometimes that's presented as romantic, more often it's derogatory. I believe a careful look at the foodways presents a very different picture. For example, I mentioned a deep wisdom about the earth, and all you need to do is begin listing the number of wild plants that are used for culinary or medicinal purposes and you see that we are very smart people. The cleverness, skill, and sheer hard work required to cure meat, to ferment corn and beans, to make use of every possible edible you can find is another indication of the intelligence and industry that has characterized the region from the start.
You mention that after you published your first book, Shuck Beans, Stack Cakes, and Honest Fried Chicken, people who grew up in Appalachia or still live there wrote to you in the present tense, while outsiders tended to act as if you were documenting "vanishing foodways" and "a dying culture." Why do people make those assumptions? Can you speak a bit about this cuisine and culture today, its current form and vibrancy?
Sad to say, contemporary coverage of Appalachia in the media has most often focused on finding imagery that furthers a story of "Yesterday's People." This narrative "exempts" the vibrant contemporary food scenes in Appalachian cities like Asheville, Knoxville, Chattanooga as aberrations, and ignores the realities of daily contemporary Appalachian life. And it ignores the ways people keep and practice traditions that worked (seed saving, drying, curing, fermenting, cooking in cast iron) while also keeping up with new changes—jello salads, crock pots, microwaves.
Meanwhile, we go on growing and eating and keeping in living and evolving culinary ways. Look at shuck beans, one of the most beloved of foods specific to Appalachia in the U.S. These are full-beaned green beans that have their strings removed, and then were strung up with needle and thread to hang and dry. This was originally done to assure food through the winter, but has continued right on up to the present because the dish is so distinctly delicious. When I was growing up in the 1950s and 1960s, folks started breaking the beans and spreading them out on a towel laid across the ledge that used to be under the back window of cars—a hillbilly solar dehydrator.
These days, contemporary chefs like Elliott Moss of Buxton Hall in Asheville are drying the beans in the smoke coming from the barbecue pit. Elliott has been experimenting with pureeing the cooked beans to make a condiment or sauce. John Fleer of Rhubarb has incorporated sorghum syrup into his cocktail program and Chef Edward Lee at 610 Magnolia in Louisville uses it in both Asian and Appalachian inspired dishes. Meanwhile, chefs like Shelley Cooper at Dancing Bear Lodge in Townsend, Tennessee, and Travis Milton, who will be opening Shovel & Pick in Bristol, Virginia soon, are introducing a new generation to old dishes like Sour Corn and Rabbit Confit. Will Dissen at Market Place in Asheville is unstoppable in his passion for foraged foods and inventive ways to use them.
Part of what makes Victuals such a beautiful book is a real sense of your personal love for the dishes included. Would you tell us about a few that really speak to you?
Shuck Beans: It really is a spiritual/mystical experience to put that first spoonful of these in my mouth. It doesn't just remind me of "up home" (which is what my family called Corbin, the mountain town where we were all born) but it tastes to me of the mineral earth tempered by the alchemy of the time it takes for drying.
Killed Lettuce: When I wrote Shuck Beans, the premise of that book was to have country music performers talk about the country food they'd loved growing up. Because so many of them had mountain roots, as did I, it became largely a book about southern mountain foodways. I asked every performer to tell me the one dish they loved the most, and across the board, it was Killed Lettuce. The mix of the umami of the bacon and its grease, the zap of vinegar, the bite of salt and black pepper, and the tang of crisp spring lettuce is tonic and reviving, and just plain delicious.
The book introduces many dishes that few outside the Mountain South have heard of, and yet they seem to have much in common with popular cooking methods at lots of fancy city restaurants today. How do you feel about these connections? What does it mean if Appalachian food gets trendy?
I love when a chef is interested in the story enough to be respectful and knowledgeable about the roots. (Respectful does not mean hidebound to tradition. Innovation is great; bowdlerizing is not.)
My greatest wish is for this interest in Appalachian foods and foodways to translate into long-lasting small scale sustainable food economies for the people living in the region. My fear is that it will not. And my greater fear is that a lot of misinformation about the land and people will be propagated by a quick and shallow restaurant trend. The great news right now is that so many of the people who are rooted in these foods—Chef Sean Brock at Husk and Karl and Sarah Worley of Biscuit Love in Nashville, for example—or dedicated to exploring them seriously—chefs Ian Boden, of The Shack in Staunton, Virginia, and Mike Moore at Old Etowah Smokehouse in Arden, NC, for example, and the folks named above—are setting the bar very high for a legitimate interpretation of Appalachian food.
The former managing editor of Serious Eats, Maggie Hoffman is a freelance food and beverage writer based in San Francisco.