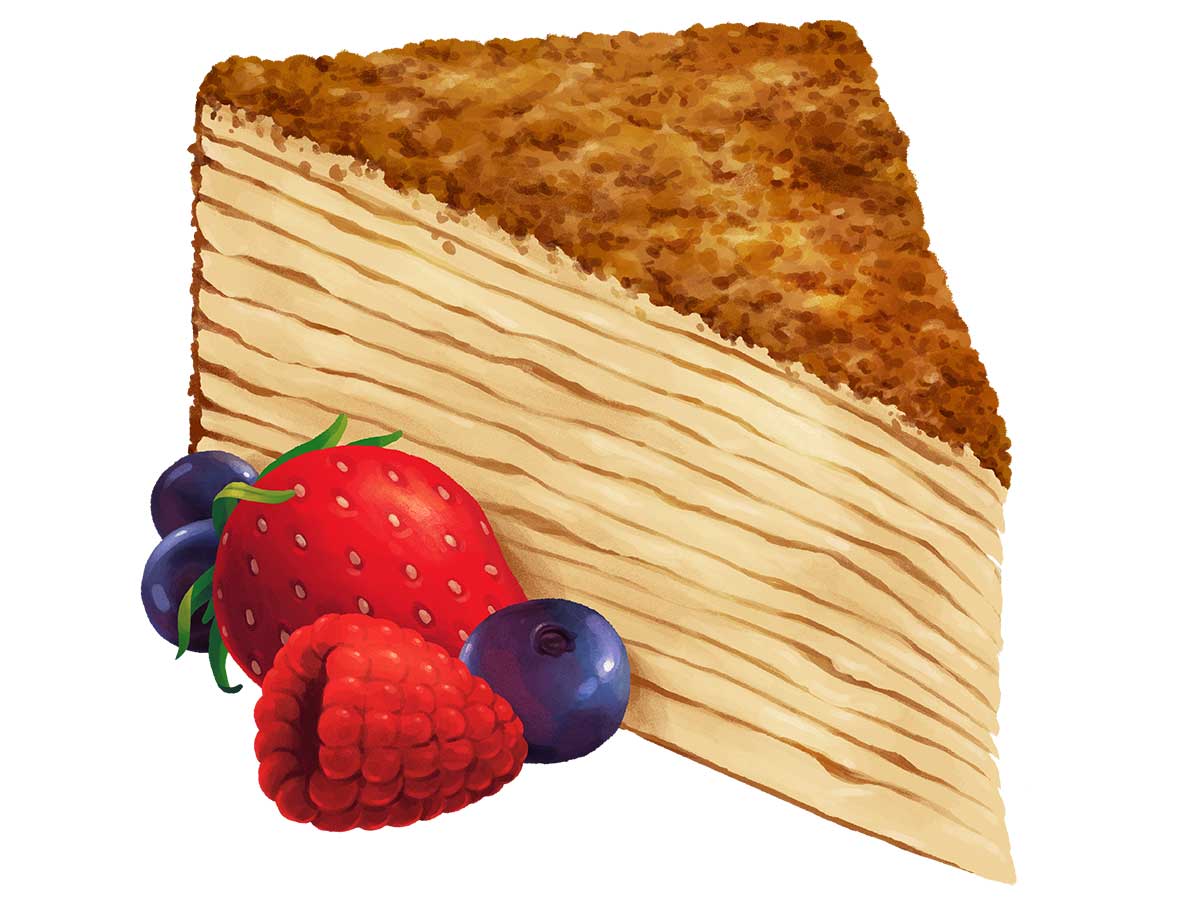 Travel
A Russian New Year's Eve Party Isn't Complete Without a Napoleon Cake
The layered cake got its start celebrating the defeat of Napoleon Bonaparte
In Russia, where Christmas was banned in 1928 during Bolshevik rule and not reinstated until 1991, New Year's Eve has long been the biggest celebration of the year. Russians put up decorative trees and prepare opulent feasts. And a towering Napoleon cake, often home-baked, is the highlight of the evening.
In 1912, periodicals de­scribed a new pastry being prepared to celebrate the 100-year anniversary of Napoleon's defeat. Inspired by the French mille-feuille, the single-serving triangles were filled with vanilla pastry cream and shaped to resemble the defeated emperor's hat. The name stuck, but the cake has changed alongside Russia's politics and economy.
After the 1917 revolution, for example, elaborate desserts were branded "bourgeois," and food shortages forced home cooks to adjust their recipes. Margarine replaced butter, rendering the previously delicate pastry layers hard, and eggs disappeared from the once-rich custard. But the Communists adapted after the end of World War II. "Cake was proclaimed a mass-market phenomenon," says food historian Pavel Syutkin, co-author of the CCCP Cook Book, "a symbol of Soviet luxury which must be available to all."
In Russia's latest oligarchic era, the Napoleon is typically a tower of thin layers of pastry, at least eight tiers high and sometimes more than 20. Chefs have their own variations, like Anton Prokofiev from Gusyatnikoff restaurant in Moscow, who adds splashes of cognac and apple cider vinegar to punch up his dough, and tops the slices with crumbled pastry, fresh berries, and mint. Chef Evgenia Zherebtzova in St. Petersburg still uses margarine, and a coating of powdered sugar. But mostly Russians still bake Napoleons at home using old family recipes. For many, it's the taste of celebration, sometimes one long-awaited.