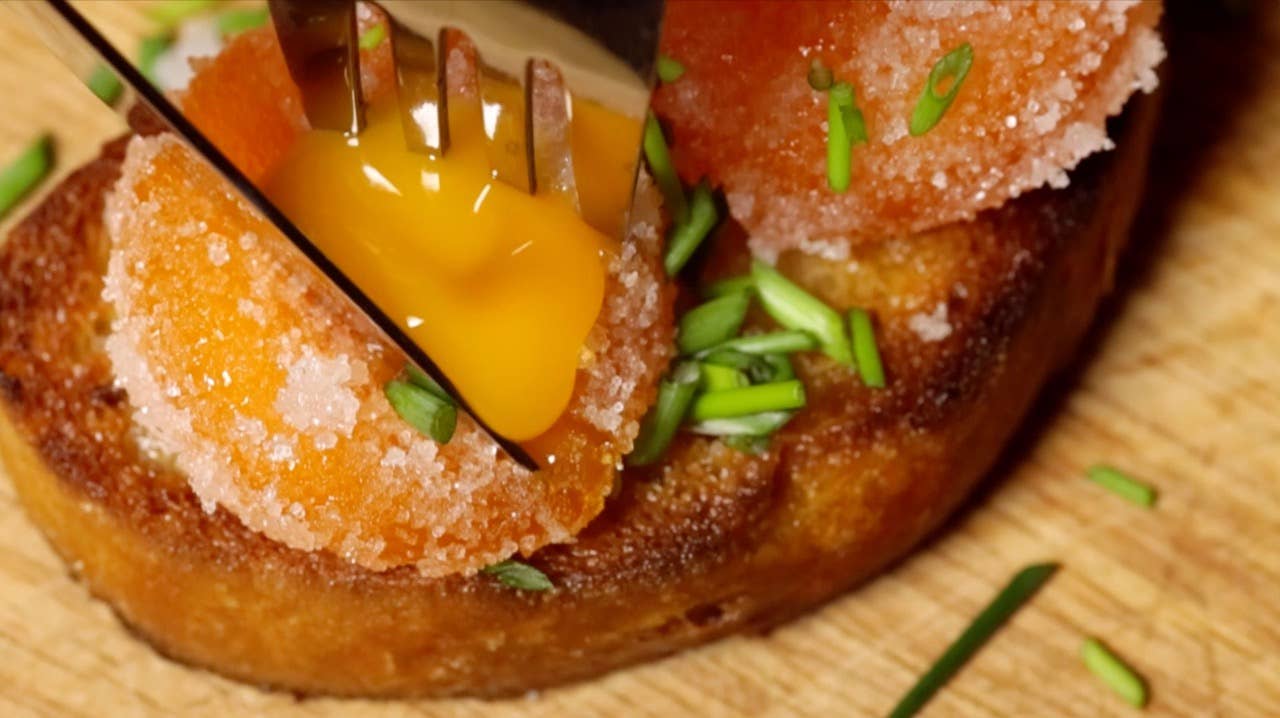 Culture
Meet the SAVEUR Blog Awards Finalists: 6 Food Videos We Love
Egg magic, the unseen New York, and a comedy about one woman's relationship with her sourdough starter
The SAVEUR Blog Awards are here, and from a pool of tens of thousands of reader nominations we've selected 78 finalists in 13 categories. Now it's your turn to vote for a winner. Cast your ballot here early and often; you can vote as many times as you like by August 31st. Today: meet the finalists for our Best Video award.
When it comes to food and video, you may think you've seen it all. But these six filmmakers are approaching food differently—whether it's following the journey of a particularly huge block of ice or exploring the cultural history of collards, these videos take on food in ways we haven't seen before.
Food Talkies (talkie: talking motion picture) is a collection of films that range from heartwarming food stories to the dazzling culinary arts. Created by filmmaker and food fanatic Andrew Gooi, Food Talkies is about capturing food stories—not only so that they are enjoyed by viewers, but so that these stories can be preserved on film. Our film, Ice, in collaboration with Michelle Jacoby and Mark Lipczynski of BITE Magazine, is part of a series of films focused on the many elements used by chefs to share memorable flavor profiles.
Videographer Andrew Gooi is a Malaysian-born, U.S.-based filmmaker, and the creator of Food Talkies. He was first inspired to begin documenting food stories by his grandmother, who makes his absolute favorite dish. His story was the catalyst for him to begin capturing not only the dishes, but the stories of the people behind them. He believes that many people have a food story, be it a memorable flavor profile from childhood or an introduction to a dish that would forever change their lives. Through these films, Gooi hopes to honor the food pioneers, chefs, artists, family, and friends.
Food, People, Places explores cultural conversations about our most basic everyday activity: eating. They portray the growing community of entrepreneurs and creatives in the field and feature the places of today's food movements. Topping off with stylized recipe videos, they give their audience a regular dose of who, what, and where is happening in culinary culture. They believe that eating is the easiest and certainly the most fun way to connect. Therefore they created Food, People, Places to inspire, educate and entertain all people who love food as much as they do.
When filmmaker Simon turned 30, he realized that his social life had changed. Instead of going out on the weekends, he preferred to meet up with friends, cooking and chatting late into the night. This shift made him wonder: What is the cultural dimension of food? How do people in other cultures cook and eat together? So, together with a merry band of food enthusiasts, he started the web-series Food, People, Places. Fellow filmmakers Otto, Mortiz, and Robert help develop the visual style of the blog, while food specialists Helena and Leila bring tremendous culinary knowledge to the project.
Urbanization encroaches on places that once grew a local cornucopia of food for community members. Now, getting your greens from Latin America is not improbable. Much of our food is delivered to our doorsteps from around the globe. Is this the future of food? "The Culture of Collards" dishes up a new vision for the future. Collard greens are more than a simple side dish. Brought to the American South with the slave trade, they represent a critical aspect of African-American cultural history. Passionate farmers, historians, and educators work tirelessly to preserve and share this heritage while promoting healthy communities.
Supervising Producer/Editor/Cinematographer Aditi Desai is a digital storyteller skilled in producing, editing, and shooting documentaries. She has worked for clients such as The Pew Charitable Trusts, The Prince Charitable Trusts, the National Park Service, and Blue Bear Films. Aditi holds an MFA in Film and Electronic Media from American University and a BA in Psychology from Smith College. She currently works as the Assistant Director of Communications and Senior Producer at the American Bird Conservancy. She is honored to share stories about passionate people working in the sustainable farming and local food movements. Her favorite food is her mom's Gujarati Dal.
With a passion for wildlife and a degree in biology, Producer/Script Writer/Cinematographer Vanina Harel makes environmental documentaries that matter. Vanina believes that our planet's most difficult problems can start to be solved when the public is informed, and she hopes to do that through filmmaking. Vanina works closely with the Center for Environmental Filmmaking at American University. She recently received a National Geographic Young Explorers grant to fund her current project, a 30-minute documentary called Vey nou Lagon (Living the Ocean). The film features a Mauritian fisherman who decides to lead a movement to protect the lagoons of Mauritius, her home country.
Somewhere between a romantic comedy and a cooking show, My life in sourdough chronicles the culinary adventures of Jeanne, a French girl looking for a love as orgasmic as bread making. The series was created as a way to bring together food and film. More passionate about fermenting than dating, Jeanne ends up finding her soulmate in the most unexpected places : her kitchen. Falling in love with her sourdough starter, who turns out to be the funniest guy she has ever met, was probably the best decision of her life. Until he decides to break up with her.
Marie Constantinesco is a French filmmaker and photographer. After qualifying as a lawyer in Paris, she moved to New York to attend the Graduate Film program at NYU Tisch School of the Arts. Recently featured in SHOOT's New Directors Showcase, she created the web series My life in sourdough, which was part of the TriBeCa Film Festival and is currently in production for season 3, shooting this summer in Paris. She also directs commercials with Macguffin Films.
New York is home to glamorous restaurants and exalted chefs, but behind this scene is a world of food that is more culture than concept. 1 Minute Meal is a micro-documentary project about that world, where cooks and diners do whatever it takes to keep their own piece of the city alive. The mission of these stories is to alter every viewer's perception of what a New York face looks like, by going deeper and farther than the 30% of Manhattan and 10% of Brooklyn being sold to the rest of the world as the culture of NYC.
James Boo is an award-winning filmmaker and multimedia journalist based in Brooklyn. His first documentary feature, Nothing With Something: Death of a Diner, recently left the festival circuit and is currently seeking a new home.
The Fung Bros focus on Asian people and culture for most of their videos. This one features comedian Awkwafina, and follows her on a tour of New York's Asian neighborhoods.
The team, a pair of Asian-American brothers who grew up having a strong passion for hip-hop, comedy, streetwear, food and basketball, first wanted to be NBA players, then they wanted to be rappers, then heading into college they thought they might become doctors and business consultants. As it turns out, they have a lot to say about the world, culture, people, systems, politics so instead they became comedians on YouTube. They believe in doing good work with a good message.