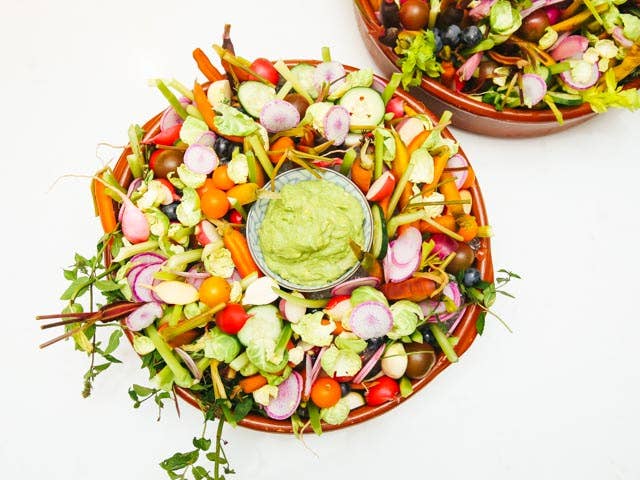 Culture
Seamus Mullen Makes the Case for Food as Medicine
Scenes from our #saveursupper with the chef and author of Real Food Heals
Chef Seamus Mullen's new books is called Real Food Heals. That phrase is more than just a title: it's a life mantra for the chef, who radically reformed the way he ate after a diagnosis of rheumatoid arthritis. Eating more thoughtfully, combined with exercise (he's a passionate cyclist) led the chef to lose 65 pounds and beat back his disease.
He shared some of the principles of his new approach to eating during a visit with his team from Tertulia, his Spanish restaurant in New York's West Village, to the SAVEUR test kitchen on Wednesday night.
Some of the accommodations to better health were obvious—guacamole came with (delicious) crudités instead of chips. Other dishes didn't seem to be health food at all, like a grilled eggplant with herb labneh. That's ambiguity is integral to the way Mullen thinks about food now: there's no contradiction to him between food that tastes great and is good for you.
The perfect example came in the first course, an heirloom tomato and watermelon salad with burrata. Many eaters struggle with inflammation caused by tomatoes, Mullen said, but they are at their least inflammatory when they're at their most ripe and delicious. Eating seasonally and seeking ripe tomatoes meant better things for both the flavor of the dish and how it makes you feel.
In some cases, Mullen says, he exercises moderation with his moderation. An ultra-buttery dish of seared swordfish wouldn't make a good every-Tuesday meal because of its elevated mercury content. For a special event, though, it's important to let yourself live.
Nowhere was that more evident than with the wines, natural bottlings provided by David Bowler wine that ranged from a ripe-but-dry German Riesling to a serious, structured barbera from Coli Tortonesi in the Piedmont. In moderation, "wine is a great thing," said chef Mullen, "when you want to be healthy and happy."