Recipes
Seared Scallops with Zucchini "Ravioli" and Tomato Water
Serves

serves 6-8

Cook

1 hour 10 minutes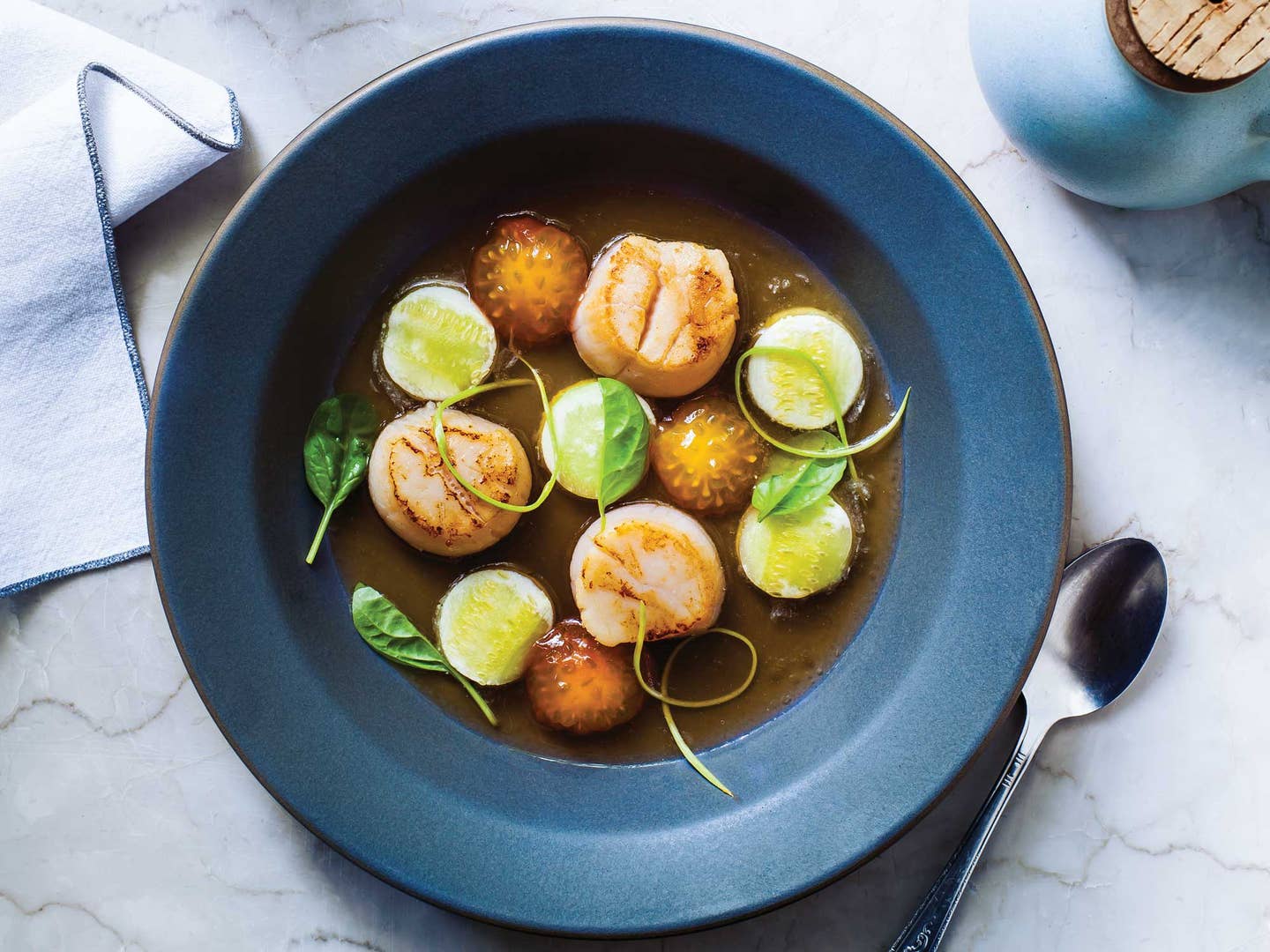 Tomato water, a delicate pink broth made by draining lightly cooked tomatoes in cheesecloth, acts as a summery base for warm scallops and feta-stuffed zucchini—ingredients found in abundance near Twins restaurant. "The tomato water reminds us of the juices that would drain from our grandmother's adzhika," the brothers say, a salsa-like condiment from their native town of Kuban.
Ingredients
For the tomato water
4 1⁄2 lb. tomatoes, stems removed and reserved
3 sprigs fresh thyme
Kosher salt
For the zucchini "ravioli" and scallops
2 medium zucchini (14 oz.), peeled and sliced into 1/4-inch-thick rounds (48 slices)
2 cups basil leaves, plus about 24 small leaves for garnish
1⁄2 cup plus 1 Tbsp. extra-virgin olive oil
1⁄2 cup finely grated Parmigiano-Reggiano
1⁄2 cup walnuts
Kosher salt
Freshly ground black pepper
1⁄2 cup crumbled feta (about 5 oz.)
24 sea scallops, preferably wild-caught
Kosher salt
1 tbsp. unsalted butter
2 tbsp. olive oil
Pea shoots, for garnish
Instructions
Step 1
Make the tomato water: Using a sharp paring knife, score a 1-inch-long "X" in the bottom of each tomato. In a medium pot of boiling water, add the tomatoes and cook until the skins just begin to loosen, about 45 seconds. Remove to a large bowl with a slotted spoon and let cool slightly; peel away the skins and discard. Drain the water from the pot and place the pot back on the stove.
Step 2
Quarter the tomatoes, reserving the juices. Using a melon baller, scoop out their seeds; reserve the seeds in a separate small bowl at room temperature, and transfer the remaining tomato flesh and juices to a blender.
Step 3
Blend the tomatoes until slightly chunky. Return them to the empty pot, and add the thyme, tomato stems, and a pinch of salt; cook over medium-high heat until the tomatoes are simmering and look watery, 7–8 minutes. Turn off the heat.
Step 4
Set a fine strainer over a heatproof bowl and line it with two layers of cheesecloth. Add the tomato mixture and let rest, stirring or lightly squeezing the pulp occasionally, until most of the tomato water has drained out, about 30 minutes.
Step 5
Meanwhile, prepare the zucchini ravioli: Preheat the oven to 350°. In a food processor, add the basil, 1⁄2 cup olive oil, the Parmigiano, the walnuts, 1⁄8 teaspoon salt, and black pepper to taste; process until a thick, slightly chunky paste forms. Transfer to a medium bowl and add the feta; stir well to combine. (Pesto mixture can be made up to 2 days in advance.)
Step 6
Line a large baking sheet with parchment paper and brush it lightly with the remaining 1 tablespoon oil. Add half the zucchini slices in a single layer, then top each with a scant 1⁄2 teaspoon of the feta mixture. Place another slice of zucchini atop each, pressing down around the edges lightly to almost seal (wipe away any filling that peeks out the sides). Roast 5 minutes, then flip each zucchini using a spatula and roast 2 minutes more. Remove and season lightly with salt.
Step 7
In a small pan over medium heat, add the tomato water and a pinch of salt, and gently warm (do not boil).
Step 8
Make the scallops: Season the scallops lightly with salt. In a large skillet over medium-high heat, melt the butter. Add the olive oil and swirl the pan to coat. Once hot, carefully add the scallops (they should sizzle strongly on contact); cook until golden brown on one side, about 4 minutes. Flip and cook for 1 minute more, then remove the pan from the heat.
Step 9
To serve, place about 1⁄2 cup of the tomato water in each of 6–8 shallow soup bowls. Add 3–4 of the zucchini-feta ravioli and 3–4 scallops to each bowl. Season the reserved tomato seeds lightly with salt and distribute them among the bowls. Add a few small leaves of basil and a few pea shoots to each and serve.