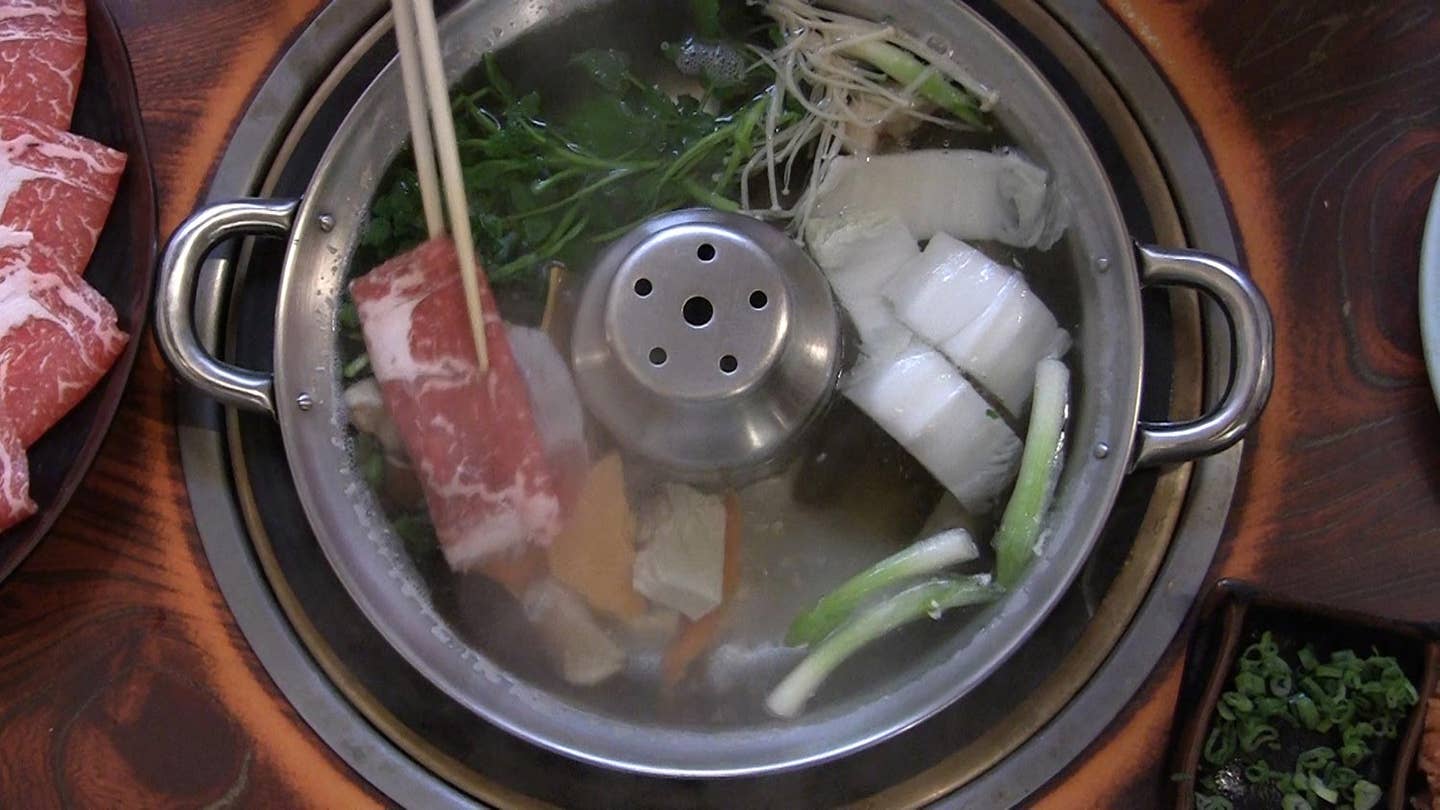 Culture
How Shabu-Shabu Connected Me to My Japanese Family
For one writer, this swishy dish transcends language
My first time going to Okinawa as an adult was for a reunion with some relatives I hadn't seen in nearly 10 years. My mother was born in Japan, but I was born in New Jersey. While my mother did instill some Japanese culture in our house, my siblings and I weren't ever really exposed until we actually took a trip to Japan. Despite my lack of ability to carry even a stumbling conversation in Japanese, I desperately wanted to connect with my grandparents, aunts, uncles, and cousins. No amount of hand motions or nods can help a conversation as good as food can. With one amazing meal of shabu-shabu, I soon discovered an important thing about family and communication: Language isn't necessary when you're sitting on opposite sides of a hot pot.
Shabu-shabu is a Japanese-style hot pot where paper thin slices of beef are dipped in a lightly seasoned pot of boiling water. The meal is normally served at family gatherings and isn't very popular at restaurants, especially in America, where sushi and ramen have taken over the Japanese food scene. I only had shabu-shabu once or twice when I was a young child, but the second I walked into my aunt's house I recognized the boiling pot. As the night went on, we crammed ten of my family members into the compact Japanese home and for hours we passed food around, dipping and sharing with the constant bubbling of the pot as background noise.
Shabu-Shabu is actually an onomatopoeia for the swishing sound the meat makes as it splashes in the water and slowly turns from a bright red to a deliciously light brown. As a shabu-shabu novice myself, the best moments of my dinner were when my relatives showed me how to skim the fat off the water, or exactly how long to swish the meat to make it perfectly soft. It became easier to communicate with my relatives as our foods and plates mixed together.
Sakura Yagi, COO of T.I.C. Restaurant Group, wants the New York community to get a taste of this communal tradition. T.I.C. is a Japanese company that owns New York City's Shabu-Tatsu, a specialized shabu-shabu restaurant that has been running since 1991. "Every culture has that one kind of food or type of cuisine that brings everybody to the table," Yagi said. "You have to take turns, share, dip into the same pot, literally. It's kind of a metaphor for family. It embodies family time."
The shabu-shabu served at Shabu-Tatsu aims to be as true to its Japanese origin as possible. The broth is only flavored with traditional seaweed, called konbu, until you add vegetables like shiitake mushrooms, hakusai cabbage, and carrots. Then you carefully pick up the delicate beef with your chopsticks and start the swishing. The meat is incredibly light, and the food gets better and better as the flavors from the meat infuse with the freshness of the vegetables.
"There's something to say about having people dip their own chopsticks into the same pot," Yagi said. "You're rubbing elbows, but not elbows, chopsticks." I haven't seen my relatives in a few years now, and it's about time to go back to Okinawa. Even though I've learned more Japanese since our last meal, I'll still feel more comfortable communicating with them over a pot of boiling meat.