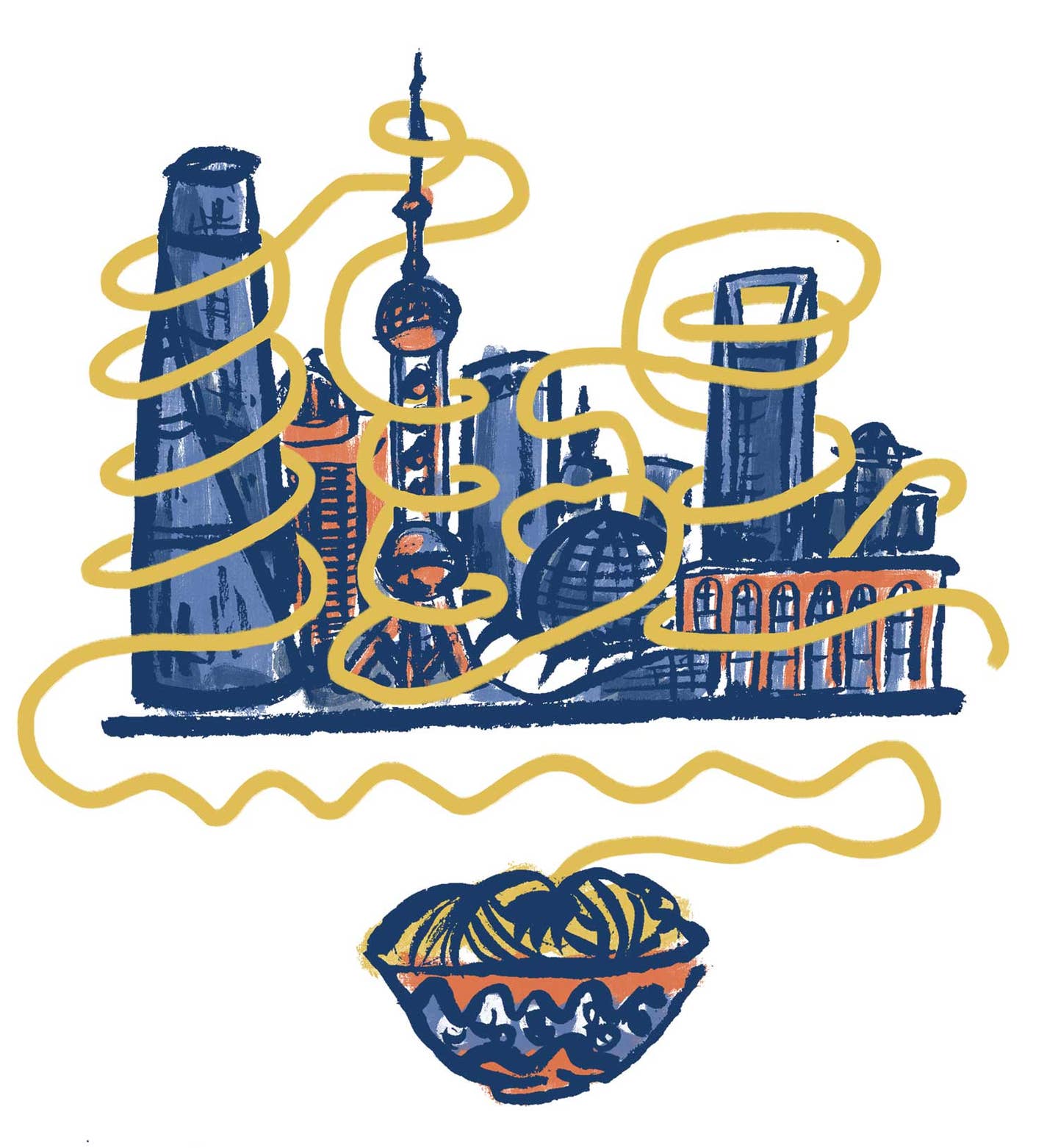 Travel
Is Shanghai Too Hectic for Good Noodles?
Some cooks say you should skip Shanghai and instead head to nearby Suzhou to find the best Chinese noodles
On a rainy Monday morning last autumn in the Chinese city of Suzhou, it was warm and dry inside Ren Xiaochen's noodle shop, Yu Mian Zhai. Three young rich guys, who had parked a blue Maserati on the curb, tucked into bowls of wild duck noodles. They were missing out: Autumn brings rain in this part of eastern China, but more importantly, it brings hairy crabs, and hairy crabs mean crab soup.
An ancient city best known for its canals and Chinese gardens, Suzhou is less than half an hour from Shanghai on China's sleek new bullet trains, and it's perhaps eastern China's best place for a bowl of noodles.
Ren, an accountant who retired to pursue her love of cooking, worked in silent coordination with her cook, Xu Hongden. She spooned tiny quantities of soy sauce into bowls as Xu briefly cooked crab roe in a wok with shaoxing wine, ginger, and sugar. After blanching, Ren spooned dark orange shrimp roe over the precisely folded noodles, while Xu singed a handful of spring onion greens that Ren had thrown on just before. Ren gave the noodles one last splash of her proprietary shrimp roe soy sauce, then out they went, chewy thin noodles with a distillation of the best parts of the region's crabs.
The noodle masters of Suzhou claim that Shanghai is too hectic for good noodles. Here, life moves at a more leisurely pace, one that allows them to brew deep, flavorful stocks with hens, ham, crustaceans, and herbs. Many of Suzhou's residents, who typically eat noodles for breakfast, get up extra early to make sure they are getting the tou tang, the clearest and purest stock from the night before.
For Ren, it's not an issue—her chef cooks all the noodles in a small amount of fresh stock, making every batch tou tang. Ninety percent of her customers are regulars, and they return for the ever-changing menu: three-shrimp noodles in early summer, crabmeat noodles in later summer, and crab roe noodles until winter.
When asked why the noodles in Suzhou are so much better than in Shanghai, a city of superlatives, Ren thought for a moment before answering. "It's the water," Ren said. "And the time. People in Shanghai are too busy. They don't have the time to do it right."