Recipes
Shaved Asparagus Salad with Garlicky Breadcrumbs
Serves

serves 4

Cook

1 hour 20 minutes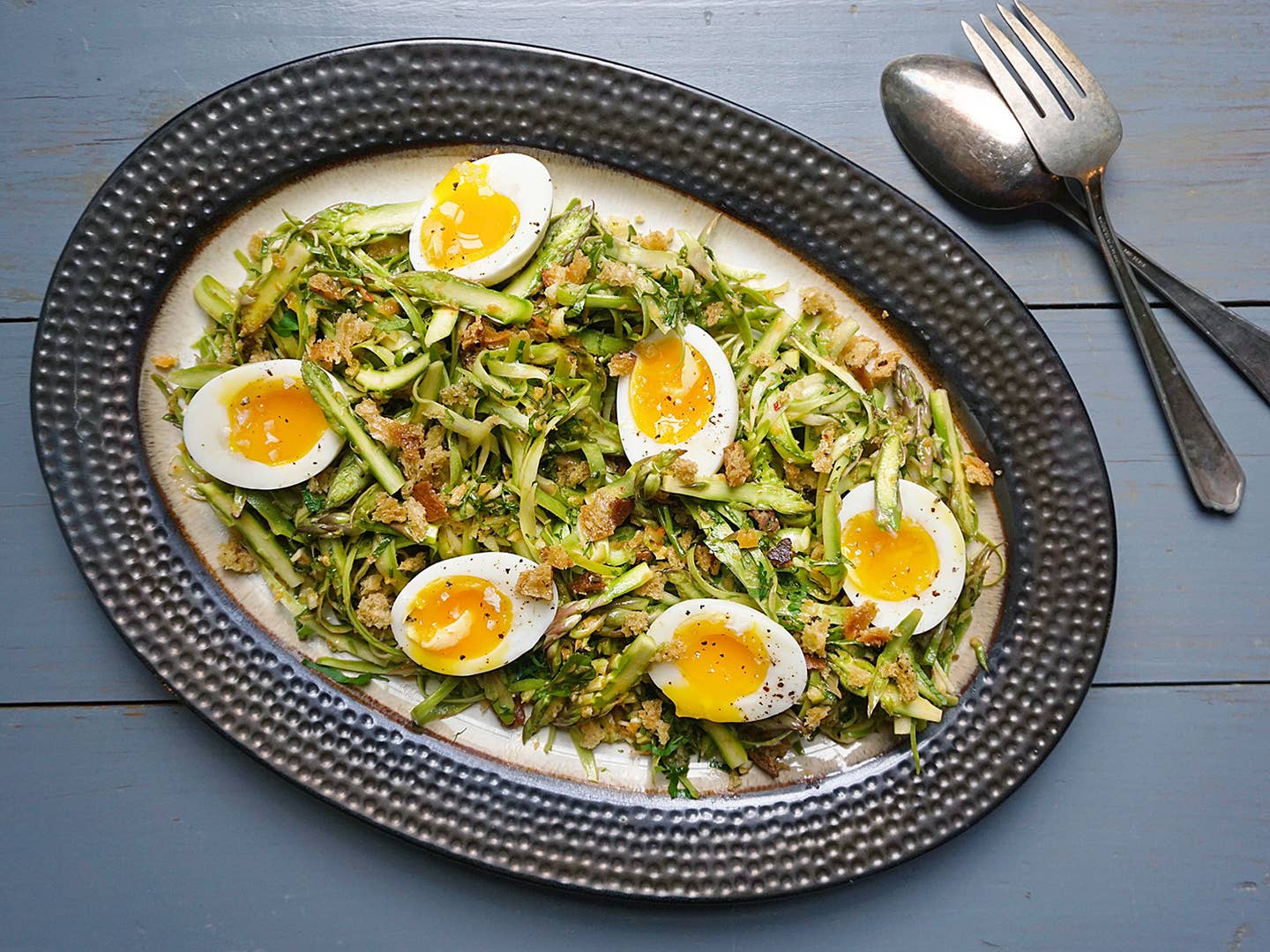 Best made with in-season jumbo asparagus, this spring salad teams ribbons of the crisp stalks with homemade sourdough breadcrumbs and a flavorful Roman vinaigrette of anchovy, capers, olives, Calabrian chile, and lemon. For the best texture, store the asparagus stalks upright in the refrigerator, with the cut ends submerged in an inch or two of ice water.
This recipe comes from chef Kevin Johnson of The Grocery in Charleston, South Carolina.
Ingredients
For the breadcrumbs:
2 oz. crusty sourdough bread, torn into 1-inch pieces (about 1 cup)
Kosher salt
Freshly ground pepper
1 Tbsp. extra-virgin olive oil
1 small garlic clove, grated
1 tsp. dried oregano
1 tsp. dried thyme
Pinch of crushed red chile flakes
For the salad:
1 oil-packed anchovy fillet
1 small garlic clove, minced (1 tsp.)
½ small shallot, minced (1 Tbsp.)
1 Tbsp. capers, rinsed
3 large green olives, pitted and minced (1 tsp.)
1 oil-packed Calabrian chile, minced (1 tsp.), plus 1 tsp. oil from the jar
1½ tsp. finely grated lemon zest, plus 2 Tbsp. fresh lemon juice
3 Tbsp. extra-virgin olive oil
4 large eggs
2 lb. asparagus, trimmed
½ cup thinly sliced fresh mint leaves
⅔ cup thinly sliced fresh flat-leaf parsley leaves
Kosher salt
Freshly ground black pepper
Instructions
Step 1
Make the breadcrumbs: Preheat the oven to 350°F. On a large rimmed baking sheet, spread the bread in a single layer and bake until crispy and deep golden brown, 35–40 minutes. Transfer to a large bowl; season with salt and pepper. Add the olive oil, garlic, oregano, thyme, and chile flakes; toss to combine. Return the mixture to the baking sheet and bake until very fragrant, 3–4 minutes more.
Step 2
Make the salad: In a small food processor, add the anchovy, garlic, shallot, capers, olives, chile and chile oil, and lemon zest; process to a fine paste. Add the lemon juice and pulse to combine. With the processor running, add the olive oil in a slow, steady stream. Transfer the vinaigrette to a small bowl.
Step 3
Set a large bowl of ice water by the stove. Bring a medium pot of water to a boil over high heat. Add the eggs; when the water returns to a boil, cook for 6 minutes. Using a slotted spoon, quickly transfer the eggs to the ice water and let cool completely. Peel the eggs.
Step 4
Using a vegetable peeler, shave the asparagus, making long strokes from just below the tip to the base and rotating as you go. Reserve the tips and any remaining asparagus that can't be peeled. Cut the tips lengthwise into thin slivers; cut the remainder of each stalk on the bias into thin slivers. Transfer all the asparagus to a large bowl. Add the mint and parsley; toss to combine, then dress with enough vinaigrette to moisten lightly. Transfer to a large platter and sprinkle with the breadcrumbs. Carefully halve the eggs (yolks will still be a bit runny) and arrange, cut-side up, over the salad. Drizzle with more dressing as desired, season with salt and pepper, and serve.