Shopping & Reviews
Avoid Pesky Water Rings and Tabletop Scratches with the Best Coasters
No wobbly drinks, either.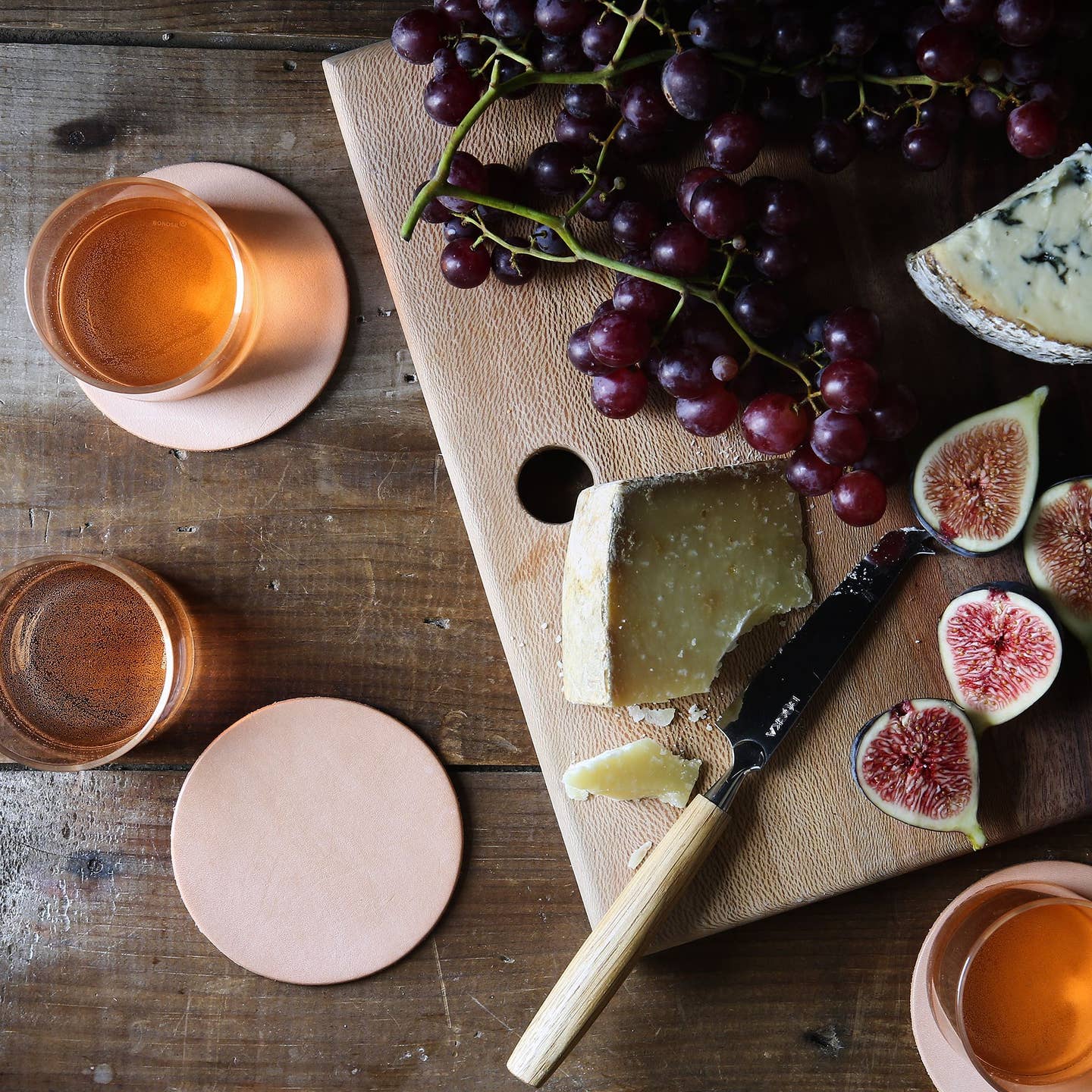 It shouldn't be too surprising that Germany is where the first drink coasters were known to exist, introduced in the late 1800s and aptly called Bierdeckel (beer mats). A few hundred years later, we're still using this canny design, and for more than just frosty beer mugs. They're a landing pad for all sorts of beverages, handily protecting surfaces around the home.
A stack at the ready might not be the highest on your list of necessities, but consider this: They're one of the most useful accents you can add to your living space. A functional detail that allows for self-expression, coasters come in a plethora of colors, designs, and materials, and each have distinctive properties for dealing with a wide range of drink temperatures, vessels, and condensation. We chatted with experts about the ins and outs of the most commonly-used elements to construct coasters, and picked our six favorites for your coffee table and beyond.
Best Copper
These copper-plated classics suit several styles and add a vintage touch to any space they're in. But there's nothing antique about them: Thanks to their stainless steel core, they'll effectively protect surfaces from hot drinks. The circular, hammered pattern provides texture without putting your drinks off balance, and if you happen to spill a little wine while pouring? They wipe down easily, so cleaning up takes little effort.
Best Leather
Known for her linens, Celina Mancurti brings the same handcrafted touch to these buttery leather coasters. Made in a light rose-colored leather that's soft and supple, these circular coasters provide a warm and welcoming landing pad for any cocktail or beverage. Each one is unique and will age gracefully as the leather patinas and takes on its own personality. They're perfect for gifting, too: You have the option to monogram them with two initials.
Best Multi-Purpose
Whether used separately for drinks or pieced together as a spot for that oven-to-table dish, these modular coasters serve as a fun geometric puzzle to cover as much—or as little—space as you need. Since they're made of sturdy silicone, they're especially useful to protect against potential damage from heat and moisture. The pastel hues such as blush, gray, and lilac are complementary for mixing and matching, so you can always add more to your collection.
Best Felt
Made from natural merino wool, Bierfilzl coasters are a choice you can feel good about for a variety of reasons. For one, they are highly absorbent—wicking away 30 percent of their weight in water vapor, so you know that your surfaces will remain dry underneath your drink. They're also both biodegradable and compostable, making them easy on the environment when they've run their course. Graf Lanz makes these coasters in squares, rounds, and all different hues, so you can find an option that blends in with your surroundings or adds a pop of color.
Best Letterpress
These cheery letterpress coasters printed on textural cardstock are well-suited to parties or dinners for which you might need a large quantity or if you want to toss the lot at the end of the night. Thankfully, they're biodegradable, so you won't be adding to the landfill. And paper's absorbent qualities do a fine job of keeping condensation off the table.
Best Marble
These minimal marble coasters are more than a sure spot for martini or wine glasses—they add a sophisticated touch to hosting. A thin gold band inlay around the circumference lends just the right amount of definition and adornment, while the silicone bottom keeps it—and your drink—in place. The circular-cut natural stone varies in color, pattern, and texture, so don't be surprised if your guests mistake your set for one picked up in a small design shop.
What types of coasters are best for hot drinks?
Several styles of coaster will protect your surfaces from the scald of hot drinks, but steer clear of those made of extremely thick stone. Slamming a whiskey on the rocks down on one of those may result in a cracked glass.
What are some materials to avoid?
Coasters with a glossy top or bottom, or other non-absorbent material, may end up with pooling condensation. This can potentially create suction on the bottom of the glass or even the coaster, causing one or the other to stick to its surface.