The Best Ramen Noodles for Carby Comfort in an Instant
Our experts weigh in on the top 6 pillow packs.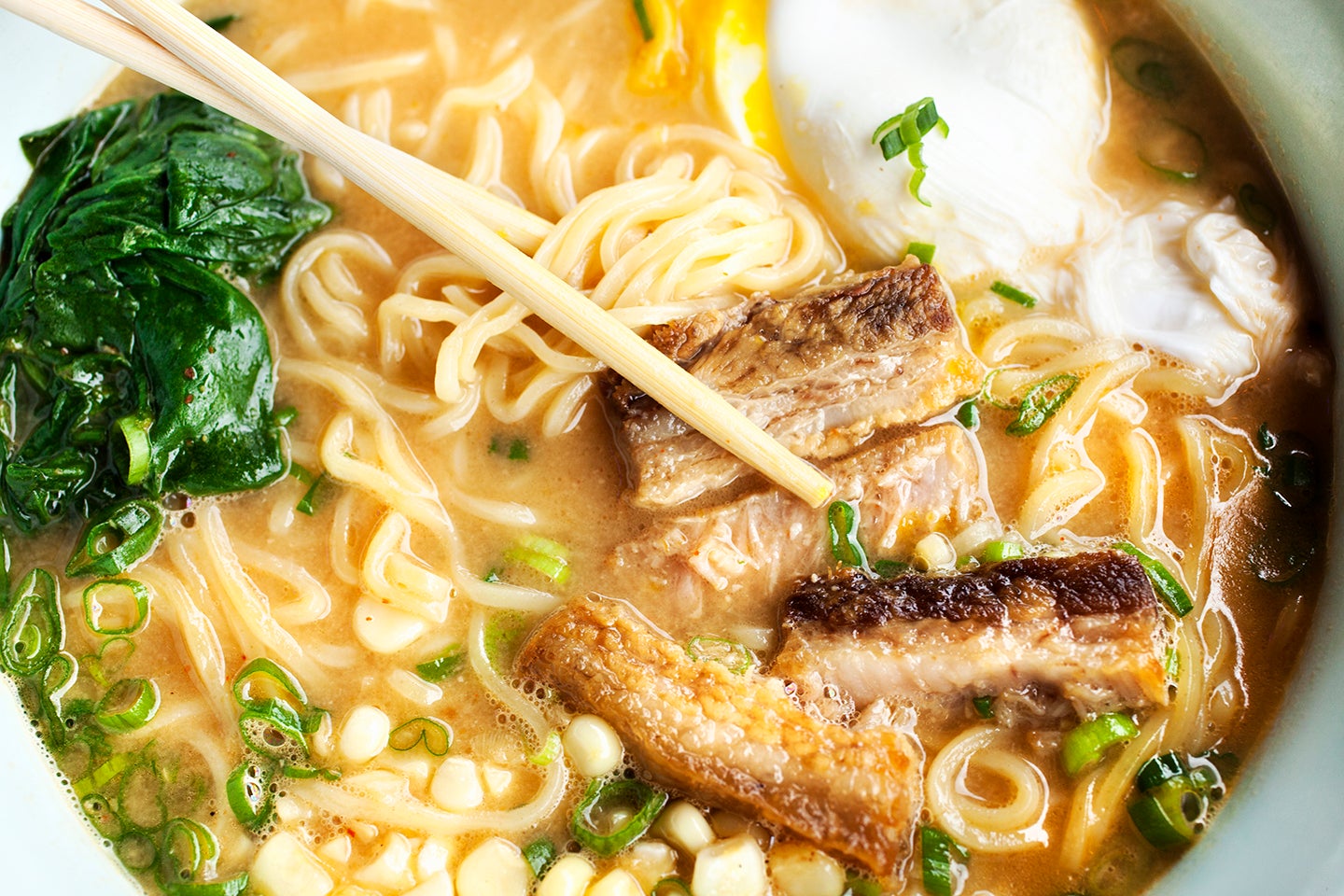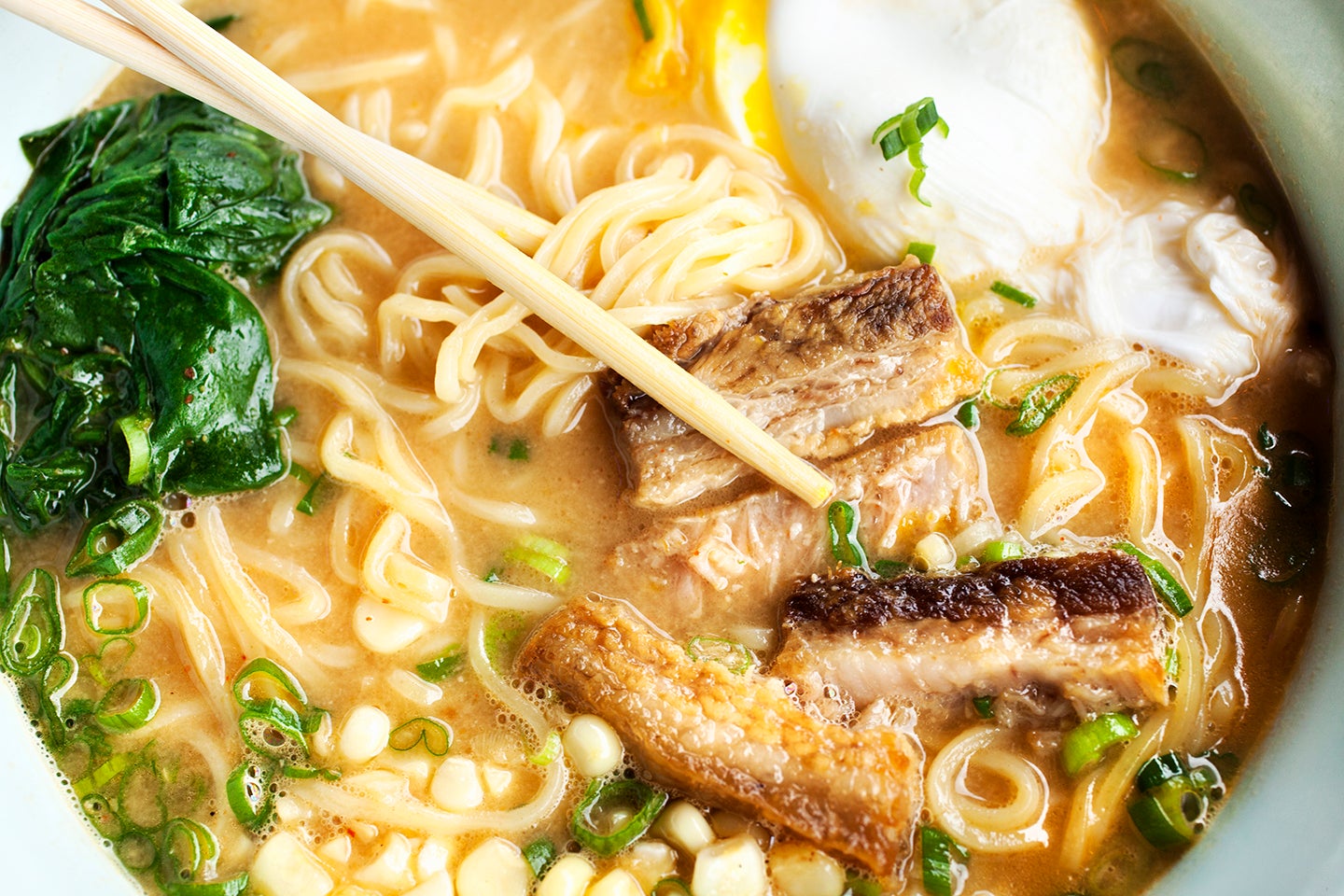 Ramen is a blank canvas for flavor, according to Hans Lienesch, aka The Ramen Rater. "You have different qualities of canvas—that's your noodle—and then you've got the paint for it, which is whatever flavor." Lienesch is a true instant noodle connoisseur: Over the course of almost 20 years, he has written more than 4,000 reviews in search of the best ramen noodles.
At its core, ramen is unbeatable at offering warm, salty, carby, comfort. You may be familiar with the traditional, super-cheap American ramen offerings, from Nissin under the Top Ramen brand or from Maruchan. These can cost as little as a quarter a piece (significantly less than even the bottom-tier Sapporo Ichiban packs), but only represent a sliver of the vast ramen market. 
Lienesch has eaten thousands of instant ramen variations from all over the world—even banana ramen from Ukraine—but in the end, he comes back to the classic square "pillow pack." Even within that category, there's a lot happening beyond the ultra-cheap, simple convenience store versions. "People are looking more for high-end instant noodles," agrees Luke Haga, the Japanese category manager at Weee!, an online Asian and Hispanic grocery store.
Now is the perfect time to have fun exploring the wide world of instant ramen. Armed with tips from Lienesch, Haga, and a whole lot of taste-testing, we gathered the best ramen noodles to help you find your own favorite kind. 
Features to Keep in Mind
Types of Ramen Noodles 
For simplicity's sake, we limited this list to the classic pillow pack, as opposed to the high-end boxed styles, which tend to get more complicated than the "instant" moniker implies, or the cup-style, which Lienesch says tend to be pretty hit-or-miss on quality. There are also the perishable fresh and frozen versions, which again tend to require more complicated cooking, but bring a huge jump in noodle quality. "It's like apples and oranges," says Lienesch.
Preparation
Most instant noodles tend to offer simple directions: add the noodles to a cup or two of boiling water and let them cook for three to five minutes. Some add the soup base or other flavor sachets with the noodles, others add it at the end of cooking. Ramen fanatics often prefer to cook the noodles separately from the boiling water they use for the soup, as it keeps the loose starch coming off the noodles from muddling the broth's flavor. For this guide, however, we tested each ramen exactly as it instructed, without adding any toppings until finished with the judging portion.
Adding toppings is another key element of preparation. Haga, who used to work in a plant that manufactured the chashu (sliced pork) often used on prepared ramen bowls, likes to add that to his finished soup when he has it on hand. "Before, people just cooked the noodles," he says, but now they get more elaborate, adding scallions, egg, bamboo, and seaweed. Lienesch's two must-haves are mung beans and scallions—he even has what he has dubbed the "Holy Slicer," which automatically chops up scallions for him. He also shares "Egg School" videos to guide people to perfect eggs and a new super simplified chashu recipe. 
Soup Bases
Tonkotsu is traditionally made with long-cooked pork bones, which results in an opaque creaminess, though instant ramen often uses dairy or other products that imitate or are derived from it to mimic that look and taste. Soy sauce flavor ramen brings big salty flavor with a lighter broth, while miso leans on the umami of its main ingredient to add complexity. 
What should you look for when tasting? "I like a chewy noodle, I like broths that are rich and unique, and just blow my mind," says Liensech.
Our Top Picks
This co-branded pack from Sapporo Ichiban and Momosan Ramen, a restaurant from Masaharu Morimoto of Iron Chef fame, brought as much of the rich creaminess expected in tonkotsu as any of the brands, and with less artificial taste. The standard Sapporo Ichiban tonkotsu white chicken flavor was also quite good, but in this one, the noodles are not fried (as most instant ramen noodles are, resulting in up to five times more fat in the final product), but still had good chew and held up in the broth. It comes with both a liquid soup packet and a dry seasoning packet, the latter of which released a pile of sesame seeds and dried leeks into the soup, boosting its flavor and texture. 
Finding a ramen that doesn't use palm oil, one of the least sustainable but most ubiquitous ingredients in processed foods, is incredibly difficult. Finding a ramen without palm oil that also tastes great? Even harder. But all of Nissin's Raoh soups—their premium brand—are extremely good, and their soy sauce version also happens to be palm oil-free. The broth is full of umami and oil in a way that coats the noodles in flavor, and the non-fried noodles have a really good chew to them. It's a competitor for the title of top bowl in any case, with the added bonus of no palm oil.
Many of the spicy noodles attempt to knock out eaters with heat, leaving the rest of the bowl somewhat lacking. But Mama's broth pairs a pleasant spice level with a nice rich broth. 
The thick noodles had only a medium chewiness. While it didn't bring the big explosion of flavors that the popular Shin and Shin Black are known for, it did have a more well-rounded flavor overall. 
The competition for best vegan soup was hot, with Nongshim's Soon coming in strong, but this ultra-affordable version from the company best known for their mi goreng noodles brought surprisingly big and bright flavors to the bowl. Previously marketed as "Beef and Lime" flavor, but containing no actual meat, seafood, or dairy product, it now goes by "Vegetable flavor." The flavor is the same impressive punch of lime—makrut lime leaf, seemingly—that lifted this into a realm of unmatched fresh flavor. 
Be warned: This one smells artificial, but the flavor is remarkably good. One sip smacks the eater in the face with soy sauce, which is then tempered with a satisfying oily richness. The noodles, like most of the premium brands, had a nice chew on them.
In reality, this is a near-impossible category to judge. Nostalgia is a powerful factor in food preferences, especially for a dish like instant ramen that is there for us when there's no time to cook or finances are tight. So really, the best ultra-cheap ramen depends on what pings those Proustian madeleine memories for you. 
Still, judging Nissin versus Maruchan head-to-head, the differences began to show themselves. Maruchan's noodles cooked well, though went soft pretty quickly in the time it took to eat the bowl, while Nissin's started out tough and never achieved proper chewiness. Nissin had a little greenery—dried leek flakes—in the flavor packet, which was a nice touch, but the overall flavor had an off-putting touch of fustiness. Maruchan's chicken flavor has a barely perceptible sweetness that rounds out all of the other flavors, making it extremely pleasant to eat. For a slight upgrade without any change in cost, the creamy chicken adds a little oomph.
Every product is independently selected and vetted by editors. Things you buy through our links may earn us a commission.