The Best Whisk Isn't Necessarily Balloon-Style
Five staples that belong in a serious baker's top drawer.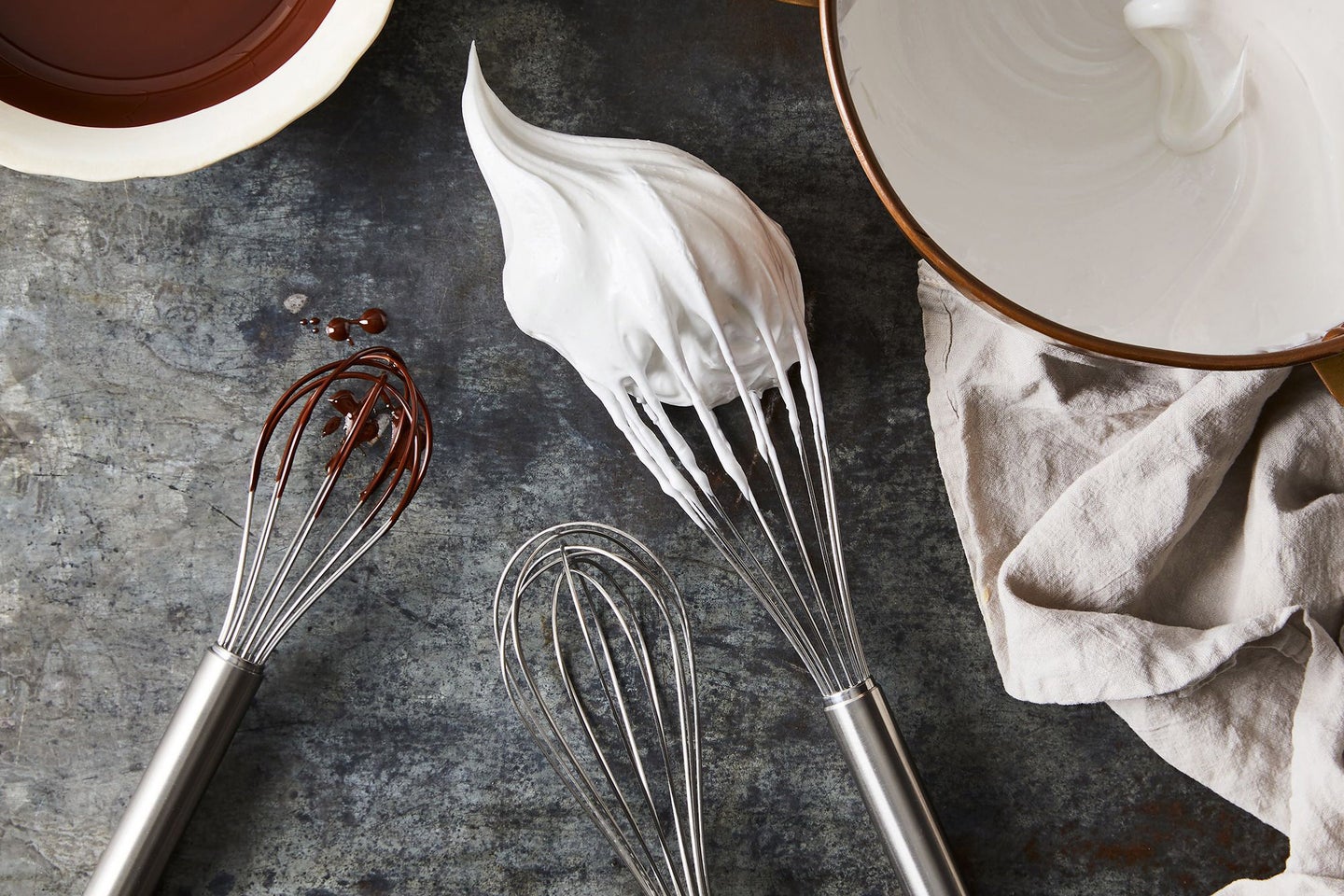 Whether you're beating eggs or prepping a salad dressing, chances are that you rely on a standard whisk for most of your baking and cooking needs. But that's just one variety—there is actually a slew of different shapes and sizes that are specifically employed for certain tasks.
The one in your top drawer is likely a balloon whisk. "This is my favorite all-purpose option and what I'd recommend if you're just looking to have one on hand," explains Caroline Schiff, the executive pastry chef at Gage and Tollner. "They're very versatile and great for everything from whipped cream, quick vinaigrettes, thin cake batters, meringue, eggs, and anything getting beaten in a bowl." 
For those looking to get more specific—and discover a fleet of styles tailored to recipes and ingredients—read on. We spoke with pastry chefs and researched the best whisks available, from flat and French to spring and dough.
Features to Keep in Mind When Shopping for a Whisk
Types of Whisks
Balloon whisk: This style tends to have thin, flexible wires that "loop into a wide balloon shape at the bottom," explains Schiff. They are the most common design and are extremely versatile.
French whisk: Long and narrow, this style tends to have thicker, stiffer wires than a balloon whisk. "They are handy for thick batters and sauces like béchamel that are cooked in a pot with straight sides," says Schiff. "This may be controversial, but I love doing mashed potatoes. It gives just the right amount of texture and works in the butter and cream perfectly."  
Flat whisk: This could be considered a hybrid of a whisk and a spatula, used to stir sauces and deglaze a pan. 
Spring whisk: A spring whisk has a stout, circular coil at the end and is typically used for beating small quantities of eggs or mixing in tight quarters, like mugs or glasses. 
Dough whisk: A dough whisk is outfitted with two flat rounds, making it super easy to blend ingredients together, such as creaming butter and sugar. Its round shape also makes scraping bits of dough from the bowl a breeze so you don't have to pull out a rubber spatula. Plus, thanks to its flat shape, hunks of dough will no longer get stuck in the middle of the whisk.
Handle and Wire Material
The wire material is usually made out of stainless steel or silicone; chefs recommend the former if you're working with thick ingredients since it's more durable, while silicone is ideal because it won't scratch surfaces (such as ceramic cookware) and is nonreactive. Handles are often constructed out of silicone, stainless steel, and occasionally wood and the best are ergonomically designed to fit comfortably in your hand. 
Easy Cleaning
Most whisks, as long as they are built with silicone or stainless steel wires, are dishwasher safe. Simply rinse off any remaining food and place on the top shelf of a dishwasher. 
Our Top Picks
If you're searching for a simple, do-it-all whisk, OXO's Good Grips Balloon Whisk should top your list. Unlike other options we considered, this 11-inch model features well-spaced stainless steel wires that don't rub, tangle, or bend over time. The bulbous non-slip handle is comfortable to hold and is ergonomically designed to slide right into the palm of your hand.   
For a classic trio, opt for this Frieling set, which includes a 9-inch, 11-inch, and 13-inch whisk. It's an ideal choice for anyone who is getting serious about baking: the small design is narrow and nimble enough to use in petite pots, while the large option is the perfect size for making stiff peaks in whipping cream. We particularly like that the handle is plastic- and silicone-free and that the loop at the base of the handle means you can hang them up for easy access—sometimes, it's the details that count. 
French whisks are typically long and slender, which means the wires can bend and warp with use. Although it mightn't look superior—most models measure close to 10-inches and feature a stainless steel construction—Kohn Rikon's design is a cut above the rest thanks to its thin-but-sturdy wire that's springy yet strong. The family-owned Swiss cookware manufacturer also offers a limited lifetime guarantee and prides itself on creating knives, pressure cookers, and gadgets that stand the test of time. 
Some home cooks prefer this type of whisk for sauces and gravies since the flat shape is conducive to deglazing pans and gently folding delicate ingredients. OXO's design is a bestseller for a reason: the wires are sturdier than others on the market and the soft grip absorbs any pressure.
Since this kind of whisk boasts a small spring at the end that's meant to be bounced up and down—as opposed to moved from side to side—it's more ideal for beating eggs and gravies rather than whipping stiff peaks. We chose RSVP's Endurance Spring Whisk for its simple, no-frills design that features an easy-to-clean curved stainless steel handle (there's no need to worry about ingredients getting stuck in any grooves) and a coil that curves inward so it doesn't easily scrape the bottom of cookware. 
Mixing dough by hand can be a messy business. Conson Home's design offers everything we love about a standard dough whisk—a coil that mixes wet and dry ingredients with ease and doesn't cause clumping—with an understated oak handle. Order the duo (a handy option for multitaskers) or opt for the tool set, which comes complete with a flax linen proofing cloth and a rolling pin. 
Every product is independently selected and vetted by editors. Things you buy through our links may earn us a commission.