Stir-Fried Shrimp and Long Beans with XO Sauce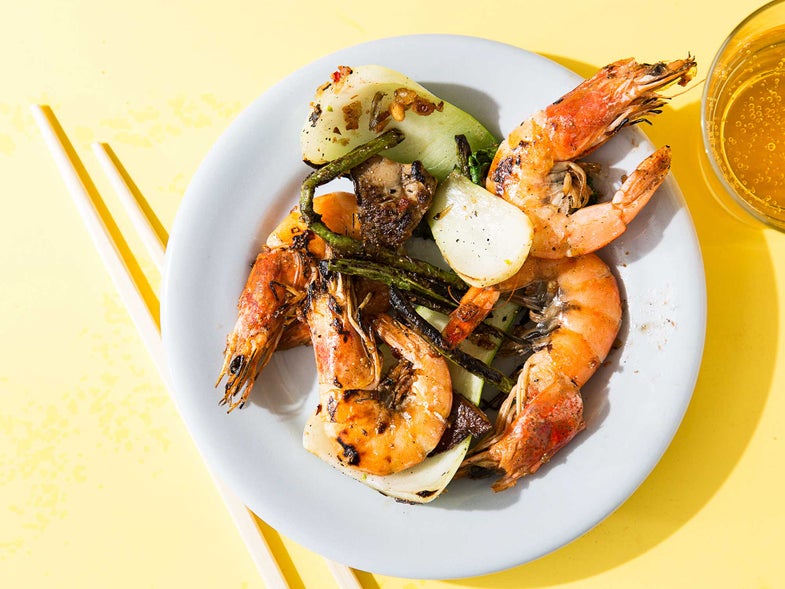 A simple stir fry of fat, juicy shrimp and meaty long beans loaded with smoky, meaty, and funky flavor thanks to a bacon XO sauce. Use shell- and head-on shrimp for the most flavorful stir-fry.
Featured in: The Secrets of Making XO Sauce, the Magic Condiment of China
Shrimp and Long Beans with XO Sauce
A simple stir fry tastes complex with a sweet and salty sauce.
Time: 25 minutes
Ingredients
2 tbsp. vegetable oil
2 oz. long beans, trimmed and cut into 6-inch pieces (or green beans, trimmed)
3 shiitake mushrooms, stems removed, quartered
1 baby bok choy, trimmed, leaves separated
kosher salt
8 oz. head-on shrimp (about 12)
1⁄4 cup XO Sauce
Instructions
In a large wok, heat 2 teaspoons oil over high. Add the long beans and cook, tossing occasionally, until blistered, about 3 minutes. Add the remaining 4 teaspoons oil along with the mushrooms and bok choy leaves, season with salt, and cook, stirring, until the bok choy has wilted, about 3 more minutes. Add the shrimp and cook, tossing, until just cooked through, about 4 minutes. Stir in the XO sauce, remove the wok from the heat, and transfer the beans to a platter before serving.