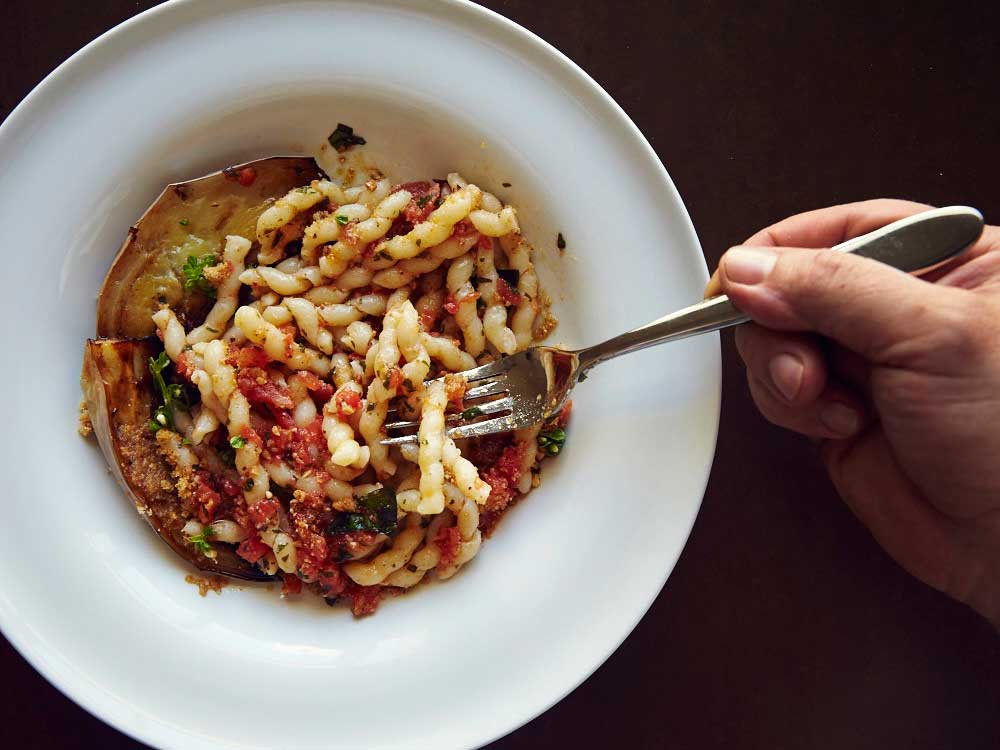 Recipes
Make This Sicilian Pasta for the Best of North Africa and Italy
The cute corkscrew shape doesn't hurt either
The pesto in this dish, made with almonds instead of pine nuts, reflects the North African tradition of using almonds for savory dishes. The busiate pasta, which hails from Trapani in Sicily, is made by coiling strips of pasta dough around a wooden skewer. It is so worth it to make your own pasta, albeit time-consuming, but if you don't have the time you can use dried. Busiate holds the pesto well, with its tight little curls, but any type of pasta would work fine.
This fusing of Italian and North African tradition is emblematic of Sicily and its cuisine, which draws heavily from North African settlers who long for their homeland but miss Sicily when they're away. This heartsickness, called mal d'Africa by the locals, is represented in the region's cuisine, commonly referred to as Arabo-Siculo.
If you do choose to make your own pasta, be sure to let it dry for one hour before cooking. In the meantime, you can make the pesto by salting the eggplant and letting it stand for half an hour. Fry the salted and dried eggplant until golden brown and set aside. Heat crushed and seeded tomatoes in a saucepan until warmed, then combine with almonds, basil, and olive oil to make the pesto. Combine cooked pasta with pesto, and serve with eggplant and toasted bread crumbs.