Inside Turkey's Anchovy Obsession
Come hamsi season, as they're called in Turkish, the silvery, sweet fish are everywhere on the northern coast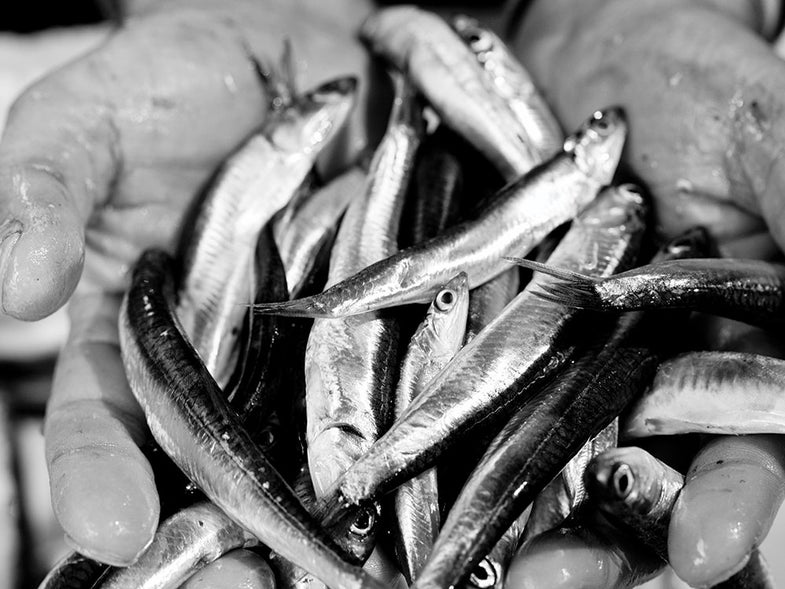 On a bright, brittle January morning in Sinop, Turkey, fishmonger Mert Kanal barked into a headset, "Where are the hamsi?!" Agitated customers milled outside his family's fish shop and restaurant, Okyanus Balik Evi. They weren't waiting for the shimmering blue-striped bonito, pink mullet, or gargantuan flounders heaped on the restaurant's tables. They wanted hamsi—anchovies from the Black Sea that Turks call "the prince of fishes."
Most mornings between October and February, commercial trawlers on this part of the coast disgorge hills of anchovies at the pier. But for almost a week, violent squalls had prevented them from docking. The previous night, the skies had finally cleared. The big boats were back, and crews worked feverishly, loading crates into refrigerated trucks. Sinop residents wanted their share of the catch—and so did I.
"Hamsi are best when the snow falls on the sea," Kanal said. This is because the fish develop an extra-thick layer of fat in frigid water. I first met Kanal in front of his shop on my initial visit in 2011 (I have made the pilgrimage for hamsi most years since). "I've come to eat anchovies," I told him, and two hours later I watched as Kanal and his colleagues prepared hamsi tava—anchovies coated in corn flour and fried—in a skillet set atop a single gas canister. They were crackly-crunchy outside, firm-fleshed within, briny like the sea from which they'd just been scooped.
Anchovies are a lifeblood on the Black Sea, employing thousands of idle off-season workers from farms and hazelnut orchards annually. And the fish are an indelible part of local culture: They are said to have inspired the twitchy upper-body movements of a Pontic Greek Black Sea folk dance called the horon. During the season, they're eaten as many times a day as the supply will allow, and in all sorts of ways—grilled, fried, poached, stewed, stuffed, baked into breads, or piled into pilafs.
So it's been for centuries. Ottoman traveler Evliya Celebi visited the Black Sea in the 15th century and described fishmongers announcing the arrival of a catch by blowing trumpets: "By God's dispensation, if people praying in the mosque hear it, they will immediately leave their prayer and come running for the hamsi."
In late autumn of 2011, the catch was so thick that an industrial grinder was brought to Sinop's pier to turn the fish into fertilizer on the spot. But the next year, warm waters and a surfeit of bonito, which prey on young anchovies, made for a dismal catch. Many fishmongers, Kanal included, were reduced to selling inferior speci­mens from the Sea of Marmara, inland waters that connect the Aegean to the Black Sea.
Perhaps it's the disappointing seasons that make anchovies so beloved. "Hamsi is not a fish. Hamsi is hamsi," say Black Sea dwellers, as explanation for their obsession. As for me, I'll continue to make the trek as often as I can, no matter the size of the catch.